TECHNOLOGY

Marantz Professional introduces a new professional rackmountable compact disc recorders/player. The CDR632 is the latest in the line that commenced with the CDR600 in 1992 and includes new features such as sync (level-dependent) recording, and programmable auto fade-in and auto fade-out recording. Tracks may be incremented manually from the front panel or the included remote control, or by using Adjustable Marantz Minute Track Mode to set various Time- or Level-dependent Auto Track Increments. Virtually any CD-R recordable or CD-RW re-recordable disc media may be used for recording, and the CDR632 can also playback un-finalized CD-R and CD-RW discs — users can even un-finalize CD-RW discs and add to them. Data and digital audio disc formats are supported for both CD-R and CD-RW. MP3 playback is available from CDs. There is a handy MP3 directory feature for easy navigation to the exact file the user wants to play. CD text display is supported, and CD text may be entered from the front panel. Power-on play allows audio to begin playing back as soon as the unit is powered up. There are four playback modes — Continuous, Shuffle, Programmable, and Single-play. The CDR632's I/O formats include stereo analog as are RCA and TOSlink digital I/O in S/PDIF format. The Marantz CDR632 requires only two rackspaces. www.d-mpro.com.
Soundcraft has introduced the low-cost, multipurpose EPM mixer. Available in three standard models equipped with six (EPM6), eight (EPM8) and 12 (EPM12) mono inputs, with each model featuring two additional stereo inputs, the EPM range was designed to provide top-quality audio performance and construction combined with an easy to understand control surface uncluttered by unnecessary facilities. Surface mount technology is used throughout, utilizing close-tolerance components for high accuracy and repeatable settings for EQ and gain controls. The transparent GB30 mic amp—designed by Graham Blyth for the company's 30th anniversary and similarly used on the larger LX7ii and GB Series consoles—features high-resolution adjustment over a gain range of 55dB and provides +22dB headroom through the console. 48-volt phantom power caters for condenser microphones. The EPM has 60mm high quality faders, two globally pre/post-switchable auxiliary buses, and all main connectors are professional XLR-type and 1/4-inch metal jack sockets. RCA phono connectors are provided for disc and stereo playback inputs and record outputs. EQ on the standard mono input is three-band with a sweepable mid, while the standard stereo input has two-band EQ. All mono input channels have TRS insert sockets and inserts are also provided on the mix output. Ten-segment LED output metering, comprehensive solo system, and a headphone output are also part of the EPM feature set. All models can be easily and quickly converted for rack mounting by adding optional rack rails. Suggested US list pricing on the EPM range is as follows: EPM6: $309.99, EPM8: $359.99, and EPM12: $459.99. www.soundcraft.com.
Digidesign has released versions of Digidesign® Pro Tools LE™ 7 and Pro Tools M-Powered™ 7 software that are compatible with the new Intel-based MacBook Pro and iMac computers. Digidesign has also released Intel Mac–compatible versions of all Digidesign and Digidesign-distributed RTAS® and AudioSuite™ plug-ins, plus all software options, including the new Music Production Toolkit for Pro Tools LE and Pro Tools M-Powered systems, as well as the DigiTranslator™ 2.0 and DV Toolkit™ 2 options for Pro Tools LE. Digidesign is working with third-party manufacturers to help them port their plug-ins and applications to the Intel-based Mac platform. Visit the websites of those companies for the latest information on availability. To use the Intel Mac–compatible software, owners of Pro Tools LE 6.9 or earlier software will need to purchase a software upgrade to Pro Tools LE 7. Digidesign will continue to support Pro Tools LE and Pro Tools M-Powered software on the PowerPC platform as well. Because neither the MacBook Pro nor the iMac offer the PCI, PCI-X, or PCI Express (PCIe) expansion slots required for Pro Tools|HD® systems, Digidesign will not release a new version of Pro Tools HD software for these computers. www.digidesign.com.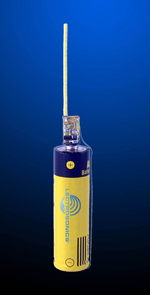 Lectrosonics has introduced the smallest wireless microphone in the world, the XSDT or "eXtra-Super-Damn-Tiny." The new wireless microphone is completely self-contained, including a nearly microscopic condenser microphone element, AA battery and a 250mW RF transmitter using the company's proprietary Digital Hybrid Wireless(tm) technology. The microphone element, with a 1x1mm capsule area, provides an astounding frequency response of 5Hz to 120kHz and transient response far better than any other microphone on the market. Dynamic range is 120dB, with self-noise of 48dB (A-weighted) and a maximum SPL of 168dB. Two versions of the transmitter are available: the XSDT-ALK which uses an alkaline AA battery, providing 38 minutes of operational time; and the XSDT-LITH using a lithium battery providing 1 hour and 15 minute operational time. Due to the permanently installed battery on each unit, the XSDT must be discarded once the battery dies. MSRP for the XSDT-ALK: $499.99, for the XSDT-LITH: $699.99. www.lectrosonics.com.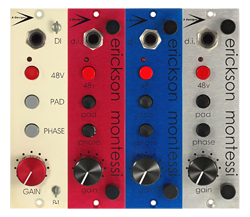 A-Designs Audio introduces four new 500 Series-compatible microphone preamplifier modules—the P-1, EM-Red, EM-Blue and EM-Silver. "Modular preamps, having been available to the audio community for over 25 years, are certainly not a new concept," notes A-Designs Audio President Peter Montessi. "However, digital recording has now become much more accessible, which has created a major market of in-home and mobile recording studios where space is limited and affordability is required. Our new modules cater to both of these demands while still delivering the same outstanding sonic performance that we've become known for." Inspired by A-Designs Audio's Pacifica microphone preamplifier, the P-1 captures the sound of the 1970's Quad Eight Ventura, Coronado and Pacifica consoles. Sporting a cream colored face plate and bright red cast aluminum gain knob, the new module includes a 1/4-inch Hi-Z direct inject input for instruments, 48V phantom power with red LED indicator, -20dB pad and phase switches, custom wound input and output transformers, and thumb screws for easy installation. The EM (Erickson/Montessi) Series, comprised of the EM-Red, EM-Blue, and EM-Silver modular microphone preamplifiers, are all variations of the P-1, each featuring its own distinct tonal character. The EM-Silver's custom wound output transformer has an all-steel winding, which produces a dark, warm tone that's a complement to ribbon microphones. The EM-Blue, with its high nickel wound output transformer, conversely generates a much brighter, airy tone. This preamp unit is ideal for use with darker sounding microphones or instruments that require a crisp sound, such as a snare drum. The EM-Red has a modified custom wound input transformer that delivers a slightly different sonic character by bringing the 'mid levels' forward. This module produces spectacular results when recording acoustic guitar with a condenser microphone, as well as on other instruments where midrange tonal accents are desired. All four preamplifiers feature a US list price of $850.00 (per module) and are now available through select dealers worldwide. www.adesignsaudio.com.
PRODUCTION LIBRARIES

New releases from Firstcom include CHAP 316 Ska, CHAP 318 Cool Cuts, EVO054Q We Got Rawk Skillz, EVO062 Gridiron Glory, EVO063 Simple, EVO069 Campaign Promises And Lies, GM-090 Fashionista, GM-091 Investigative Journalism, HM-067Q Pop Divas II, HM-076 Summer Songs, MH021 Lo-Fi Breaks, MH026 Electro A GoGo, MH028 Global Party, NPM-A 10 Changing World, NPM-F 22 Urban Chill, and more. Audition tracks online at www.firstcom.com.

New releases from Killer Tracks include KT 181 – Chilled Underscores, KT 182 – Pop Shop, KT 183 – Acoustic Alternative, KT P009 – Killer Promos 9: Suspense & Urban Drama, CM 63 – Reggaeton & Latin Hip Hop, NYB 84 – Technology In Motion, Atmos 211 – Clubland 5, Atmos 212 – Evil Innocence, Atmos 213 – Cinematic Beats, Cez 4040 – Investigations, Koka 2269 – Celtic Now, and more. Audition tracks online at www.killertracks.com.
THE MIX
JA Worldwide (Junior Achievement) has added a new "industry cluster" to its online career center to help teens learn about the many career options available to them in the arts, audio-visual technology, and communication fields. Located at http://studentcenter.ja.org, the JA Career Center contains information on careers ranging from agriculture to zoology. Designed to give students a "real world" view of the industry, the "Arts, A/V technology, and Communication Career Cluster" is sponsored by Turner Broadcasting and contains job outlooks, educational requirements, salary expectations, and other general information on nearly 50 different occupations. Visitors to the site can also watch a series of video "job tours," giving them the opportunity to view real-life examples of workers in the industry as they offer advice helping teens prepare for their dream job. The video job tours include interviews with CNN anchor Daryn Kagan, Cartoon Network creative director Ed Murrieta, and Turner Broadcasting photographer Mark Hill. www.ja.org.