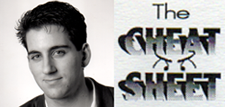 by Flip Michaels
Mic Check, 1,2,3,4...
Electrovoice's enviable track record has never squelched the production critics and smirking peers who continue to dismiss the RE-20 and the RE-27N/D as "just another bunch of okay-quality mics." Now, guess what the most popular mics in our medium are? (You don't have to! That's why we call this The Cheat Sheet!)
(1) Electrovoice RE20: The RE20 possesses a sound that makes it one of the most popular broadcast announcer/voice-over microphones in the world. The RE20 has a smooth, extended, clear response. It has been designed to reduce bass-boosting "proximity effect" to maintain a uniform low-frequency response (up close or at a distance). Features include a bass roll-off switch and an internal microphone element shock mount that reduces vibration-induced noise.
(2) Electrovoice RE27N/D: The RE27N/D is also a popular Electrovoice dynamic cardioid that incorporates a new ("N/DYM") technology. This mic exhibits a higher output and an even wider frequency response than the industry standard RE20. Both Electrovoice mics are available at a nice price.
(3) Sennheiser MD 421U4: Now this is the mic for today! (Hey, Flip! What's today?) We're talkin' about sound at over 130 dB, studio sessions in close proximity, field reports, musical instruments, SFX recording, etc.. This microphone's immune to overload, yet so precise over such a wide range of frequencies. It's no wonder why it's so popular.
(4) Shure SM7: This "smooth and silky" microphone has been acclaimed as one of the finest dynamic microphones in use today! Its features include unique tailoring switches (for presence boost and low-end roll-off) permitting the choice of four different response curves and a built-in windscreen for close-up use.
If you and your Chief Engineer are discussing new mics, be sure to check these four out! The Crouse-Kimzey Company is one of many fine distributors out there, and thanks to their sales guy, Wray Reed, for his assistance with this article. For more information on these and other microphones, contact your nearest dealer or call Wray at Crouse-Kimzey at 1-800-433-2105. Wray's great to work with (even though he's a Dallas Cowboy's fan!)
Free Radio Success Stories: Ralph Guild, Chairman of the Interep Radio Store, is now offering (at no charge) copies of all four books on success stories by radio advertisers, published by his company. Hey! Why not order 'em for your sales department! Call 1-800-INTEREP, that's 1-800-I-N-T...wait -- this isn't a commercial!
Synclavier and Digidesign: The growing group of Digidesign's development partners now includes The Synclavier Company. Synclavier will be making their new generation of user-interface software compatible with Digidesign's hardware systems such as Sound Tools II, Pro Tools, Audio Media, and Session 8, as well as their own PostPro and Synclavier workstations. Synclavier's new software provides a fast, streamlined user interface for both short-form and long-form editorial applications. To hear more call The Synclavier Company at (603) 448-8887.
Star Trek Generations Production Music: Attention Trekies! Emmy Award-winning composer Dennis McCarthy, who made his motion picture debut with "Star Trek Generations" and GNP Crescendo Records, has just released a 23-track production library with a special 15 tracks of musical selections. You can contact Ray Costa or Rachelle Cohen at (213) 650-3588 for more on the library
Radio Caroline: The year was 1964. On a pirate radio ship off the coast of England was a jockey named Lodge, Tom Lodge, that is. The pirate ship "Radio Carolina" was responsible for additional exposure to such groups as the Rolling Stones, The Who, the Animals...and so on! Over 23 million listeners tuned in for a period of four years. Now, Tom has written an account of the battle that proceeded with the British Government entitled "The Ship that Rocked the World." A screenplay has also been written. (What's your point!?) My point is, they are now producing a global grassroots satellite radio station called ONE EARTH RADIO.
♦