TECHNOLOGY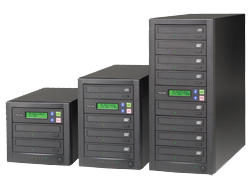 TASCAM is announced a new line of high-speed CD duplicators, featuring 52x-speed, TEAC drives. The CD-D11U is a 1x1 duplicator with a USB 2.0 jack for computer connection and RCA outputs to check the source disc before duplication. The CD-D13 is an affordable, high-speed 1x3 duplicator for studios, churches and other installations. The CD-D17HD 1x7 duplicator includes a hard drive for ultra-fast copies compared to using a CD drive. CD-D17HD's built-in hard drive also acts as an archive for projects that are burned again and again. www.tascam.com.
Voxengo presents a new universal compressor PC VST plug-in: Marquis. "This compressor incorporates all digital signal processing advancements we have made so far. You may find a very smooth compression performance in this compressor coupled with a very harmonic-rich sound, both suitable for mixing and mastering." Marquis features a unique signal level detector algorithm which creates an open, punchy compressed sound with an impressive transient response. Marquis compressor also offers a classic feedback (opto) compression mode switchable to a more common feed-forward compression. www.voxengo.com.
TransAudio Group, Drawmer's U.S. distributor is now shipping the new THREE-SUM Multi-Band Split & Sum Device. The THREE-SUM is a 1U device that enables individual processing of up to three bands prior to re-summing. The stereo signal is split into two or three frequency adjustable bands, which can be sent to external processors before returning to the THREE-SUM where they are re-combined. The THREE-SUM employs a high-quality signal path culminating in a variable threshold, brick wall limiter section with bypass facility. To ensure transparency the limiter design is 'two stage,' applying different processing to the H.F. content of the material. In applications where the dynamics of the material need to be retained to create an open sound, the limiter is essential for catching peaks. The THREE-SUM has been designed for use in high-end mastering and general recording applications. Alternatively, it can transform a project studio, equipped only with 'single band' processors, into a serious multi-band facility. Each of the three bands has bypass and mute switches to allow independent band and effect monitoring. MSRP: $1,200.00. www.transaudio group.com.

Symetrix announced the introduction of the Lucid 88192. This premium audio converter supports eight channels of analog-to-digital, and eight channels of digital-to-analog conversion at sampling frequencies up to 192kHz. The multi-format unit offers simultaneous connectivity for analog, high-speed AES/EBU digital audio, and SMUX2 ADAT Optical digital audio. An option port is included for future adoption of additional formats. Touting excellent audio performance and full connectivity, the 88192 also includes some fairly sophisticated routing capabilities. Through an intuitive front-panel menu scheme, inputs are easily routed to single or multiple outputs in both the digital and analog realms. Information, including active metering, is returned to the user in an easy to read vacuum fluorescent display. The simple front panel includes a push-button encoder and single button to provide all the tools for navigating menus and changing settings in the unit. www.lucidaudio.com.
Digidesign is now offering two versions of its professional Pro Tools|HD® digital audio production systems. By continuing to provide the existing PCI version and releasing a PCI Express (PCIe) version, Digidesign is ensuring continued compatibility of its Pro Tools|HD systems with a wide range of PCI, PCI-X, and PCIe-equipped computers. Existing Pro Tools|HD systems are designed to work in PCI and PCI-X slots only and are not compatible with PCIe technology. Digidesign has qualified Pro Tools|HD systems for PCIe with the new range of Apple Power Mac G5 computers. Windows-based computers equipped with multiple PCIe expansion slots are not yet commonly available. Digidesign is planning to test and qualify its PCIe systems with Windows-based computers once machines with at least three usable PCIe slots as standard are introduced to the market. Since the new Power Mac G5 computers have only three usable PCIe expansion slots, initial Digidesign support for PCIe-based Pro Tools|HD systems is limited to a maximum configuration of three cards. If you plan to use the new PCIe-based Power Mac G5 computers and want to build an expanded configuration (beyond three cards), you will need to use the PCI version of Digidesign's Pro Tools|HD cards in conjunction with the newly introduced Digidesign Expansion|HD expansion chassis. The Digidesign Expansion|HD expansion chassis is a new six-slot PCI expansion chassis that connects to the host Windows or Mac computer using either a PCI/PCI-X or PCIe expansion slot. With the Digidesign Expansion|HD, you can install expanded Pro Tools|HD configurations on a wide range of PCI, PCI-X, and PCIe-equipped computers. www.digidesign.com.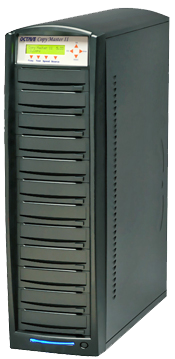 Octave Systems, Inc. unveiled the 11-drive Copy Master II and the 10-drive Data Safe Copy Master II Pro 10 to its line of user-friendly, tower-style Copy Master II CD/DVD duplicators. Ideal uses include music, film and audio, and video production and post-production facilities, educational, worship, library and archival institutions. The 11-drive Copy Master II can provide 1-to-11, 1-to-9, 1-to-7, 1-to-5, 1-to-3 and 1-to-1 duplication, depending on the user's needs, and can burn up to 16X on DVD+R and DVD-R formats, and CDs up to 48X. It can not only duplicate standard 120mm CDs and DVDs, but also several of the popular business-card shaped discs and mini CD/DVD formats. The 10-Drive Date Safe Copy Master II Pro 10 features stand-alone operation and a front-bay 160 hard drive that can be removed and locked away in a secure location. The Pro 10 can provide 1-to-10, 1-to-8, 1-to-6 and 1-to-4 duplication depending on the user's needs, and can duplicate DVDs up to 16X, 8.5 GB Dual Layered DVDs up to 4X and CDs up to 48X. Both models include the "Fast Copy" feature, which will open all trays simultaneously with the touch of one button. Other new features for both models include a Hard Disk Drive Partition Naming feature, which allows the user to name the images stored in the hard drive partitions; password protected user accounts for added security; a larger capacity 128MB buffer memory; Auto-Counter technology, which keeps a record of the total number of discs copied for each project; Load and Copy, for quick copy jobs; and new Copy/Reset/Speed/Source buttons for quick and easy navigation. The Copy button allows the user to quickly and conveniently begin the duplication process. The Test button tests the copy process without actually writing to the media. The Speed button sets the speed of the copy. The Source button changes the master source of the information the user wants copied from the DVD-ROM or CD-ROM to the hard disc. The 11-drive Copy Master II is priced at $1,549. The 10-drive Data Safe Copy Master II Pro 10 is priced $1,595. www.octave.com.
PRODUCTION LIBRARIES
PlayItFree.com is a new royalty-free music company that caters to Broadcasters and Podcasters. They've just released two new projects on DVD and CD. "Sketch" is a 24-bit library geared to Broadcast/Imaging applications and "PodMZ" is the CD library priced for the home user. PlayItFree.com was founded by Radio-Mercury Award winner Steve McKenzie based in Chicago and is now online.
TM Century, Inc. has announced the roll out of Imagio and Audio Architecture production/imaging libraries on tmc:drive. Audio Architecture and Imagio libraries are now available pre-loaded, pre-sorted, named and categorized on one plug-and-play USB/Firewire drive. All audio files are in the original, uncompressed .wav file format and import directly into industry standard audio software such as Adobe Audition and Pro Tools. Automated CD-ROM updates are sent as scheduled. tmc:drive is compatible with Windows XP or MAC OS X operating systems. Mike Hines, Executive Producer, says "This new way of organizing and distributing our libraries is going to make life a lot easier for our clients. We know that out there in the real world, anything that saves time in production is a good thing and this system is so simple it will definitely shorten production time." www.tmcentury.com.
New releases from Killer Tracks include KL 6 – Killer Latino 6, KT 178 – Olympian Spirit 2, ZTS 005 – Funky-Ass Breakbeat, CM 59 – Lounge A Go-Go 3, CM 61 – Ghetto Blaster Gold Edition, NYB 83 – Motivational 6, Atmos 207 – Youth Culture 7, Koka 2258 – Magazine #2, Koka 2259 – Latino Sensations, and many more. Sample tracks at www.killertracks.com.
Abaco Music Library announces new releases from their 5 Alarm Music collection. The CDs offer a variety of styles including current Urban, Hip-Hop and Reggaeton, music for Daytime TV and Nature Shows, Ambient Textures and traditional tangos from South America. Audition tracks at www.abacomusic.com.
THE MIX
The Production Department at Citadel Broadcasting Knoxville, TN - which includes Angie Wilson, Eric Gusky, Tom Miller and Eric Bohlen - has been named the winner of eight ADDY Awards from the Knoxville Advertising Federation. The eight ADDY awards include three Gold ADDY Awards for The Red Iguana/"Your Mother", WOKI's "Friday Night Lights/Part Two", and Alcoa Mitsubishi/"S.C.A.M." They also received two Silver and three Bronze awards. Additionally, the group won three awards in the 2005 MarCom Creative Awards competition, four 2005 Communicator Awards, and seven 2005 Silver Microphone Awards!
Congrats also to Glenn "Casey" Cook. The Michigan Association of Broadcasters released their 2005 Broadcast Excellence Award winners, and Glenn won Best of Category for Best Commercial/Market Four Radio with "Papa Reggies" and Best of Category for Best Marketing Materials-Promos/Market Four Radio with "Where's The Pepsi?"
RAPster Erin "D*J*E" Jacobson of D*J*E Productions launches her podcast radio show, Electric Effect, on April 1, 2006 (no fooling!). The show will feature unsigned and independent rock bands in Los Angeles. For more information on the show and how to listen, visit www.electriceffect.net or www.erindje.com. Erin also welcomes your comments at This email address is being protected from spambots. You need JavaScript enabled to view it..
Drake Donovan Productions has gone Country! Drake signed up KKQQ-FM/K-Country 102.3, Brookings, SD for Voice-Over. Check out all of Drake's Imaging Demos at www.drakedonovan.com. Also, Drake recently joined the Radio VO Network at www.voicehunter.com.
Wooly Bugger Productions welcomes voice-talents Gale Van Cott of WKHL 96.7 in Norwalk, Ct, Michael J., independent voice-talent, formerly with KLCB and WZZD, and Bill Blizard, independent voice-talent with over 35 years of radio experience, to their roster of over 60 experienced voice-over artists. For more information on voice-over and production services, visit www.woolybugger productions.com.