TECHNOLOGY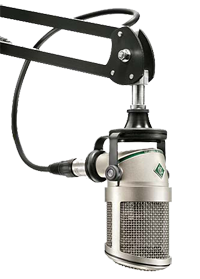 The BCM 705 is the second microphone in the new Neumann broadcast line and the first ever Neumann dynamic microphone. It utilizes a Neumann-redesigned version of the Profi Power Sennheiser MD 431 handheld stage microphone and capsule. Housed in the same body as the previously introduced BCM 104, the BCM 705 is immediately identifiable as a Neumann dynamic microphone by its new 'green' Neumann badge. To enhance low frequencies, the entire chamber surrounding the capsule in the BCM 705 is enlarged and acoustically coupled to a rear entrance port. Even though the BCM 705 is meant for close talking, there is relatively little low-frequency build-up due to the proximity effect. This makes the microphone a perfect choice for talent who would prefer to work slightly further from the mic away yet maintain a good, solid bass response. The same wire mesh pop screen principles used in the KMS 105 and BCM 104 microphones are utilized in the BCM 705 thus removing the need of foam in front of the capsule as originally used in the MD 431. The integrated pop screen can be removed for cleaning without the use of tools. Individual, color-coded head grilles are available for each user. www.neumannusa .com.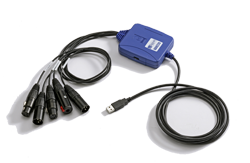 Digigram introduced the first professional USB Audio interface that has been specifically designed for broadcast and other pro audio applications. The UAX220 is barely bigger than a breakout cable and is supplied in a flat 17x22 cm (6 2/3" x 8 2/3") bag. "This product has been designed with the needs of broadcast journalists and other traveling audio professionals in mind. It's a true plug-and-play device, making a single UAX220 the ideal solution for a user with multiple computers, for example a laptop computer on the road and a desktop computer in the newsroom or studio," states Marc Benard, Digigram product manager for PC audio interfaces. Features include 2/2 balanced analog I/Os on Neutrik XLR connectors, 24-bit/48 kHz, dynamic range: >103 dB (A-weighted), 1/4 inch (6,35 mm) Neutrik headphone output, dedicated headphone output stage for low impedance headphones, and zero-latency direct monitoring. When connected to the USB port of a computer (Windows 2000 and XP, Mac OS X, or Linux), UAX220 is automatically recognized as an USB Audio specification compliant device and is immediately operational with DirectSound, Core Audio, and Linux ALSA management. No specific driver needs to be installed. The UAX220 is powered through the USB port and does not require an external power supply. www.digigram.com.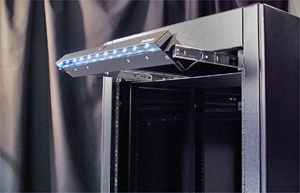 CBT Systems introduces the new redesigned Railight(tm). This innovative rack mount light can be extended out nine inches and rotated up to 180 degrees to light areas in a rack that conventional pull style lamps can't. The new ergonomic extruded aluminum exterior houses 12 long-life LEDs and includes a rocker power switch that is always lit so it can be easily located, even in a dark room. The unit comes complete with a UL approved 24-volt power supply. www.cbtsystems.tv.
Panasonic expanded its "HIGH SPEED Series" SD Memory Card line up with the "HIGH SPEED" 256MB SD Memory Card with up to 2MB/s data transfer speed. Panasonic "HIGH SPEED Series" 64MB and 128MB SD Memory Cards have been already available in the market, and the company plans to introduce larger capacity "HIGH SPEED Series" SD Memory Cards later this year. The "HIGH SPEED Series" SD Memory Cards offer a data transfer speed suitable for storing still images or small-size motion pictures taken with a digital still camera (DSC) and digital video camera (DVC). Together with the current "PRO HIGH SPEED Series" SD Memory Cards (512MB & 1GB) which boast a transfer speed of up to 20MB/s and the "SUPER HIGH SPEED Series" SD Memory Card (256MB) with up to 10MB/s data transfer speed for more advanced usage such as motion picture recording or fast continuous consecutive shooting, the new "HIGH SPEED" 256MB SD Memory Card allows users to select the type of cards depending on consumers' needs. The new 256MB SD Memory Card has a manufacturer's suggested retail price of US$44.99. www.panasonic.co.jp/global/index.html.
Digidesign announced the new EQ III DigiRack(tm) plug-in available for free at www.digidesign.com. EQ III is a high-resolution, double-precision 48-bit EQ plug-in available for Digidesign(r) Pro Tools(r) and Avid(r) systems. EQ III supports TDM, RTAS(r), and AudioSuite(tm) formats, and is available in 1-band, 4-band, and 7-band configurations for optimized CPU/DSP efficiency. In addition to its fully parametric design, Digidesign EQ III includes selectable shelving filters and settings as well as separate high-pass, low-pass, and variable Q notch filters. www.digidesign .com.
PRODUCTION LIBRARIES
FirstCom Music announces the launch of their all new, Flash-based Website. The site is designed for professional producers that are "into more time for producing, less time looking for the right music." "The new FirstCom site makes browsing and searching our vast catalog totally intuitive," says Ken Nelson -VP/Executive Producer, FirstCom Music. "You have the option of scanning CDs as you would in your own library, or using a powerful new MusiQuick® interface and drilling down your search to very specific keywords and descriptions. Best of all, details and downloads are easily accessible from anywhere on the site." FirstCom clients can now download AIF, MP3 or WAV from anywhere on the site. Other new features include new organization tools, which let you view disc and cover graphics by library; enhanced virtual library allows you to search only the discs you have in your FirstCom library; easily save and share projects and the improved MusiQuick® (FirstCom's signature search engine) gives you more styles, more moods and more instruments/groups to search by than ever before. www.firstcom.com.
THE MIX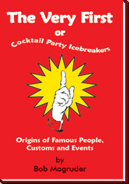 Who was the first real movie star? Did Jesus turn the water into wine. . . or beer? What was the first aphrodisiac? Who was the first human to wear undergarments? The answers to these questions and a gazillion more are found in the pages of "The Very First" by freelance voiceover veteran Bob Magruder of Dallas. The new book shares the origins of many timeless phrases, customs and historical events. Also within, find the very first crossword puzzle (ready for solving). Learn how the common English working family existed in the 19th century, sans rudimentary hygiene and birth control, the remarkable chronicles of the first horror movie, the first women's fashion magazine, the first football game, etc. "The Very First" treats you to curious stories about famous and not-so-famous men and women who changed their times and their world by being the very first at something. "This book is the product of curiosity," said Magruder, "and a lot of downtime that comes with the freelance voice business. It was a fun write. I think it'll be a fun read." www.theveryfirstbook.com.
Jeffrey Hedquist, President and Creative Director of Hedquist Productions, Inc. in Fairfield, Iowa and RAP columnist, will be teaching two classes on Improv for Audio Actors at the National Audio Theatre Festival to be held June 20-26 in West Plains, MO. Hedquist will be teaching with John McCullough, noted actor, director, standup comic and improv maven. Jeffrey and John will also be performing improv on stage with a live audience and on streaming audio during the Saturday evening finale. Hedquist said, "The NATF is one of the richest experiences for anyone who wants to improve their ability to do radio - any kind of radio. You get to work with some of the top audio creators in the world." Visit http://www.natf.org for details.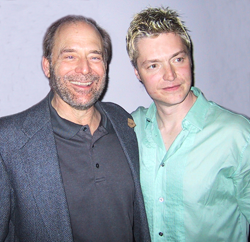 Ex-KIIS-FM PD & KFI House Voice Don Elliot (left) has joined fellow LARP Frank Cody to produce the syndication of "Chill with Chris Bottie". Trumpeter Chris has had the number one selling instrumental album in the U.S. for the last six months on Columbia entitled, "When I Fall in Love." The show is produced at Elliot's LA Studios and is distributed nationally on a barter basis. Elliot's studio has also recently completed jingles for Rick Dees' Weekly Top 40, BMW and International Windows, and expanded his Production Music Library, "The Legend", being repped internationally by Brenda Burt in Dallas. This email address is being protected from spambots. You need JavaScript enabled to view it..
Voiceover talent and RAPster Johnny George, under the direction of Creative Direction, a marketing communications company has been chosen as the media voice for the 2005 Indy 500 tickets campaign, "Accelerate Your Senses". The radio & television blitz runs through May. The race takes place at the Indianapolis Motor Speedway, May 29th 2005. The Indy 500 is broadcast on television around the world by ABC Sports and on radio stations via The Indianapolis Motor Speedway Radio Network. George, a national voiceover actor from Indianapolis, lives with his wife just north of Indianapolis in Fishers, Indiana. www.johnnygeorge .com.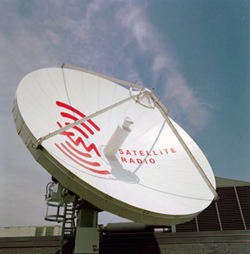 XM Satellite Radio announced that Jon Zellner, former Vice President of Adult Top 40/Hot AC Programming at Infinity Broadcasting, will be joining XM to serve in the newly-created position of Senior Vice President of Music Programming. At Infinity, Zellner oversaw Adult Top 40/Hot AC stations in 17 cities, including San Francisco, Dallas, San Jose, Orlando, and Denver. Previously, he served at Infinity as Vice President of Top 40 Programming, overseeing stations in 11 cities. He was Vice President of Programming for a four-station cluster of Infinity stations in Kansas City for eight years, as well as operations manager and program director for two Infinity stations in Boston for one year. www.xm radio.com.