TECHNOLOGY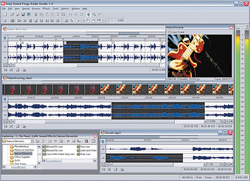 Sony Media Software announced the launch of Sound Forge(r) 8 Professional Audio Editing Software, the latest version of its digital audio editing product. New features include the addition of CD Architect(tm) 5.2 software for professional CD mastering, with direct track export functionality from Sound Forge software for Red Book audio CD creation. This new upgrade also provides application scripting functionality and batch processing which allows users to automate processes for multiple file encodes; customizable keyboard commands for streamlining workflow; the addition of low-latency ASIO driver support; and VST plug-in support which expands the number of effect options users can now apply to their audio. Other features include audio scrubbing and Windows XP theme support. Sound Forge 8 will be shipping in early March with a suggested retail price of $399.95. It will be available at software retailers worldwide or at the www.sony.com/mediasoftware Web site.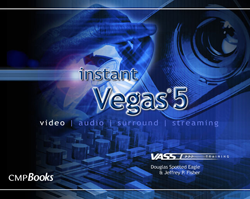 Creative professionals now have two new resources for using Vegas, the video and audio editing software from Sony. Instant Vegas 5 and Vegas 5 Editing Workshop, published by CMP Books, help filmmakers, audio professionals, and musicians get the most out of Vegas as both a powerful nonlinear editor (NLE) and a digital audio workstation. Instant Vegas 5, by Douglas Spotted Eagle and Jeffrey P. Fisher, is the latest release in CMP's Instant series, providing visual step-by-step instruction for getting up to speed. The book enables users to get to work fast with carefully detailed screenshots and easy-to-follow directions that illustrate the most-used features of Vegas 5 software in a concise, time-efficient way. Beginners get a no-fluff introduction to the intelligent use of Vegas, while more experienced users get real-world examples and creative suggestions for producing better projects. The book also highlights features of Vegas Movie Studio, the lower-priced consumer version of the program. Vegas 5 Editing Workshop, by Douglas Spotted Eagle, is part of the DV Expert Series, featuring practical, in-depth knowledge for working professionals and aspiring pros. The book provides comprehensive, real-world techniques and hands-on tutorials for a complete range of essential tasks in Vegas. Packed with all the necessary materials, including raw video footage, project files, and detailed instructions, this book and DVD set enables readers to master Vegas 5, from capturing and editing, to creating transitions, compositing, color correcting, and outputting projects to a variety of formats. www.cmpbooks.com.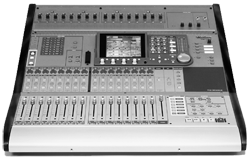 TASCAM's DM-3200 is an all-new 48-channel professional digital console. Based on the DM-24 in operational ease-of-use, the DM-3200 adds more busses, more effects, more auxes, USB connectivity and many other new features. Its user interface includes 16 rotary encoders with LED indicators to display mixer settings at a glance. Up to 6.1 surround panning is available, and the optional IF-SM/DM Surround Monitoring interface card adds multichannel monitor and down-mix capabilities. When you add the IF-FW/DM 24-channel FireWire interface card, the DM-3200 becomes a powerful all-in-one computer interface, control surface and mixing console, making it ideal for professional recording, post-production, film scoring and installation applications. A meter Bridge is also available. Features include 48-channel digital mixing at resolutions of up to 96kHz/24-bit, 32 channel inputs and 16 return inputs, 16 busses and 8 aux busses, 4-band full-parametric EQ and dynamics on each of the 32 channels, two stereo effects at 44.1/48k or 88.2/96k, 17 touch sensitive 100mm motorized faders, SEL/SOLO/MUTE keys and rotary encoder with ring LED display on each channel strip, 5 mixer layers (CH 1-16, CH 17-32, Return 1-16, Buss 1-16, Aux 1-8) and control layer with bank switching for DAW control, surround mixing ability - up to 6.1 surround panning modes, a world-class automation system, based on the acclaimed DM-24, driverless USB 1.1 connection to computer for data backup, 16 XLR balanced mic/line inputs with phantom power, -20dB pad and a new high-headroom microphone preamp design, 2 XLR AES/EBU and 2 S/PDIF digital I/O, 8 channel ADAT I/O & 24-channel TDIF I/O, 2 expansion slots for DM-24 compatible cards - analog, AES, etc., DAW control capability via MIDI or optional FireWire card, and several options. www.tascam.com.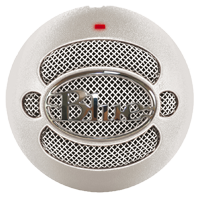 Blue Microphones announces the first USB microphone designed for professional recording applications. Dubbed the Snowball, the mic is an extension of Blue's popular line of spherical mics that includes the original Ball, the world's first phantom-powered dynamic; the 8-Ball condenser mic; and the newly shipping Kickball, Blue's new big bass dynamic. Designed for desktop recording applications, the Snowball's universal driver and plug & play USB compatibility is designed to make recording into your laptop or DAW quick and easy, while its dual capsule design and three-position switch dial in the desired sound for many applications. The Snowball's versatility is achieved by its unique dual-capsule design, with one capsule tailored for vocals and the other for instruments. A three position switch on the back of the mic lets you change between the capsules. The first position offers the end user a robust vocal sound, the second position delivers an open, airy detailed sound and the third position is a unique combination of both capsules, which allows for the recording of loud sound sources. $139.00 MSRP. www.bluemic.com.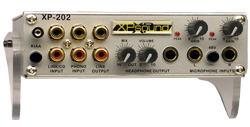 XP Sound launched the XP202 professional USB Audio Interface at NAMM 05. The XP202 is an all around USB audio interface for Mac or Windows PC's that provides solutions for musicians, DJ's, audiophiles, and multimedia content developers alike. Designed for musicians for use as a professional audio interface with recording applications like Cubase, Logic, Wavelab, Nuendo, and equally so for audiophile users wishing to transfer their vinyl album collections to CD. Features include USB audio interface for Mac & PC, two onboard mic preamps with phantom power, stereo line input, stereo phono preamp, stereo headphone amplifier, mix/balance control (balance USB audio playback and input signal for headphones), and two parallel stereo outputs (one front, one rear). Housed in a compact shielded chassis, the XP Sound 'XP202' audio interface is protected against distortion and interference from your PC. The unit powers directly from USB and offers easily accessible connection possibilities on the front panel. Simply connect the included USB cable to your Mac or PC to enjoy the benefits of professional audio on your desktop or laptop personal computer. The XP202 will be available in Q2 2005 for an estimated street price of $199 USD. www.xpsound.com.

Hercules Technologies announces the release of Hercules 16/12 FW, the first FireWire 24-bit 96kHz 16-In/12-Out audio and MIDI interface for PC and Macintosh. "FireWire technology opens up new horizons for audiophiles in search of an external, powerful digital audio hard disk recording system," states Bruno Ormel, Sound and Video Business Unit Director at Hercules. Hercules 16/12 FW is the flagship product in Hercules' new line of digital audio products. Features include sturdy external FireWire audio interface mountable in a standard 1U/19" rack unit, up to 16-In/12-Out simultaneous multi-track recording on PC and Mac OS X via FireWire (IEEE 1394), 24-bit 96kHz audio sampling with professional-quality converters, 16 independent inputs including 12 analog In, 1 coaxial In (stereo) and 1 optical In (stereo), 12 independent outputs including 8 analog Out, 1 coaxial Out (stereo) and 1 optical Out (stereo), 2 mic/instrument pre-amps with switchable 48-volt phantom power via Neutrik™ combo (XLR/TRS) connectors, 2 MIDI In and 2 MIDI Out via standard DIN jacks (32 channels In/32 channels Out), Word Clock I/O synchronization via BNC connectors, no latency with direct hardware monitoring, compatible with all the most popular audio software applications, and a full driver package for Mac OS X (Core audio) and Windows (ASIO2.0, GSIF, WAV, DirectSound). www.hercules.com.
Staco Energy Products Co. will introduce the UniStar Sx(r) Series in booth C1207 at the National Association of Broadcasters tradeshow from April 16-21 in Las Vegas. This new single-phase on-line UPS product offers powerful protection with sophisticated diagnostics and advanced circuitry. Its double-conversion design completely isolates and conditions the power coming into the unit before it is distributed to the protected equipment, eliminating the manual resets required of digital equipment in unprotected circuits. Available in sizes from 700 VA to 3,000 VA, the Unistar Sx(r) offers remote monitoring and diagnostic capabilities through an SNMP adaptor or its own power management software. For maximum installation versatility, it is offered in tower and rack-mount models. www.stacoenergy .com.