TECHNOLOGY
Sony Media Software announced upgrades to its Vegas® nonlinear video and audio editing system and DVD Architect authoring program. These two applications form the core of the new Vegas+DVD Production Suite, specifically upgraded for HDV, which also includes a Dolby Digital® AC-3 multi-channel encoder for 5.1 surround output. Both products retain the same progressive editing interfaces as their predecessors, but offer many technological advances that cater to production professionals involved with independent films, documentaries, corporate and professional event videography, as well as feature and broadcast productions. The Sony Vegas+DVD Production Suite is available worldwide with a suggested retail price of U.S. $899.95. Vegas 6 will also be available separately for a suggested retail price of U.S. $599.95. More information can be found at www.sony.com/mediasoftware, including a complete list of new features.

New from TASCAM, the MD-CD1 combines CD playback and MiniDisc recording in a single rackmount unit designed to save rack space and installation budgets. Features include 12% pitch control, MP3 CD playback, RS-232 control and an optional balanced I/O board that allows it to be spec'd into a variety of applications. Discs can be duplicated from CD to MiniDisc at up to 4x speed, and a wireless IR remote is included. CD features: MP3 file playback/ID3 tag display, +/-16% pitch control, change tempo without affecting the key, dedicated digital & analog outputs, transport control with PS/2 keyboard. MD Features: supports ST, MONO, LP2, and LP4 mode (REC/PLAY), edit function, overwrite recording, +/-12.5% pitch control, dedicated digital I/O (optical) and analog I/O (RCA), PS/2 keyboard input for title input and external control.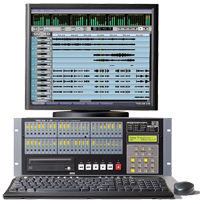 Also new from Tascam is the X-48, the world's first 48-track hybrid hard disk workstation, offering both the stability and ease-of-use of a stand-alone hard disk recorder along with the GUI, editing features and plug-in compatibility of computer-based digital audio workstations. The X-48 boasts 96kHz/24-bit recording across all 48 tracks and 192kHz recording across 24 tracks. Its file interoperability and synchronization surpass the TEC award-winning MX-2424, making it ideal for music, post and live recording applications. Its built-in automated 48-channel digital mixer, VGA display output, powerful editing functions and DVD+RW backup transform the X-48 into a complete standalone workstation. Other features include: 24-track recording at 192kHz/24-bit; VGA and PS/2 connections for keyboard, monitor and mouse; built-in 48-channel TDIF inputs and outputs; built-in S/PDIF I/O; two 24-channel option slots support analog, ADAT or AES/EBU expansion cards; time-stamped Broadcast WAVE file format; built-in 80GB hard drive; built-in DVD+RW drive for backup and restore, two FireWire (IEEE-1394) and four USB 2.0 ports for external hard drive support; ±12.5% varispeed; gigabit Ethernet, includes FTP server and drive sharing; built on embedded Windows XP operating system; 48-channel digital mixing at 96kHz / 24-channels at 192kHz; 6 stereo returns (60 inputs at mixdown); 24 busses, 6 aux sends, 4 VST plug-in inserts on each channel, group and aux return; and it's controllable using the US-2400 24-fader Universal Controller. The TASCAM X-48 has a manufacturer's suggested retail price of $4,999. www.tascam.com.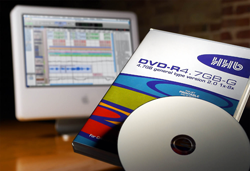 HHB Communications introduced a new range of 1X-8X speed DVD+R and DVD-R recordable discs. HHB's new recordable DVD media offers greater reliability through the employment of a unique azo dye formulation, which guarantees complete stability and a secure archival life in excess of 70 years. Full metallization of the entire surface of the disc yields a greater printable area, and allows superb color matching - even in the hub area of the disc. Available in both inkjet and thermal-printable versions. The range consists of four disc types: DVD-R4.7GB-G (single, library-packed General type disc with an inkjet-printable surface); DVD-R4.7GB-GBulkIP (50 disc cakepack of General type discs with an inkjet-printable surface); DVD-R4.7GB-GBulkThermal (50 disc cakepack of General type discs with thermal-printable surface); and DVD+R4.7GB-Plus (single, library-packed General type disc conforming to the DVD+R format, with an inkjet-printable surface). HHB products are distributed exclusively in the United States by Sennheiser Electronic Corporation. www.sennheiserusa.com, www.hhb.co.uk.
Get Spots is a new "in house" spot delivery system that creates a customized, user-friendly and professional looking environment to post audio files for your clients to access as needed. The client determines when they want to download and review their spots. It provides the station Production Manager with more control, with tracking reports and with follow up data that gives the PM valuable information such as whether the client has listened to the most recent version of their spot, tracks when they listened to it and provides reports for follow up on the client to ensure that the ad gets placed expeditiously. If the client hasn't listened to the spot in a specified amount of time, a reminder email can be sent to the client. When a client logs in with their unique password, they are welcomed and presented with all of their campaigns and spots ready for download. Users can only see and download their own spots, not the spots of a competitor as in FTP type applications. Your Logo can be prominently displayed to the client on the Login screen. Demonstrations available at www.getspots.net.

TC-Helicon introduces the VoicePro advanced voice-processing unit. A combination of proprietary voice processing algorithms developed through years of human voice research, and a voice-optimized compilation of essential vocal effects including, classic TC algorithms, VoicePro delivers limitless vocal sounds for music, game, post and commercial audio designer/producers. The unit is designed to inspire creativity and save production time by allowing all aspects of a vocal performance to be altered once the talent has left the studio. Estimated list price is $3495. VoicePro features include TC-Helicon's third generation VoiceModelingTM, Hybrid ShiftingTM and FlextimeTM algorithms allowing pitch, time and character of a voice to be refined and manipulated. Sound designers and music producers will benefit from a transducer algorithm that emulates telephones, radios and other quality reducing devices. To polish off any preset, VoicePro includes voice-optimized versions of classic TC reverbs and delays. Other features include 24/96 analog and multi-channel digital I/O, a 320 x 250 color TFT display, and 250 factory presets (250 user) that include four assignable parameters for instant tweaking. www.tcelectronic.com.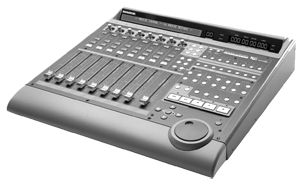 Mackie, a LOUD Technologies brand, announced that Apple's latest versions of the popular Final Cut Pro and Soundtrack Pro audio/video editing software applications now offer full interoperability with the Mackie Control Universal touch-sensitive control surface. The Mackie Control Universal (MCU) is part of an extended family of software controllers that includes the MCU, the Mackie Control Universal Extender, an 8-channel extension for the MCU, and the Mackie Control C4, a dedicated virtual instrument and plug-in controller. Mackie developed this entire range of products in close cooperation with Apple/Emagic. www.mackie.com.
Digidesign announced shipment of the Digidesign D-Command tactile worksurface, the newest member of the ICON integrated console family. Incorporating much of the same functionality, industrial design, and custom workflow capabilities as the flagship ICON D-Control tactile worksurface, D-Command packs control and ICON-exclusive Pro Tools functionality into a medium-format console at a more affordable price. To introduce D-Command to the world, Digidesign is hosting a worldwide Mixing with ICON D-Command Tour. The tour will demonstrate how combining an intuitive, ergonomic worksurface with the Pro Tools|HD DSP mix engine and a wide range of I/O options gives ICON systems unsurpassed, end-to-end control over audio projects. www.digidesign.com.
PRODUCTION LIBRARIES
New releases from Killer Tracks include KT 171 - Reality TV, KT 172 - Acoustic Guitar 4, CM 56 - Underground Hipsters, CM 57 - Hip Music For Now People 4, Atmos 197 - Mad, Bad & Jazzy 3, Atmos 198 - Tuff Cutz, Atmos 199 - The Rhythm Guide, Koka 2248 - Acoustic Pop Guitar, Koka 2250 - Digital Life, Koka 2251 - Pure Adrenalin, BPM 3019 - Italian Life, BPM 3020 - Horror & Sci-Fi, BPM 3021 - Jazz & Big Band, and Cez 4034 - The Sound Of Science. Audition tracks at www.killertracks.com.
Jeff Thomas Productions present the next generation in the Killer Hertz series, Killer Hertz V. Killer Hertz V is a cash licensed production service delivered daily via the internet with new sounds added daily, plus the imaging services of Jeff Thomas. Market exclusive. Demo and info at www.killerhertz.com.
Zomba Enterprises, Inc. announces the launch of SEE, a new music venture with BMG-Zomba UK and FirstCom Music created specifically for motion picture advertising. "The SEE Music catalog is not background music, but rather high impact, Cinematic music styles for Motion Picture and Television Advertising," says Ken Nelson - Vice President/Executive Producer of SEE. The initial SEE Music catalog will feature four volumes of music designed specifically for motion picture advertising and will include: action, adventure, epic, dramatic and whimsical styles for orchestra and chorus, along with incidental music for opens, transitions and moods. Demo SEE at www.seemusicnow.com.
THE MIX
Drake Donovan Productions re-ups with Northeast Colorado Broadcasting's KPRB for another year of voice-over and imaging production. They've also signed him up to produce for sister station KPMX featuring the dulcet tones of Kelly Iris. www.drakedonovan.com.
ASKVideo Interactive Media, creators of the SX ED tutorial on previous versions of Steinberg's Cubase, is now shipping Level 3 completing the trilogy series of interactive tutorial DVDs for Cubase SX 3. Cubase SX 3 Tutorial DVD Level 3 is an advanced fast paced tutorial that delves deep into the most advanced areas of Cubase. Topics like Time Warp, Audio Warp, Audio Processing, MIDI Devices, Rewire and VST System Link are explored in understandable detail - using clear examples to illustrate the some of the more difficult concepts. Includes 26 indexed videos with over 3 hours of advanced instruction on Cubase SX 3. www.askvideo.com.