Page 1 of 4
Sean Bell, The New Yorkshire Production Department, New Yorkshire, United Kingdom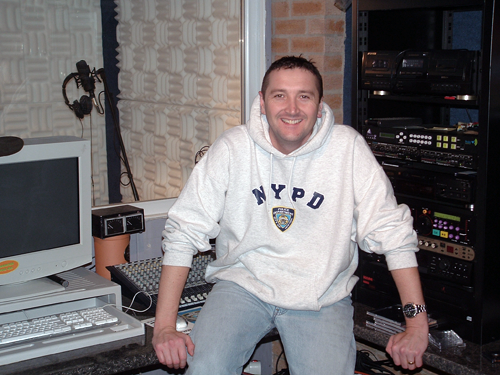 By Jerry Vigil
Most RAP Interviews about someone with their own production business start out with a story of a career in radio. Sean Bell started as a club DJ then worked his way into an ad agency and a production house before launching NYPD, the New Yorkshire Production Department. In a few short years, Sean has grown his business very well, and his work is heard throughout the UK and in many other countries as well. This month's interview gets an inside look at NYPD and the services it provides. There are lots of similarities to US-based one-man production shops, but there are some differences, too. And though more and more producers exit radio stations to launch their own production house, it appears there's still plenty of work out there, thanks in no small part to a world getting more and more connected with the Internet. Be sure to check out Sean's demo on this month's RAP CD!
JV: How did you get started in the business?
Sean: Well I always had an interest in music having worked as a club DJ. I started in the nightclub when I was 17, but I didn't know what I wanted to do as a career. In 1988 I managed to work my way into an advertising agency, which had an in-house production facility, which was quite unique at the time. I was working as a production assistant looking at radio commercials, TV commercials, and corporate video, that sort of stuff. I stayed at the agency for three years, and I was still DJ-ing at the same time.
Then I took a job DJ-ing in Greece for what I thought was going to be one year. I ended up staying out there for about three years. That was on the island of Corfu. When I came back from Greece, the ad agency I had been working for before had folded and gone bust. The person that I had been working for started his own production company, and I starting doing some freelance work with him. The company was called Pentagon, and they just looked at doing radio and TV commercials, no print advertising. So I did a lot of freelance work with them and also managed to get in with the BBC producing drama and documentaries for the BBC at a national level.
I worked in that freelance capacity for three or four years. Then in 1996 I went to work for Pentagon full-time as a producer for them. I stayed there for three years before leaving and starting NYPD.
JV: What made you decide to go out on your own?
Sean: The reason I left Pentagon was because when we had ISDN facilities put in at Pentagon, I started dabbling as a voice-over artist. When I was working as a voice artist my boss at the time was quite happy to turn the blind eye to me popping into the studio and voicing occasional scripts during the day while also picking up a wage for working at the production company. But it became a little too much too often. And although he was happy, some of the other staff were — quite rightly probably – saying, why should Sean be able to earn his own money during work time. So it was stopped. The company was going to get bought out and the new people didn't understand radio. They were just looking at new media. There were a lot of things at that time that all pointed for me to leave and go to work for myself.
During that time, after doing freelancing all of those years, I actually tried my hand at radio presenting as well, and I very quickly established that I was not a good presenter, which I find kind of frustrating because as a club DJ I've won awards and I've been around the world and I do a really good job. I'd do the mixing and talking and even make my own sweepers and stuff to use in the clubs and everything would be perfect; but to sit down in a radio studio and present a radio program, I just couldn't do it. So I decided my passion lay within radio production, which obviously is where I went in the end. So NYPD was established in April 1999.
JV: What services did NYPD initially provide?
Sean: I started off just doing radio commercial production. When I left Pentagon — because they weren't going to support the radio side anymore — there wasn't a problem with me taking the client base from Pentagon. So when I set up NYPD, I already had three clients, which was a nice position to be in. NYPD, being an independent production company, can supply commercial production services to the small stations who don't have their own in-house facilities because it would cost them too much to have someone in house and to buy the music license and to invest in the studios and so on. There were a lot of small stations in the country across the UK, and that was the market I was aiming at. So I started off just doing radio commercial production.
JV: How's business?
Sean: At the moment, I'm supplying to fifteen radio stations across the country. Now, I don't get a job from every one of them every day. The way that I've built my business is that I've managed to get my foot in the door with the radio station, and there's no contract or formal agreements or anything like that. It's just the case that they can put their work to me if they want to. So it's up to me once I've got them as a client to make sure I look after them and service them well because if I don't, then there's nothing to stop them from going elsewhere. I've got clients right from the top of Scotland down to the south coast and east to west as well. I can pretty much drive anywhere in the country and pretty soon I'm going to hear a commercial I've either written, voiced or produced.
But I also work with clients abroad. What I've done is sat down when I have spare time, and I've gotten on the Internet and looked for ad agencies and production facilities and establishments like that — anywhere where there's the English language. I've emailed them and maybe asked them if they wanted to hear a short mp3 demo which can I send out to them, or I'll drop a copy of my demo CD in the post to them. I've gotten work from all around the world. I hit the Asian market, Bangkok and Hong Kong and places like that, and I've gotten work from them. There are a lot of English-speaking radio stations in Europe, in France and in Spain, and I've managed to get with many of these stations, whether it's for voicing or producing or whatever.