TECHNOLOGY

The Marantz PMD570 is the first rack-mount recorder capable of recording an entire day's worth of audio without changing media, offering MP3, MP2, WAV and BWF format compatibility. It records directly to Compact Flash memory cards, which can be removed for easy file transfer to a computer. The recorder allows direct download to any computer in minutes and seconds to burn a CD of the recording. Features include: RS-232c control of functions, easy One Touch Record, no moving parts, over 40 assignable quality settings, 16-48 kHz sample rate selections, 32-384 bit rate selectable, digital I/O, balanced XLR line inputs with trim, and unbalanced line I/O. www.d-mpro.com.

Manifold Labs is now shipping Plugzilla, its flagship rack-based product capable of running nearly any VST plug-in. Plugzilla can store thousands of plug-ins and presets in its internal memory and features USB and Ethernet connections for efficient plug-in transfers. In addition, 32 midi channels plus four footswitch inputs, a variety of USB peripherals, and two sets of eight "hot knobs" and "hot switches" that can be assigned and routed to plug-ins add flexibility to the product. www.plugzilla.com.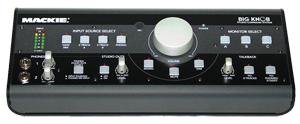 Mackie introduced their new monitor switching, source selection and communications box for DAW-based studios known as the Big Knob Studio Command System. Big Knob is designed for professional and project studio owners who record with computer-based systems and need the essential control room functions absent from many of today's software-based systems. Big Knob's name is inspired by its most prominent feature - a large volume knob that provides easy access for precise level adjustments. Also handy are three buttons for quick switching between three sets of studio monitors, a built-in Talkback microphone, Input Source Select for up to four different stereo sources, dual headphone outputs with an independent headphone mix bus, as well as Mono, Mute and Dim switches. Rear-panel connections include a dedicated DAW mix input as well as three independent 2-track stereo inputs, each with variable gain control as well as +4dB and -10dB selection buttons. Three 2-track stereo outputs also provide +4dB and -10dB selection buttons. Other connections include a DAW Phones Mix Input, a Phono preamp input, outputs for up to three sets of control-room monitors as well as one set of in-studio monitors and a Talkback Foot Switch input. www.mackie.com.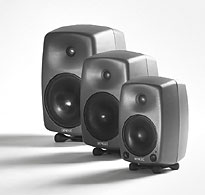 Genelec launched a new line of near-field, two-way systems. The 8000 Series comprises three new products: the 8030A, 8040A, and 8050A, which replace the 1029A, 1030A, and 1031A, respectively. Following the footsteps of the 7000 series of LSE™ subwoofers, the 8000 series takes a new approach to enclosure design, driver technology, and active electronics. All three models utilize all aluminum, minimum difraction enclosure(MDE™) design, with large internal volumes, softly curved edges, and outstanding mechanical strength. The 8030A, the smallest of the series, features a 5 inch bass driver along with a 3/4 inch tweeter loaded into a new Genelec Directivity Controlled Waveguide™ (DCW™). The free field frequency response is 55Hz to 21kHz. Peak SPL per pair is 108dB driven by a pair of 40-watt amplifiers. The intermediate sized 8040A, incorporates a newly designed 6 1/2 inch woofer and a 3/4 inch tweeter also set into the Advanced Genelec DCW™. The free-field frequency response is 45Hz to 21kHz. Peak SPL per pair is 115dB achieved utilizing 90 watt amplifiers for each driver. The 8050A is the largest model. It uses a proprietary 8-inch bass driver and a 1 inch tweeter also set into the Advanced DCW™. The 8050A will produce peak SPLs of 120dB with a free-field frequency response of 35Hz to 21kHz. Bass and treble amplification is 150 and 120 watts respectively. The 8040 and 8050 models also feature new crossover filters and room response controls. A "Desk-top (console) Bass control" has been added along with the customary Genelec Bass Tilt, Bass Roll-off, and Treble Tilt controls.
ASKVideo Interactive Media, creators of the SX ED tutorial on previous versions of Steinberg's Cubase, are now shipping the first in a new series of interactive tutorial DVDs for Cubase SX 3. Cubase SX 3, the new version of Steinberg's line of music production systems, adds more than 70 new features including Audio Warp real-time time stretching, an intuitive Play Order Track, convenient Inplace Editing and many new editing functions. The ASKVideo Cubase SX3 Level 1 DVD is designed to get novice and first time Cubase users up and running quickly through a series of high quality, information packed videos. The DVD features 28 videos covering topics ranging from set-up information on Audio & MIDI, New Projects, VST Connections, and Customizing the Project Page to more in-use subjects such as Tools, Tracks and Transport, Recording Audio, Looping, Audio and MIDI Editing, Play Order Tracks, and The Mixer. Once the user is acquainted with the basic aspects of Cubase SX 3, the DVD provides videos on getting the most from the program using Key Commands and Macros, Important Preferences, Workspaces, and Managing Audio. Visit www.askvideo.com for ordering information and retail availability.
PRODUCTION LIBRARIES
New releases from Promusic include: AB-CD 130 Positive Attitude, AB-CD 132 Happy Hip-Hop, ARTF 18 Smooth Minimals, MML 126 Modern Life 2, JUST 043 Drama for Movies, and PRCD 148 Promos Design One. Audition tracks at www.promusic-inc.com.
THE MIX
Congrats to Drake Donovan who recently received the Pittsburgh Achievement in Radio Award for Best Production/Creative Service. Check out Drake's work at www.drakedonovan .com.
RAPster Glenn "Casey" Cook of Newberry and WNBY Radio has been named a winner of the International Communicator Awards 2004 Crystal "Award of Excellence", in one of the largest awards competitions in the world for creative media. Cook, one half of the "Coffee Crew" morning show on Tahquamenon Country 1450, is also Production Director for the two Newberry radio stations and his own advertising company, SpotsThatCook.com. He won the award with a spot he wrote, voiced and produced for the 2004 River Rampage Hydroplane Race in Sault St. Marie and also received an "Honorable Mention" from the 2004 awards for a spot he did for L.M.A.S. District Health Department, when they presented Detroit area musical group, QTMC, in concert last summer at the Tahquamenon Logging Museum. There were 923 entries in the Communicator Awards 2004 Audio Competition. The Communicator's prestigious "Award of Excellence" is presented to entrants whose ability to communicate makes them the best in their field. Honorable Mention certificates are granted to those entries that meet the high standards of the industry. Cook won the "Award of Distinction" in 2003 for projects that exceed industry standards in production or communication skills. This email address is being protected from spambots. You need JavaScript enabled to view it..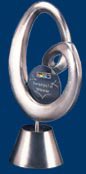 FirstCom Music announces the official start of their Sweeps1st contest. Promo producers are invited to submit their best works for Local and National television, Network or Cable featuring music from any of FirstCom's 15 libraries. Producers may enter more than one production. A completed, signed entry form must accompany each entry. Entries will be judged based on the following criteria: Best Use of Music, Creativity and Production Value. The winner will be selected via judging of all officially received entries on March 1, 2005. Only one winner will be selected for each prize level and the winners will receive: First Place: Sweeps1st Trophy and $500 Cash Prize; Second Place: Apple iPod®; Third Place: FirstCom Music Gear Prize Package. All entries must be received by 6:00PM CST on January 30, 2004. Official entry form and contest rules are available at www.firstcom.com. Entry materials should be sent to FirstCom Music - Sweeps1st Contest, 1325 Capital Parkway, #109 Carrollton Texas 75006. Video entries will be accepted in any format. The preferred format is mpeg.
George Noory, host of Coast to Coast AM, has released a double CD titled, "George Noory Presents After Dark" - 2 1/2 hours of music played on the radio show, some of his favorite conversations with callers and guests, and his reading of classic, scary stories. The CD will be sold exclusively at www.CoastToCoastAm .com. Host George Noory said, "I'm very excited about this double CD and am glad to share some of my favorite music and phone calls about the paranormal from Coast to Coast AM, plus some timeless short stories from the original scare-masters that have stuck with me over the years." Coast to Coast AM is heard nightly on more than 500 stations in the U.S. and Canada and is syndicated by Premiere Radio Networks. For more information log onto www.CoastToCoastAm.com.