TECHNOLOGY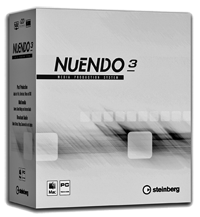 Steinberg Media Technologies announces that the latest version of Nuendo is now shipping to Steinberg distributors worldwide. Nuendo 3 sees the introduction of many new features. Among the new functionality tailored to audio professionals in post-production are "out-of-the-box" AAF support, X-Send integration, new Media Management tools and the Warp To Picture feature. Version 3 also takes Nuendo to new strengths in mixing and surround, with full AFL/PFL facilities, the new MixConvert and External Effects plug-ins as well as the new Linked Panners mode. Nuendo 3 also offers a palette of new functions for recording facilities, with Steinberg's Audio Warp tools, 10-minute audio prerecord utility and support of the new Studio Connections protocol developed by Steinberg and Yamaha. Nuendo 3 is now available from authorized Steinberg pro audio dealers worldwide for $2,499.99. Steinberg has also announced a special limited upgrade offer for existing Nuendo customers which is valid until February 28th, 2005. Nuendo 2 customers can upgrade for $299.99. From March 1st, the update prices for existing Nuendo 2 customers will be $499.99. Steinberg also announced the availability of the first update to its Cubase SX3 music production system. Among the new features in the update to version 3.0.1 is the new studio-grade RoomWorks reverb plug-in. This fully surround-capable reverb allows Cubase SX3.0.1 users to scale the CPU efficiency of the plug-in. Its user interface also offers built-in context help, and the preset library offers over 60 predefined virtual spaces. The MIDI device panels system is now also available for editing effect plug-ins in audio channels as well as VST instruments, making any parameters of those objects instantly accessible not only in the Project Window, but also on the appropriate channel mixer strip and the track inspector through user-defined panels. Cubase SX3.0.1 is now available for download to all Cubase SX3 customers from the Steinberg website: www.steinberg.net.

Sennheiser recently introduced the Evolution e840 professional cardioid vocal microphone. Highly insensitive to feedback and featuring excellent vocal projection, the e840 dynamic microphone has been engineered to cut through high onstage levels by efficiently suppressing sounds emanating from outside its pick-up pattern and providing high gain before feedback. It is additionally fitted with a hum-compensating coil to reduce electromagnetic interference. The rugged metal housing, finished in gray with a gray basket, encloses a shock-mounted capsule, resulting in a durable microphone that is highly insensitive to handling noise and perfect for live performance. MSRP: $189.00. www.sennheiserusa.com.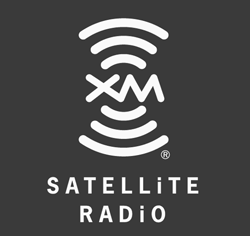 XM Satellite Radio (Nasdaq: XMSR) introduced the XM "Connect-and-Play," a new technology designed to integrate XM into a broad range of home entertainment devices. The centerpieces of the technology are XM's "Connect-and-Play" chip and data-port, a low-cost, mini-serial bus connector (Mitsumi part CAM-C16). For a low relative incremental cost, manufacturers of popular consumer electronics products, such as stereo and home theater receivers, DVD players, table top radios and portable media players, can now add the XM "Connect-and-Play" chip and data-port, making their device instantly "XM-Ready." Through this new technology consumers simply plug an XM Connect-and-Play home antenna (MSRP: $49.99) into an XM-Ready audio product and activate the service to receive XM's 130-plus digital radio channels. No additional accessories or installation are required. The Connect-and-Play antenna is similar in size and form factor to the current XM home antenna currently shipping with all of XM's "plug and play" and XM2go products. Utilizing XM's industry-leading chipset technology as well as a new proprietary chip and signaling protocol, the XM Connect-and-Play antenna is capable of receiving XM's satellite and terrestrial signals as well as channel tuning, decoding and audio transmission. The company plans to launch the XM Connect-and-Play antenna in March 2005. The first compatible XM-Ready products are planned to be available at retail at the same time. Additional XM-Ready products will be introduced throughout the year. www.xmradio.com.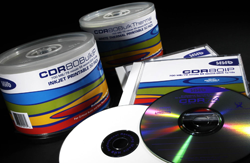 HHB is delighted to unveil a new range of CD-R discs, which offer a significantly higher level of performance and reliability in audio recording applications than the current proliferation of high-speed CD-R media. As some users are learning, this high-speed media is primarily designed for data recording, and is consequently not compatible with standalone audio CD recorders, yielding degraded performance and increased error rates. Unlike conventional media, HHB's new CD-R discs are optimized for low speed 1X-12X writers, delivering consistently low block error rates and low jitter in audio recording applications, while also improving economy by reducing the operating stress on the lower-powered lasers used by audio CD recorders. This optimization results in the total integrity of the recorded data, making it essential for anyone involved in audio CD recording or duplicating. Using an improved version of HHB's original specially formulated Phthalocyanine dyes, and with a secure archival life in excess of 200 years, the range comprises both 74- and 80-minute versions in inkjet and thermal printable variations. Both jewel-cased and bulk packed discs are available. All discs are extensively batch-tested during manufacturing, and checked for compatibility with a wide variety of recorders and players. The new CD-R discs replace the existing 1X-24X discs in an HHB Professional Recording Media range that also includes CD-RW, DVD-R, DVD-RAM, MiniDisc, MO, DAT, ADAT and DTRS formats. The original HHB CDR74 Gold 1X-8X disc remains unchanged. www.hhb.co.uk.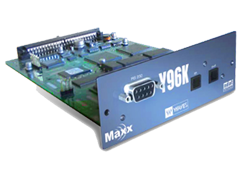 Yamaha Professional Audio announces the Y96K high-performance DSP add-in processor card, a joint development between Yamaha and Waves, Inc. This dedicated hardware and software solution expands the recording, mixing and mastering capabilities of Yamaha's digital mixing consoles and digital audio workstations, and reduces the need for outboard rackmounted processors and CPU-hungry computer-based processing. The Y96K inserts into any of the Mini-YGDAI slots on the Yamaha host models and uses two DSP56K devices, providing two billion DSP operations per second. Audio processing is supported with 48-bit internal precision on a 24-bit I/O. The device includes ADAT Lightpipe fiber optic digital input/output in Master or Slave Mode, eight-channel ADAT I/O and an RS-232C port for future upgrades. Each installed card supports up to eight (44.1/48kHz) or four (88.2/96kHz) chains of effects and channels of ADAT/IO. The package features control software and six of Waves' audio processors: TrueVerb, SuperTap Delay, L1 Ultramaximizer, Renaissance Compressor, Renaissance EQ and DeEsser, with additional processors scheduled for release as downloads. MSRP: $1,149. www.yamaha.com.
PRODUCTION LIBRARIES
New Releases from Killer Tracks include CM 53 – Chronic Presents: DJ Samantha. KT 165 - Killer Rocks 2, KT 166 – Motivational 6, KT 167 - The Human Experience, KT 168 - Too Much Fun, KT S007 – Killer Scores Set 7/Dark Zone 2, Edge 79 – Sports: Dramatic 2, NJJ 78 – Drama/Tension, NJJ 79 – Motivational 5, Atmos 191 – Eccentrics, Atmos 192 – Movie Trailers, Atmos 193 – FUNK.SOUL.JAZZ, Koka 2243 – Classical Emotions, and more. Audition demos online at www.killertracks.com.
THE MIX
Jeffrey Hedquist, President of Hedquist Productions, Inc. in Fairfield, IA, will be speaking at the Radio Advertising Bureau's 2005 national conference held at the Hyatt Regency in Atlanta. Hedquist's seminar, titled, "Keeping it Real: kill the hype, expose the truth, get results" will run from 9:30 a.m. to 10:45 a.m. on Friday, February 11th and again on Saturday from 2:30 p.m. to 3:45 p.m. Hedquist says, "Consumers are more sophisticated, jaded and skeptical of anything that sounds like advertising. This seminar demonstrates how to create commercials that don't sound like commercials, how to kill the hype and expose the powerful truth that will resonate with target audiences, and how to create 'slice of reality' spots. In short, how to get under the radar of wary and weary listeners and get results for advertisers." Seminar-goers will hear produced commercial examples for each technique so they can understand how they're used - and they'll participate in creating radio-commercial stories live in Hedquist's workshop. Hedquist has conducted hundreds of seminars for radio and advertising groups and he's a featured columnist for Radio And Production, Radio & Records, Small Market Radio Newsletter, and All About Country.
Yamaha Corporation announces that it has reached a basic agreement to acquire 100% of the common stock of Steinberg Media Technologies GmbH, a division of Pinnacle Systems, Inc., a California-based maker and seller of video editing systems. The acquisition, which includes Steinberg's US sales operations, took place through closed competitive bidding in December. Founded in 1984, Steinberg Media Technologies became part of the Pinnacle Systems Group in January 2003. In the mid 1990s, YAMAHA forged a relationship with Steinberg by using its computer music products and bundled software. In April 2004, YAMAHA and Steinberg deepened their cooperative relationship with the Studio Connections initiative, a joint-development project to seamlessly integrate YAMAHA's hardware products with Steinberg's software. Now, YAMAHA has reached agreement to acquire all of Steinberg's common stock through closed competitive bidding. Eying growth in the music creation market and expanded sales of sound equipment, YAMAHA has incorporated Steinberg's assets, including its strong technical capabilities in software development and intellectual property, into its Group efforts and further strengthened these activities through joint-development projects. Having determined that Steinberg's competitive capabilities will be very formidable going forward, YAMAHA decided to acquire all of that company's common stock through participation in closed competitive bidding. With the acquisition of Steinberg, YAMAHA plans to further promote the Studio Connection initiative and realize seamless technical integration of hardware, such as synthesizers and digital mixers, and software. Another goal of the acquisition is to expand the market by making it easier for both general users and professionals alike to create music in a broad variety of genres.