TECHNOLOGY
iZotope has released its Vinyl software plug-in for Mac OS X. The plug-in can be downloaded for free from iZotope's web site in Pro Tools, VST, MAS, Audio Unit, and DirectX formats. Vinyl creates an authentic "vinyl" simulation as if the audio were a record being played on a record player. It provides the user with control over parameters ranging from the amount of dust to the year the record player was created.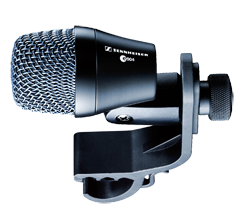 Sennheiser Electronics Corporation introduced the Evolution Wired Microphone Performance 900 Series at the 117th AES Convention in San Francisco. For vocal and instrumental applications, the Evolution 900 Series is comprised of seven new backline mics, plus the three previously introduced 900 Series models, the cardioid 935, super-cardioid 945 and the 903 instrumental mics. The new additional backline mics are the Evolution 901, 902, 904, 905, 906, 908 and 914. All 900 Series microphones feature transparent sound, are insensitive to handling noise, and have excellent transient response and feedback rejection. Tight and uniform polar patterns, tighter manufacturing tolerances and gold XLR pins are common to the entire line. Targeted to professional musicians, PA rental companies and rehearsal studios, the 900 Series is optimized for all measurable parameters.

As distributor for Rosendahl, Sennheiser showcased the new Rosendahl bonsaiDRIVE at the 117th AES convention. The bonsaiDRIVE is an affordable, miniature, lightweight and extremely portable hard disc recorder that allows one to capture both high-quality video and multi-track audio. Designed and manufactured in Germany, the bonsaiDRIVE is targeted to the broadcast, post-production, video or multi-media markets as a standalone instant access recorder. Simultaneously handling 4:2:2 PAL or NTSC video signals alongside ten audio channels, the Rosendahl bonsaiDRIVE allows the user to specify their own choice of standard IDE drive which neatly slots into the unit itself, creating a compact, lightweight recorder that also functions as a totally portable media storage device. Video is handled in either Composite, S-video or Component formats, and is processed using lossless 2:1 compression to yield extremely high-quality results, while the audio I/O is configured as an analogue stereo pair and a 24-bit, 48kHz ADAT eight-channel digital stream. All bonsaiDRIVE recordings are stored as unique clips and allow the user to generate a movie playback with associated EDL. Each frame is recorded individually, enabling jog, shuttle and playback to be varied between 200%, thus providing a familiar analogue VTR feel. Using proven synchronizer technology already pioneered in Rosendahl's own Nanosyncs and Nanoclocks units, the bonsaiDRIVE boasts a full complement of connections including timecode, Sony nine-pin remote control, MTC, MMC, video sync, word clock and GPI/Os, all of which allow seamless integration into any broadcast or multi-media system. Weighing in at just 1.6 kgs, the bonsaiDRIVE is available in both mains powered and 12V DC versions. The front panel is detachable, allowing it to run as a standalone remote control via a standard nine-pin connection, while a second nine-pin port enables an additional machine controller to be employed. www.sennheiserusa.com.
API introduces the DSM line of DAW monitor racks. Essentially a mini API console in a convenient, 19-inch studio rack with roll-around casters, the new DSM (that's Discrete Summing Mixer) workstation monitor rack is specifically designed to compliment any digital audio workstation by providing professional analog summing, mixing, control room switching/monitoring, patchbay facilities, and studio I/O connections. The DSM answers the requests of many DAW users who have always loved the sound of API consoles, but found it not always possible to mix their projects on large API boards. API engineer, Jeff Bork, says: "The DSM is for someone who is looking to get rid of the computer processing load it takes to do digital summing and its negative effect on the operation of their DAW software, while getting the great sound of API summing amps at the same time." The DSM is loaded with all API equipment, with 2520 discrete op amp modules used throughout. The three new API DSM products are the DSM 24, DSM 48, and DSM 72. Each is ready to go work with DAWs that have 24, 48 and 72 output channels respectively. Also from API, the reissued 550A discrete, three-band equalizer. API's Saul Walker designed the 550A in the late 60s. Originally a modular OEM equalizer, the 550A quickly found it's way into many custom console designs. This often-copied but never duplicated equalizer became API's standard channel module EQ when they started manufacturing consoles in 1971. The 550A uses bridge-T filters (RC networks), two of API's 2520 discrete amplifier modules, and a 1:3 output transformer. All three of the frequency bands overlap and there is up to 12dB of boost or cut in 2dB steps available for each band. There are choices of shelving and peaking for the Hi and Lo Band and a switchable, 12dB/octave, 50Hz to 15kHz bandpass filter. A feature important to the classic sound is the proportional Q design where the bandwidth (or Q) of the equalizer narrows as boost or cut is increased. The Q is three octaves wide at 2dB of boost/cut and narrows down to one octave with 12dB of boost/cut. MSRP: $1,695.00. www.apiaudio.com. www.apiaudio.com.
Mercury Recording Equipment Co. of Hayward, California introduced the new Mercury M76m studio microphone amplifiers. Designed and built in the tradition of the Telefunken Studio-Mikrofonversarker V76m of the late 1950s and early '60s, the dual-channel Mercury M76m features all-tube and all-transformer circuitry and adds several features not found on the original classic. New features include a high/low impedance select and an output fader. Front panel features also include stepped input attenuation (Gain) 0 to 60dB, backlit illumination for gain like the original, as well as 0 to 10dB fine gain, phase reverse, a direct input connection and 48V phantom power on/off. MSRP is $4,999. www.mercury-rec.com.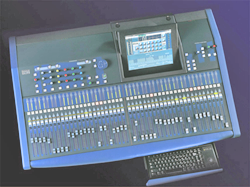 InnovaSON recently unveiled the compact lightweight, digital mixing console, Sy48, at the 117th AES Convention. A variant of the Sy40 console, the Sy48 is suited for mixing front-of-house or monitors and fixed installations, such as broadcast trucks, radio studios, theaters or houses of worship. As a stand-alone console, the Sy48 may be equipped with up to 6 eight-channel audio cards and is typically configured with 48 local inputs (32 mic, 16 line) and 32 local outputs (16 processed, 16 line). The optional Stage Box can move 48 inputs to stage while keeping 16 local line inputs available at the console location. For customers that want to run their I/O and DSP card externally from the control surface (i.e. OB trucks and theatres) the LEM (Local External Mix Box) option allows for up to 8 eight-channel audio cards to be housed in a 19-inch 7RU mix box with auto-switching power supplies. The Sy48 features 16 channels of local I/O for busses and inserts and 32 freely assignable busses. The 48 faders on the control surface are freely user-configurable for use as inputs, VCAs, groups, busses, aux, XFAD, matrix, etc. www.innovason.com. l TASCAM announces a new upgrade available for GigaStudio. GigaStudio 3 has been updated to version 3.01. The update is available for download on the TASCAM Giga website. The new version adds keyboard shortcuts to the program, adds features to the editor, and distributed wave and VST plug-ins. It also fixes error messages, registration problems, and other issues. New copies of GigaStudio 3 are being pressed with the updated version, and owners of version 3.00 can download an update for free. www.tascam.com.
PRODUCTION LIBRARIES
New releases from 615 Music include SFL 1132 - Production Elements Vol. 3, SFL 1131 - Production Elements Vol. 2, SFL 1130 - Production Elements Vol. 1, SFL 1123 - Sound Burners Vol. 4, SFL 1071 - Sound Burners Vol. 3, SFL 1058 - Sound Burners Vol. 2, SFL 1057 - Sound Burners Vol. 1, and SFL 1050 - Toolbox Vol. 1. www.615music.com.
FirstCom Music announces the new "EVO Unplugged" series. The series is dedicated to carrying on the best in FirstCom's "Blue" acoustic Underscores category. "EVO Unplugged features premium acoustic guitar performances from top musicians and unsigned bands," says Ken Nelson, Senior Vice President/Executive Producer. "The discs in this series are all new, original recordings, created specifically for underscores. " The initial releases in the series include EVO026 - Acoustic Chemistry and EVO036 - Acoustic Masters V1. These discs will be available in November of 2004. Future EVO Unplugged series releases will feature guitarists Randall Bays, Alex DeGrassi, Doug Smith, and Ray Russell among many other top acoustic guitar masters. www.firstcom.com.
New releases from Killer Tracks include KT 164 – Turbo Trailers, Edge 78 – Rock Light Contemporary 6, CM 52 – Crunk, NJJ 76 – Promo-Beds 7, NJJ 77 – Jazz-Fusion 5, Atmos 185 – Cinematic Piano, Atmos 186 – Ethereal Journeys 5, Atmos 187 – Happy Hip Hop, Atmos 188 – 1920's, Atmos 189 – 1930's, Atmos 190 – War & Terror, Koka 2240 – Kid's Party, Koka 2241 – Brazilia, and Koka 2242 – Brass Bands/Fanfare. www.killertracks.com.
THE MIX
XM Satellite Radio, the nation's leading satellite radio provider with more than 2.5 million subscribers, launched its premium Internet radio service XM Radio Online. XM Radio Online delivers XM's 24-hour, commercial-free music channels and other exclusive XM programs, including "The Bob Edwards Show," the XM Comedy channel, and, for a limited time, "Opie & Anthony" on the Internet for one monthly fee of $7.99. XM Satellite Radio subscribers receive a discounted rate for XM Radio Online of $3.99 a month. www.xmradio.com.
Jennifer Steele-Mitchell and Paul J. Warwick with over a combined fifty years broadcasting experience; are proud to announce the 247RadioGroup. Created to fill the production and programming needs of internet and terrestrial broadcasters, 247Radiogroup is a voiceover and production cooperative of non-union talent based throughout the United States and Canada delivering work to clients such as Apple FM and 80'sFM in MP3 format via secure FTP. They offer sweepers, ID's, jingles and full imaging packages along with global newscasts and long form programming either subscription or on demand. www.247radiogroup.com.