Jim Hausfeld, Production Manager, Clear Channel, Dayton, Ohio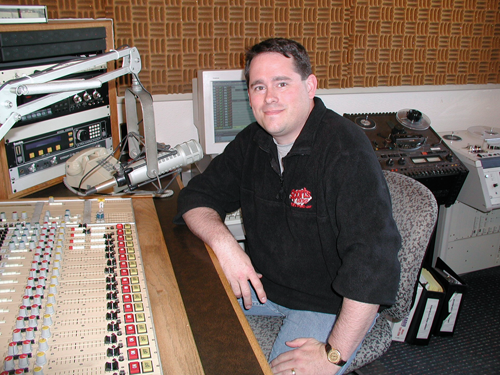 A lot of people dream about where they'd like to be in ten years, but never get there. Jim Hausfeld dreamt of working at WTUE ten years after he got out of college. As fate would have it, he didn't need to wait ten years. He got his job at his dream station right out of college. And what do you do when you find your dream job? You stay there, as Jim has for the past 16 years! This month's RAP Interview stops in at the Clear Channel cluster in Dayton, Ohio, market #58, where Jim Hausfeld heads up a production team of four and handles the imaging for three of the stations, including the top-rated classic rocker, WTUE. Our congratulations to Jim for winning this year's Best Promo RAP Award/Medium Markets, and you can hear more of Jim's great work on this month's RAP CD.
JV: How did you get your start in radio?
Jim: I was probably around 10 or 12 years old, and I remember really having a connection to radio that a lot of kids didn't. I remember listening to radio a lot at night. In northwestern Ohio we pulled in WOWO, which is the big AM station out of Fort Wayne, Indiana. I remember being absolutely infatuated with the nighttime jocks they had there and just absolutely loved radio from the get go. So when I was about sixteen a friend of mine at the high school was working at WCSM, a little station in Celina, Ohio, and he got me in the door at this station. I started off doing what we called "The God Squad" where you roll tapes at six o'clock on a Sunday morning and cover all the basic Bible shows and do some easy board-op stuff. But it was a great introductory experience in radio, and as I got a little steadier on my feet, they gave me the opportunity to do a little more part-time work. Then I went off to college but came back during my college breaks and started getting some good shifts. In fact I even did afternoon drive there for a summer. I really got my feet wet and learned exactly what it's like to be working in radio and not just playing in it.
JV: When did you decide you wanted to do production?
Jim: Pretty much when I got into college. I'm kind of a big music fan as well. Unfortunately I'm not a musician, but I love music. I always wanted to be part of that whole music realm. I kind of fancied myself as the next big music producer. I went to Ohio University, which has a really good audio production department. It gave you a lot flexibility as to what areas you wanted to concentrate on. I took these audio production classes, which started with an introduction into studio recording — everything from bands to little radio plays. We also did some field recordings.
And by volunteering at radio stations there, I started working in the commercial recording aspect, which really appealed to me because I could focus on my writing and use my writing to compliment the production I was doing. There was this public radio station, and I remember we had a show that was run entirely by college students. It was written, produced and jocked by college students. It was a great half-hour kind of lifestyle show for college students. There was probably only about 10 to 15 people listening to it, but at the time we thought it was pretty good. Once a week I'd get my paycheck, as small as it was, and would go to the used record shop, which had a little carry-out right next to it. I'd get a six pack of beer and a couple of good records, and I would do a record review, a little 15 to 20 minute feature on whatever the hot record was that I pulled down that week. I listen to it now and it's just absolutely awful to listen to, but I remember at the time I felt it was pretty cool, and it certainly gave me the tools I needed to move on to the next level.
JV: How did the gig at 'TUE come about?
Jim: Well, I grew up in northwest Ohio, about an hour north of Dayton. 'TUE's got a big 50,000 watt transmitter, and we were on the fringes of the 'TUE signal. So I grew up always listening to 'TUE. Once I hit the teens, it was all about classic rock; and rock was huge in the '80s there anyway, so 'TUE was easily my favorite radio station. I remember when I was in college, it was my dream to be working at 'TUE by the time I was ten years out of college. It seemed like a good place to aspire to be – a top 50 market, good solid rock station.
It came time at the end of my junior year to apply for some internships, and I thought I would give it a shot at 'TUE. Amazingly I got the interview and got in for the internship, and that's when I met a man named Tom Carroll. I think everybody's got their mentor in life or that one person that really lights the fire under them, and Tom was certainly the person that did it for me. He was the Program Director at WTUE. In the '80s, I don't know if there was anybody that was a stronger rock radio programmer. 'TUE just ruled the town. They had great ratings. They sounded great. The place ran like clockwork.
So for me, coming out of college and getting this internship was like being a little shrimp out of college, immediately getting drafted to the 49ers and working with Joe Montana in his prime. I hit the ground running. Immediately I started working doing the intern stuff — the filing and clerking — and then Tom apparently saw something in me, something in my writing and organizational skills I suppose. He gave me the Sunday morning shift, which I did for a while.
Then, as fate would have it, our Production Director, Christopher Geisen, was making a move to mornings to join our morning host, Kerrigan. It became the Kerrigan and Christopher morning show, which became a really big morning show here in the late '80s, early '90s. Him moving to the morning show opened up the opportunity for a new person to jump in the Production Director role. Tom told me they really didn't have much of an intention of actually hiring me as the Production Director for the two stations at the time, WTUE and WONE, but he knew that I had experience in the department. They needed somebody quick, so they hired me on an interim basis for about three months just to keep the wheels from falling off. I made the most out of the opportunity, and after about three months I got the fateful call into the office and they haven't been able to get rid of me yet.
JV: Clear Channel owns the station now. Who owned it when you got there, and how many ownership changes have you seen?
Jim: Well you may need a chart to map this one but we were run by a little company out of Atlanta called Summit Broadcasting when I got here. Then it was American Radio Systems. There may have been a Stoner Broadcasting in there for a couple of months. I'd say there were probably about four or five different ownership changes. Originally I worked with WTUE and WONE. WONE was an AM country station, which eventually shifted format a few times. As most consolidation cases go, we just kind of merged with two or three other stations in town and then two more jumped on until finally we ended up with eight stations under one roof here in the Oregon District in Dayton.
JV: To what do you attribute your survival through all these ownership changes?
Jim: I've asked myself that question a lot. I've worked with a lot of really good people who unfortunately, through all the changes that went down, are not in radio anymore. And these were very talented radio people. But that's just the way consolidation works.
I guess the one thing that I did that helped was whenever we went through an ownership change, I made it very clear who I was and what I was doing around the place. I usually had a demo ready. I had maybe the last six months of what I've done imaging-wise and production-wise handy and on a nice little compact disc or at the time, reel or cassette. I'd just hand it to the new General Manager or the new Program Director that came in. I'd try to give them the impression that I was on top of things and that my stock within the company was okay. I was pretty tight with the salespeople and pretty tight with programming, and when you're tight with both sales and programming you're in a pretty good position.
JV: When you started out as Production Director were you the only guy there for the two stations?
Jim: Yes. I was doing it all — the writing, the promos and everything. I've worked at 'TUE for sixteen years and I probably did some kind of variations of those responsibilities for about ten years. Then about five or six years ago, as we kind of re-structured the department a little bit, I was made the Production Manager of all eight Clear Channel stations here. When we did that it allowed me to place my different Production Directors into different positions where everybody could concentrate on their strength. So I've got two guys that work with me now that are just fantastic at working with sales and writing commercial copy. There's me and Rick Lebeau here concentrating primarily on imaging, and it works out really well that way. I certainly prefer the imaging rather than doing the commercial work, although it's fun to do it every once in a while. I like answering to one boss and not fifty.
JV: So there are four of you handling the production for the eight stations?
Jim: Right. I'm the Production Manager, and then there are three Production Directors. Rick images Mix and a light jazz station that we have. He also does a handful of commercials and a little air work on the side. Phil Brown does nothing but commercials his entire shift. And the most recent person that we've hired has filled the gap really well. He comes in at about noon and works till nine o'clock and does primarily commercial work. Phil, our commercial Production Director, also assigns stuff out, and "Wheels," our second shift guy whose real name is Paul Sakalas, comes in and takes a lot of that afternoon load off of Phil. And since he's here past five or six o'clock when everyone goes home, he can run proofs on all of our computers to make sure we don't miss any spots the next day. It's been a really good addition to the staff.
JV: You mentioned earlier having some organizational skills, which must come in handy with eight stations. How much does organization play into your typical day?
Jim: There are a lot of people that are under the impression that you can't be creative and organized at the same time. There are people that think that you have to sit in a room and meditate to be creative. I confess that I'm anal with a capital A. If you knock on my office door Wednesday at two in the afternoon, there's a pretty good chance I'm writing a 'TUE promo. And if you knock on my office at 5:30 I'm probably writing an X promo. I mean, I've got my days structured pretty tightly like that. I work really well with those kinds of boundaries because it makes me sit down, makes me think, and it makes me kind of shut the outside world out a little bit.
But it's a fine line between finding the time to be creative and finding the time to be organized. Staying organized in our department requires me giving a lot of responsibility to our commercial Production Directors. The commercial work is what really eats you up in production, and if you don't have a strong continuity person, a liaison between traffic and production, it really can mess things up. That's usually where all the crises are. Whenever you hear Production Directors get together and complain about things, it's usually lies in deadlines and bad salespeople or just miscom-munications. So I try not to step on any toes in the Production Directors' areas as far as commercial production goes. I give Phil full control of anything that has to do with commercial production.
JV: You mentioned all eight stations were under the same roof. What's the facility like?
Jim: We've got a really nice facility here in the Oregon District. It's an old renovated warehouse. It sits right next to this big train track and the train rumbles by about every twenty minutes, which you would think wouldn't lend itself to being a good place for a radio station. But we've got these sixteen different studios, and they're all floating studios, rooms inside of a room. So when the train goes by, the building shakes and rattles but you don't feel it in the studios. It's an engineering marvel. There's a lot of character in this place, and it's a very creative and conducive atmosphere for radio. It's in an entertainment district here.
JV: How many of those studios are production rooms?
Jim: We have eight air studios and I think we have eight production studios as well. Three of those production studios are equipped with the bells and whistles and everything you need. The other ones are pretty much just outboard studios for the air studios. They're basically news booth setups with extra tools in them. It's enough that you can do a dub or slap a tag on it if you need to.
JV: What's in the three studios with the bells and whistles?
Jim: Well I'll confess up front that I'm not a bells and whistles guy. I couldn't tell you all the name brands, models and version numbers, but I can tell what color they are. We work primarily with SAW Pro as our digital workstation, or at least I do. We also do a whole lot of work on Cool Edit Pro. And I'm an old dog learning the new tricks, so right now I'm at the stage where I'm producing my stuff on SAW; I might move a voice track over to Cool Edit to do some cleaning up or tweaking, and then I'll slap it back into SAW. Right now I love both of them, but I've always loved SAW. I think some people have a hard time figuring it out because it's a little funky to look at, but I've always loved getting around on SAW, and it's always had everything I need.
JV: Over the years we've had the pleasure of listening to lots of great promo work you've submitted for the RAP CD. You've also picked up several RAP awards over the years and finally nailed the 1st Place trophy this year for Best Promo – Medium Markets. Where do you go for the creative ideas?
Jim: People always ask me that, and I don't know if there is a really easy answer for that because I think some people are just kind of wired to do it and some people aren't. My whole little process is, I try to get in kind of a quiet place and just think of a way to position a piece of copy that would appeal to our listeners. I know that sounds like the most vague kind of answer I can give, but I think it's something that's often overlooked. It's the old rule that you've got to find exactly what the listener wants and then find a way to relate that to the listener and to try to keep the message in there. I think a lot of times on promos that's lost. I think sometimes producers get caught up in the bells and whistles, and sometimes there isn't a whole lot of thought actually given to marketing and the radio station, which is primarily what an Imaging Director should be doing. Having said that, there's a handful of funny stuff on the demo I sent for the RAP CD, but hopefully there are a few things on there that I could use as an example of what I'm talking about.
JV: What kind of hours are you putting in?
Jim: It varies. I work a lot. They're very flexible about my hours because I think everybody knows that I put in my time. But I'll come rolling in usually around 9:00 or 9:30, and I'll leave many nights at 7:30 or 8:00. And sometimes it's later than that. But I'll tell you, there is no way I could love what I do more. I look at this job almost like a hobby. I come in here on weekends and play around on stuff just for fun. Some people have a hobby they need in order to get away from work. Well I go to work because it's my way of staying creative and staying fresh, and I'm the luckiest man in the world because I have a wife and family that understands that. And I think when you don't have that kind of pressure pulling at you outside of work, it really opens up your mind when you're actually at work creating.
JV: You have access to that wonderful production website Clear Channel has that many people only hear about. Is that one of your favorite tools?
Jim: Honestly, I try to stay away from that because it can be a crutch, but I do use it. Today for instance, I was doing some imaging for WONE, which is a sports station, a Fox Sports affiliate. We do a little bit of local sports talk on it as well. That station has been the most fun project in the world. I love sports anyway, and it's a station marketed towards guys. But it's always a challenge to image it and to make it rock and to really make it sound good. So I'm constantly poking around on the Clear Channel website for ideas. I'll go there for inspiration, but I very rarely, almost never pull anything off of it. I like to do my own thing. I think it keeps each station just a little more personalized to their market.
JV: Is there a lot of "fill in the blank" kind of production on the site?
Jim: Oh yeah, absolutely. And I think it's a great tool especially if you're in a smaller market or if you are a Production Director that's got five or six different pans in the fire. You can just slap on your voice guy over a wonderfully produced bed. And there are some great contributors on that site. It's an awesome tool.
Gosh, having this stuff at your fingertips is amazing. I was talking to somebody in the office today about how I can't imagine coming to work and not having the Internet because of how many times a day I jump on there pulling off audio or pulling off information. Clear Channel is really tied into the Web, and it's great using that to your advantage everyday. It's great for coming up with inspiration for writing commercials or promos. I had to write a Peter Framptom/Styx spot today. They're coming to one of the local venues. I hopped on the Internet and learned everything I needed to know about Peter Frampton, jumped on learned everything I needed to know about Styx, and ended up with a cute little spot which kind of played fun with the whole '70s era and the nostalgia thing. I was able to write that within maybe a half hour. Where would I find that inspiration without the Internet handy at my fingertips?
JV: And then there are those fun days when the Internet goes down.
Jim: Yeah. You know it's miserable, totally insane. It went down on us this morning. The Internet was down. The e-mail was down. And this is just how bad it's gotten: I was looking for a date for a concert that I was promoting on the X. Typically I just hop on the X's website, go to the concert page, and pull it off of there. I jumped on the website… well it was down. I said, okay, I'm going to call the old-fashioned listener line. I called the listener line and the listener line was down. I actually had to haul my ass out of the chair and walk all the way down to the promotion director's office and ask him. It was like the hardest thing I've ever done in my life.
JV: You attributed your longevity at WTUE to being prepared for the changes with your demo CD and such. But there's probably a mental attitude that comes into play as well, especially when it comes to learning to adapt to all of these different management people. Would you agree?
Jim: Yes. I think everybody that's been in radio has found people that you worked with that you liked and some you didn't like; but I think everyone will agree that it's a very unique business, and in my opinion it's the variety of personalities that you work with that makes it so special. We're not selling widgets here, and we're not crunching numbers. We're in the entertainment business, so it attracts a wide variety of people. So the most important thing you can do is keep an open mind about the people that you're working with. Understand that everybody's wired just a little bit differently and make the best out of it.
JV: Any parting words of wisdom for the other prod types out there?
Jim: Get out of the room. Get out of the building from time to time. Meaning, don't be locked into hanging out with radio people, and don't be locked into just talking radio and sitting in your studio and creating little things. Get out in the community. Broaden your social circle. I've done some stuff with the Dayton Advertising Club, and I've been involved with a couple of charities here in town. Every single person that you meet has their own little universe floating around them, and if you hang out with those people, a little bit of their universe rubs onto yours and it enriches your life all the more. And whenever it actually comes time to be creative and to do creative things, when you've got a wider variety of life experiences, it really enriches the ingredients of the work you put on the air.
♦