TECHNOLOGY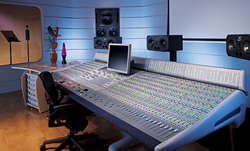 Digidesign announces ICON, an integrated console environment featuring the all-new D-Control(tm) tactile worksurface, Pro Tools(r)|HD Accel as its core DSP engine, and modular HD audio interfaces for analog and digital I/O. ICON empowers operators to accomplish every aspect of a project - recording, editing, mixing, and processing - complete with integrated video and delivery. Every element of a session is recallable, enabling operators to switch out even the most complex sessions in minutes. The integrated console features touch-sensitive controls, a wide range of visual mixing feedback, dedicated center section and per-channel control over all processing functions and routing, global automation capabilities, and full studio and control room monitoring. ICON is a completely custom-configurable audio production environment, rather than simply a typical digital console. Options include expandable analog and digital I/O, integrated remote mic preamps, Development Partner effects processing plug-ins and software options, Avid picture support, and comprehensive synchronization and machine control options.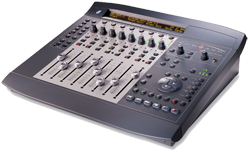 Also new from Digidesign is Command|8 (MSRP $1,295), a fully featured control surface solution from Digidesign and Focusrite(r) that puts integrated, manipulation of Pro Tools(r) TDM and LE sessions at users' fingertips more affordably and effectively than ever before. Command|8 has been designed to provide a depth of control consistent with its control surface predecessors at a budget-conscious price point. Its synergy of Digidesign control surface components provides users with a space-efficient, full-featured control surface that is equally at home in a project studio or a professional facility. Command|8's faders, rotary encoders, displays, and dedicated transport controls enable users to build their Pro Tools mixes with the hands-on feel only an integrated control surface can provide. A simple USB connection facilitates communication between Command|8 and a PC or Mac, while its built-in MIDI ports (1-IN/2-OUT) comprise a robust MIDI Interface. Stand-alone MIDI controller mode makes it possible to easily map Command|8's controls to third-party MIDI applications and devices. Command|8's onboard monitor system features acclaimed Focusrite audio performance and quality, and supports Pro Tools analog audio, independently selectable external inputs, and separately controlled speakers and headphones. Similar to Digi 002, each of Command|8's eight bankable channels of tactile controls includes a touch-sensitive fader, an automatable rotary encoder with an LED ring, and a channel meter. A highly luminescent 110-character backlit LCD display (2 rows x 55 characters) runs across the top of the channel array, displaying information such as full track names, plug-in name and page number, and full parameter names in a convenient and easily readable manner. Command|8 features a Focusrite-designed onboard analog monitor section, eliminating the need for an additional audio mixer. The monitor section features two +4/-10 independently selectable stereo inputs (balanced or unbalanced), stereo speaker outputs (also +4/-10), and a separately controlled headphone amp, providing the monitoring flexibility needed to keep an ear on a sessions' development. System requirements: a Digidesign-approved Pro Tools LE system (Digi 002. Digi 002 Rack, Mbox, Digi 001) or Pro Tools TDM system (Pro Tools|HD, Pro Tools|HD Accel) on Windows XP or Mac OS X. www.digidesign.com.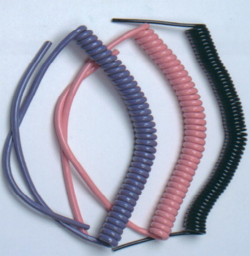 Autac, Inc., a manufacturer of retractile cords, announces its Aluminum Mylar Foil Shielded cords. Designed to meet any electrical need for the radio industry including power cords, control cables, and miniature cord sets, the cords are specially designed to eliminate Radio Frequency Interference (RFI). Customized to suit the user's specific needs, the cords offer protection against interference between the enclosed wires and its external surroundings. The cords are available in both PVC and TPE, and are featured in 12", 24", 36", and 48", which extend on a 1:5 ratio. Customized lengths and ratios are also available, up to a 12 foot retracted length extending 60 feet, to meet the user's specific needs. www.autacusa.com.
Panasonic announced the availability of its first mobile CD receiver to include iBiquity Digital's HD Radio(tm) technology. This new digital AM and FM technology delivers new digital services simultaneously with the existing analog broadcast. Taking full advantage of the benefits digital technologies offer, the new CQ-CB9900U CD receiver also includes Radio DSP (Digital Sound Processor), which uses digital technology to produce less distortion, multi-path noise and pulse noise. This results in a cleaner signal and improved analog AM/FM sound quality. Sound Control EQ allows users to compensate for the auto environment and to personalize the system according to their sound preference. Referred to as SQ7, this seven-band graphic equalizer provides additional adjustability and one-touch equalizer settings, such as Rock, Pop, Vocal and Flat. www.panasonic .com.
Symetrix announces the AirTools 6200 Digital Voice Processor. Targeted at broadcast professionals, the dual-channel 6200 is applicable in a variety of on-air and production scenarios. It is also fully compatible with the AirTools Studio Matrix System. A dual-channel unit, the 6200 provides two discrete audio pathways capable of processing microphone or line-level sources, independently or as a stereo pair. Combination jacks on the inputs accept XLR or 1/4" TRS connectors. Phantom power is included. Audio signals are converted to 24-bit 48kHz digital immediately after passing through the analog preamp stage. From there, the user can define the types and order of processing to be applied. All parameters are accessible via front panel controls, or a software application on the user's Windows PC. Of particular interest to radio announcers will be the next generation of low latency converters used in the 6200, which reduce the total delay from analog input to analog output to less than 0.5 milliseconds, essentially eliminating any perception of delay in headphones. Control of the 6200 is available via RS-232/485, USB or Ethernet. This last option allows the user to address one or more units installed on a LAN. "Ethernet control allows an engineer, from one location," Latimer continues, "to manage a number of processors located in various air and production studios. He can change settings, save and recall presets in any or all of the rooms, without ever leaving his desk." The 6200 offers complete onboard processing with functions that include filtering, downward expansion, de-essing, parametric equalization, and compression. Processing layouts and settings are then saved to one of the unit's 1024 preset locations. These presets can be recalled from the front panel, contact closure, RS-232/485 device, MIDI program change, or on a pre-determined schedule when the unit is synchronized to NTP, or ESE TC-89 time clock. Manufacturer's suggested retail price for the 6200 is $1,599. www.airtoolsaudio.com.
PRODUCTION LIBRARIES
FirstCom Music, Inc. announces the launch of the new Access Promo series, a new tool within FirstCom's AccessMusic Library. "This special series is designed for those single-minded, creative producers whose energies are focused on creating the kick-ass, sonic-filled, 30-second promo for the next big drama, sports event or comedy episode that needs to punch through the on-air clutter...now," says Ken Nelson - VP/Executive Producer, FirstCom Music. The initial Access Promo series release includes five CD volumes with over 250 titles of promo music.The Access Promo series is available via CD, DVD ROM and www.firstcom.com for downloading.
THE MIX
All Comedy Radio, the new 24/7 radio network and New Radio Star, the long established morning radio on-line service, are excited to announce the first annual Radio Comedy Competition, an international creative event for radio artists with recognition and cash prizes awarded. Air personalities, production artists, program directors and any other individuals involved in the radio business are eligible to enter by submitting creative, entertaining, humor-oriented program features, such as: morning show bits, song parodies, topical funnies, commercial parodies or any other humor piece locally written and produced for their radio show or radio station. Six monthly finalists will each receive a $1,000 cash prize and become eligible for the grand prize of $10,000 cash to be announced at the NAB Radio Show in San Diego October 6-8. The grand prize winner will also receive an all-expense paid trip to Hollywood to visit the Jay Leno Show, The Jimmy Kimmel show and enjoy an evening at the famous Hollywood Improv, hosted by Improv founder Budd Friedman. Additionally, the top 20 to 30 features will be on the Radio Comedy Competition CD, with shared royalties.Rules and full competition information is posted at: radiocomedycompetition.com.
JazzWeek and Frequency Media, Inc. have announced a partnership that will provide the jazz industry with electronically-monitored airplay charts. This union will provide JazzWeek with a more accurate picture of the most popular jazz recordings being played on radio today. JazzWeek publishes weekly charts of the top fifty jazz and smooth jazz recordings played on radio stations across the United States and Canada. Frequency Media offers a range of information products that provide real-time access to radio airplay reports based on college and tastemaker genre stations. Starting in late summer, all of the JazzWeek charts, including the Top 50 Jazz and Smooth Jazz charts will be created by Frequency Media, compiled from electronically-monitored airplay data. In addition, JazzWeek will be a partner in Frequency Media's ArtistMonitor© program, which is dedicated to providing independent artists with affordable airplay reports on college and tastemaker radio stations. Frequency Media relies on the proprietary monitoring technology of its parent company, Mediaguide, which was formed in 2002 in partnership with the American Society of Composers, Authors and Publishers (ASCAP). Every minute of every day, Mediaguide technology monitors more than 2,300 radio and TV stations in more than 200 markets nationwide, automatically identifying the songs and advertisements being played. www.frequencymedia.com.
♦