TECHNOLOGY

Audion Laboratories announces the release of VoxPro e2, a simple one or two track editor designed for quick editing at home or at work, on desktops or laptops. Developed to provide simple, fast, easy to learn recording and editing to anyone interested in producing professional voice content anywhere, VoxPro e2 "opens the way for any individual to create and host original programming", states Charlie Brown, CEO and founder of Audion Laboratories and former Radio Morning Drive personality in Seattle. Retailing at under $200, VoxPro e2 is the newest addition to the company's VoxPro PC voice editing software line. (Free 30-day trial copies are available at www.audionlabs. com/e2/freetrial.) VoxPro e2 requires Windows 98, 2000 or XP. Virtually all sound cards are compatible. Features include: Records instantly in any mode; Shows the "just recorded file" ready to edit; Imports and Exports all file types, including MP3 (added to VoxPro PC this fall); Records and plays back in stereo or mono; Provides unlimited undo's & redo's for the life or each recording; Edits using the keyboard, num-pad or mouse; Inserts new audio into existing files with one-button insert-record; Displays the last three created files; Auto-separates host/caller talk-over with VOICESLIP(tm); Includes bleep effect; and others. VoxPro e2 is available for purchase via download. CD ROM are also available. www.audionlabs.com.
Digidesign, North American distributor of Focusrite products is pleased to announce that the ISA430 MKII Producer Pack channel strip is now shipping. Expanding on the original ISA 430, the MKII boasts unmatched flexibility, both in terms of routing and of sonic characteristics. The transformer-based mic-pre has been extended to incorporate a variable impedance option, also featured on the ISA 428, providing the engineer with increased control over the interaction between microphone and pre-amp. In addition, an 'Air' switch introduces an inductor circuit into the secondary of the transformer, adding clarity and 'spaciousness' to the signal without the need for EQ. To accommodate the need for more colorful dynamics, a vintage opto circuit is included in the compressor section as well as the original discrete Class A VCA design. Improved 'Blend' control is also present, allowing the engineer to restore some natural dynamism to a track. In addition, all four dynamics processors — the compressor, gate, expander and de-esser — contain Focusrite's unique 'Listen' feature, enabling monitoring of each module for ease of use. For the latest product and compatibility information, visit Digidesign's Web site at www.digidesign.com. Also from Digidesign is DigiDelivery (www.digidelivery .net), a new method of secure, global file transfer. Combining a simple software utility with an industrial grade server appliance, DigiDelivery enables users to securely exchange any kind of digital file of virtually any size with anyone in the world. With DigiDelivery installed on an Ethernet network, DSL or cable modem, users simply drag and drop files to send a delivery, or click a link in an email to receive a delivery. There's no need for recipients to enter IP addresses, usernames, or passwords. DigiDelivery is available now at select dealer locations. Features include: Pro Tools(r) media files automatically included with the session file; 128-bit encryption for military-grade security from sender to recipient; Lossless compression for speed and reliability (optional); Email sent to recipients as soon as delivery is ready; Sender receives email confirmation when each recipient downloads delivery; No per-use or subscription fees; Automated reporting for billing clients; and more. www.digi delivery.net.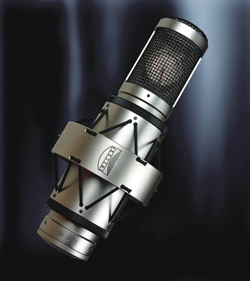 The new Brauner VMA combines the performance of two high-grade tube microphones in a single package. The latest microphone from the German manufacturer of the VM1 studio reference mic, the new Brauner VMA offers users a choice between the original and a "vintage" sound with the flick of a switch. The VMA is derived from eight years of experience with the VM1. This new microphone combines the core design of the VM1 with additional input from Brauner customers worldwide. A toggle switch on the power supply allows users to set the mic to two different operational modes. One represents the VM1 sound, which is a great multi-purpose sound for almost any recording task. The second sets the microphone to operate with a sweet and mellow tube sound reminiscent of great vintage mics. MSRP: $7,000.00. www.transaudiogroup.com.
Orban® announced the immediate availability of Opticodec-PC, the first MPEG-4 aacPlus™ encoding software providing high quality streaming audio. The software lets streaming providers supply content encoded with the Coding Technologies® aacPlus codec, acknowledged as offering the highest available audio quality at the lowest possible bit rate. Broadcast streams encoded with Opticodec-PC can be experienced through the new RealPlayer® 10 and can automatically list themselves on www.opticodec.net, an upcoming new directory service for Opticodec-PC streams. Opticodec-PC is available for Microsoft Windows® 2000/XP and supplies streams compatible with the free Darwin Streaming Server, which is available in multiple platforms including Linux, Windows, and Macintosh. Opticodec-PC is available in two versions, LE and PE. Opticodec-PC LE is compatible with all quality sound cards and encodes a single stream at bit rates between 8 and 32 kbps. Opticodec-PC PE is offered solely in a premium package coupled with an Optimod-PC and can encode multiple simultaneous streams at bit rates from 8 to 320 kbps. Both products are available immediately to beta customers. Opticodec-PC LE retails for $99. The Opticodec-PC PE has a suggested retail price of $495 or with an Optimod-PC sound card, for $1995. www.orban.com.

Metric Halo has released the Mobile I/O ULN-2+DSP, a portable Firewire audio interface with built-in digital signal processing that operates under Mac OS X. The new ULN-2+DSP features two analog I/O with inserts, front panel level control, phantom power, and trim link, offering the power, portability, and outstanding best-in-class audio quality of the company's Mobile I/O 2882+DSP in a smaller, lighter package. Incorporating the same Firewire connectivity, 24-bit/96kHz A-D and D-A converters, and powerful onboard DSP as its elder sibling, the 2882+DSP, the Ultra Low Noise ULN-2+DSP provides two analog mic/line/instrument inputs on Neutrik Combo connectors. The ULN mic preamps provide up to 72dB of gain and an EIN of -129dBu (wideband/unweighted) with exceptional detail and an ultra-fast slew rate. Two channels of AES/EBU or S/PDIF digital I/O with selectable sample rate conversion are additionally included. A pair of analog inserts on balanced TRS connectors allows outboard analog dynamics processing to be introduced between the mic pres and the A-D converters. A Wordclock I/O and four-pin XLR power port (for use with typical broadcast camera batteries) complete the rear panel connections of this highly portable device. The ULN-2+DSP ships bundled with a variety of Metric Halo's plug-ins, including MIOComp, MIOLimit, MIOEQ-6, MIOEQ-12, MIO M/S Processor, and MIOStrip. MSRP: $1,895. www.mhlabs.com.
Sonic Solutions debuted Sonic AuthorScript 5.5, the latest version of their creation and burning software for DVD, Video CD and CD Audio discs on PCs and CE devices. Designed to enable developers of PC applications and CE devices to rapidly add optical media output, as well as video and audio playback, encoding and transcoding to their products, Sonic AuthorScript 5.5 adds new features for photo slideshow creation and advanced DVD menu design and navigation. Sonic AuthorScript offers the broadest array of capabilities for developers who wish to create and burn content to CD and DVD for their products and software applications: Video – AuthorScript converts multimedia files into DVD and VCD MPEG video streams, adds menus and burns a DVD or VCD. Photo – AuthorScript can convert photos and digital images into high-quality DVD and VCD slideshows and burn them to DVD or CD. Music – AuthorScript allows for the CD burning of downloaded music files and can be linked to any music download service. Data archiving and backup – AuthorScript is widely deployed for burning CD-ROMs and DVD-ROMs. Consumer electronics – AuthorScript CE provides DVD recording for set-top DVD recorders. www.sonic .com.
PRODUCTION LIBRARIES
Manhattan Production Music presents Split/Trax(tm) – "where you control the mix." Users of Manhattan Production Music's production library Apple Trax have exclusive access to Split/Trax, designed for adding production music to radio spots. Split/Trax is a two-channel system that features the melody and lead instrument on one track and the rhythm section on the other, allowing producers to create their own custom mixes. This allows protruding lead instruments to complement, rather than detract from, voice-overs or effects, making it an ideal way to add music to radio spots with voice-overs. For more info call 800-227-1954 or e-mail This email address is being protected from spambots. You need JavaScript enabled to view it.. www.mpmmusic.com.
THE MIX
Jeffrey Hedquist's seminar, "Better Stories, Better Sales" focusing on techniques to find and develop story-type commercials that get results for your clients, listeners for your station, and renewals for you, will run twice at the Radio Advertising Bureau's 2004 Sales, Management and Leadership Conference held in Dallas February 5-8, 2004 at the Adam's Mark Hotel. It's now scheduled from 2:30 p.m. to 3:45 p.m. on Friday, February 6th and Saturday February 7th. Jeffrey looks forward to meeting RAP readers of RadioHed at one or both of his seminars.
Tired of all the arguments among your staff regarding "what's legal" when using copyrighted music in commercials? Dan O'Day has an e-book with all the answers. "The Ultimate, Non-Lawyer's Guide To Copyright Infringement In Radio Commercials ...And How To Avoid It. Visit www.danoday.com/copyright for details.
Troy Duran, image voice for radio stations worldwide (and parts of Louisiana) is the new voice for The Rock, Reno's only real rock station. When asked to comment on The Rock's sound and Troy's role in the station's auspicious January 5th launch, Nextmedia KURK Program Director Blaze said: 'Uhh, Gramma, is that you?' – well said, indeed. www.TroyDuran.com.
♦