TECHNOLOGY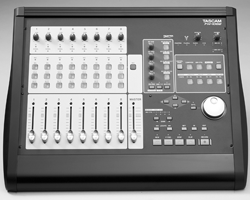 The new FW-1082 Audio/MIDI Interface and Control Surface from TASCAM not only provides tons of audio and MIDI I/O to small studios, but offers a control surface with moving-faders for a previously unheard-of price. The FW-1082 features 10 inputs, including four balanced XLR mic inputs with phantom power. Two MIDI inputs and outputs are also included, plus S/PDIF digital I/O. Eight channel strips each feature a 60mm touch-sensitive moving fader and select/solo/mute buttons, and a moving master fader is also provided. The FW-1082 includes the latest TASCAM software bundle: Cubasis LE 96kHz/48-track recording software, GigaStudio 3 LE streaming sampler and Nomad Factory plug-in demos. "The FW-1082 offers many of the same powerful audio, MIDI and control surface features of our FW-1884 interface for well under $1,000," raves Jim Mack, Division Manager for TASCAM. "The FW-1082 is a great choice for small studios, whether someone is just starting out or if they're upgrading their equipment." Its four microphone inputs, two with analog insert jacks, have phantom power for professional condenser microphones. Four additional line inputs and a S/PDIF stereo input add up to 10 inputs simultaneously, each at 96kHz/24-bit audio resolution. Two MIDI inputs and outputs are provided for 32 channels of MIDI synth playback or control. The control surface has nine 60mm touch-sensitive moving faders for smooth control over channel level, pan or aux settings. Four encoders are also available for mix control, as well as transport and jog/shuttle controls. Stereo monitoring is included, and the FW-1082 even mixes signals internally for stand-alone use. Also recently introduced, the TASCAM FW-1804 is an 18-channel rackmountable FireWire Audio/MIDI interface. It adds ADAT digital I/O and two more MIDI outputs for users who don't need control surface control over their tracks. Also from TASCAM and taking advantage of the latest FireWire technology is the new IF-FW/DM, which adds 24 inputs and 24 outputs between a computer DAW and TASCAM's DM-24 Digital Mixer. For under $3,500, a studio can add the DM-24 and IF-FW/DM to their DAW system, providing powerful mixing, automation and processing capabilities to virtually any computer recording system through a single FireWire connection. The IF-FW/DM is an expansion card based on the same form factor as the ADAT, AES/EBU, TDIF and analog expansion cards for the DM-24. Other features include: 24-channel input and 24-channel output when used with the DM-24; MIDI Input and Output for use with DAW software; supports ASIO, WDM and Apple Core Audio standards; and Mac OS X and Windows XP compatibility. www.tascam.com.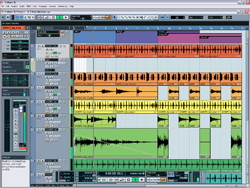 Steinberg Media Technologies GmbH announces that Cubase SL3, the latest version of Steinberg's music production software, is shipping worldwide. Cubase SL3 offers an array of new features to make composition more creative and spontaneous. The next-generation Audio Warp engine offers import of ACID files and time-stretching and pitch-shifting in real-time that free Cubase SL3 from the limitations of tempi; audio can now automatically follow almost any tempo set for a project in real-time. The intuitive Play Order Track feature offers new tools for pattern-style composers, and also allows quick and easy checking of alternative song arrangements. The new Pre-Record feature makes losing great musical ideas almost impossible, by automatically recording up to 10 minutes of audio, even if record wasn't engaged. Cubase SL3 offers a range of new functionality and improvements that make working more fluent, easy and efficient. The new Workspace concept allows layouts to be created for each step of the production process, and users can switch between these tailored workspaces with a single key command. Color coding also increases visibility by allowing colors to be specified for tracks and VST Mixer channels, essential for keeping an overview in complex projects. The Extended Freeze function offers quick, efficient freezing of VST instruments and audio tracks and their insert effects. Cubase SL3 costs $399.99 USD MSRP. Cubase SL 2 owners can upgrade to Cubase SL3 for $99.99 USD.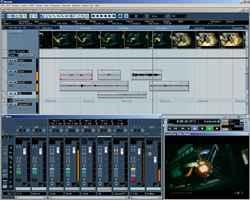 Steinberg also announced the latest version of its Nuendo Media Production System software. Nuendo 3 offers new features and technologies for top-level professionals in post-production, surround mixing and high-end studio recording, editing, and mixing. Nuendo 3 sees a marked strengthening of functionality for post production in cinema, DVD and video. "Out of the box" import and export of a huge variety of file formats include the AAF (Advanced Authoring Format), providing project transfer to and from other DAW and video editing systems, as well as current industry standard exchange formats such as OMF, OpenTL and AES31. Integration of Pinnacle's X-Send protocol allows video projects completed in Liquid to be imported directly into Nuendo 3, ready for audio post. Nuendo 3 also introduces a new set of Media Management tools that allow fast, easy handling of large audio file libraries from the Nuendo Pool, including file categorization, batch file-naming and extended search functionality. The new Warp To Picture feature offers a quick and efficient approach to synchronizing audio to picture by allowing the real-time time stretching of audio material with simultaneous real-time tracking of the corresponding video track. An innovative new mixing feature is the new Audition Channel, which provides flexible new monitoring options including both after and pre-fader listen modes, allowing instant monitoring of any audio channel while leaving the signal routed to the main mix bus untouched. Integrating external effects equipment is now simple thanks to the new External Effect Plug-in, which allows the direct integration of outboard effects within the Nuendo 3 VST Mixer - including delay compensation. Nuendo 3 will be available for $1999.99 USD MSRP in December 2004. www.steinberg.net.
IZOTOPE, INC. has released its entire plug-in line for Mac OS X. The plug-ins can be downloaded from iZotope's web site in Pro Tools, VST, MAS, Audio Unit, and DirectX formats. The release includes Ozone, a 64-bit analog modeled mastering system; Trash, a 64-bit classic amp, distortion, delay, and filter simulator; and Spectron, a versatile spectral-based effect. Vinyl, a record simulator, is already available as a free download for Mac OS X. www.izotope.com.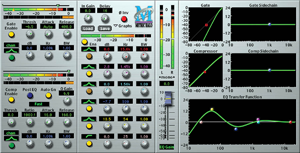 Metric Halo announced that it has released ChannelStrip Native for OS X. Registered users can upgrade by contacting Metric Halo or their local dealer. ChannelStrip Native includes Audio Units (AU), MAS, VST, and RTAS support, all in one license. With one license for ChannelStrip Native, Mac OS X users can use ChannelStrip with every audio program available for Mac, including Logic 7, Cubase SX 3, Digital Performer 4.5, Nuendo 2, Pro Tools 6, Final Cut, and GarageBand, amongst others. Pricing for the OS X upgrade is $149.99 for immediate fulfillment from Metric Halo and Metric Halo dealers worldwide. Retail upgrade packages are shipping now. ChannelStrip Native for OS X is priced at $345. More information is available from This email address is being protected from spambots. You need JavaScript enabled to view it.. www.mhlabs.com.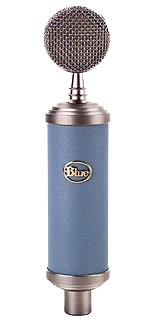 Blue Microphones has announced new products for the fall. Blue has re-released the Bluebird Microphone which was previously available in an exclusive bundle through Digesting. In a departure from its normally application specific designs, Blue engineered the Class A discrete Bluebird to be as versatile as possible, with applications ranging from vocals to electric and acoustic guitars, close-miking of drums, drum overheads, percussion, piano and strings, delivering an extended top and bottom. In addition to the microphone itself, the Bluebird also includes the Bluebird Accessory Pak, Blue's high definition 22-AWG Blueberry mic cable, a specially designed shock-mount, the BirdCage, and a metal mesh pop filter, the BirdNest. Robbie is Blue's new Class-A discrete tube microphone and instrument preamplifier. With no ICs and high-quality discrete components from input to output, Robbie is one of the quietest (-131 dB EIN @ 50=) and most detailed (THD 0.006%) preamps. The versatile 8-Ball is a cardioid condenser microphone designed with the needs of the professional recordists in mind, but priced within reach of the beginning home user or hobbyist. Perfect for applications as varied as male or female vocals, drum overheads or acoustic guitars. Custom-designed for Blue's entire line of phantom-powered spherical microphones, the Ringer is a vintage-style suspension mount designed to isolate the microphone body from low-frequency energy when mounted on a mic stand. The Ringer also accommodates virtually any microphone with a standard thread mount. If a mic will fit through the loop, it can be mounted in the Ringer by virtue of its unique universal thread mount. www.blumic.com.
PRODUCTION LIBRARIES
AudioWave Productions presents AudioWaves, 99 imaging effects for Rock/Alternative/CHR formats including splitters, ramps, rewinds, short blasts, pads, and radio effects priced at just $150. Download the demo at www.audio waveprod.com/cd or get more info by emailing production@audiowaveprod .com.
THE MIX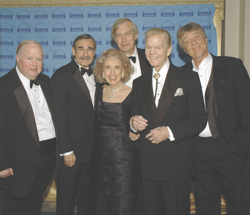 National Radio Hall of Fame and Museum president Bruce DuMont (left) joined Angel and Paul Harvey (center, left and right) to induct five legendary broadcasters – (second from left to right) Dick Purtan, Bob Edwards and Larry Lujack, along with (not pictured) L. Lowry Mays and the late Walter Winchell– during a gala celebration Saturday, November 6, 2004, in Chicago. Archived audio and video of the ceremony is available for streaming at www.radiohof.org. The National Radio Hall of Fame and Museum, a part of the Museum of Broadcast Communications in Chicago, also announced it has raised half of the funds needed to build their new $18-million museum in downtown Chicago. The new museum's public program venue will be named the "Angel Harvey Center" in appreciation of her more than $2 million in contributions over the years, said DuMont.
The American Society of Composers, Authors and Publishers (ASCAP), representing over 190,000 members, and the Radio Music License Committee (RMLC), representing most of the nearly 12,000 commercial radio stations in the U.S., announced a new agreement totaling in excess of 1.7 Billion dollars. This is the largest single licensing deal in the history of American radio. The settlement, which was approved by Federal District Court Judge William C. Conner on October 15, 2004, provides stations with the right to perform ASCAP music over the air and also as part of a simultaneous stream of their over-the-air signals on their Internet web sites. It also provides fee certainty to both the radio industry and ASCAP's members. ASCAP's repertory, the largest in the world, contains more than 7.5 million copyrighted musical works of every style and genre, in addition to works in the repertories of over 60 affiliated foreign performing rights organizations. The agreement finalizes license fees for the period 2001-2003 and establishes new ASCAP licenses for the period 2004-2009. The negotiated settlement replaces revenue-based license fees with a set payment schedule for the stations that will provide significant guaranteed income to ASCAP composers, songwriters and music publishers. Both sides will also benefit from a simplified and streamlined administration process.