TECHNOLOGY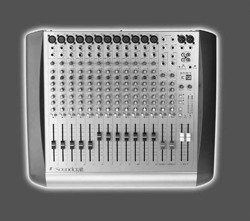 Soundcraft will be unveiling the multi-format, low-cost E Series, its latest addition to the Spirit range, at the 2003 Winter NAMM Show in January. Surface mount technology is implemented throughout using close-tolerance components for high accuracy and repeatable settings for EQ and gain controls. The new mic amp features high-resolution adjustment over a wide gain range of 55dB and provides +22dB headroom through the console. 48-volt phantom power is available. A unique feature of the signal monitoring is the Peak LED, which uses multipoint signal take-offs to watch for overload in several parts of the channel strip, and the LED lights more brightly as the signal approaches the peak point. The E Series has the same long-throw 100mm faders as other Soundcraft desks. The E Series is available in four standard models: six (E6), eight (E8) and twelve (E12) mono inputs – each model featuring two stereo inputs – and a unique model, the ES. The ES caters to setups with multiple stereo sources that require simultaneous connection, such as keyboards, samplers and computers, and has ten full-function stereo inputs as well as four mono inputs for microphones and other mono sources. Two of these stereo inputs are equipped with RIAA–equalized inputs on RCA phono connectors so that record turntables can be plugged straight into the mixer for DJ music production. Each stereo input benefits from three-band EQ, as does the mono input. All models have two auxiliary buses, each individually pre/post switchable, and all main connectors are XLR-type and 1/4" metal jack sockets. RCA phono connectors are provided for disc and stereo playback inputs and record outputs. EQ on the standard mono input is three-band with a swept mid, while the standard stereo input has two-band EQ. All mono input channels have TRS insert sockets and inserts are also provided on the mix output. Ten-segment LED output metering, channel mutes, an intuitive and comprehensive solo system and headphone output are also part of the E Series feature set. Preliminary US retail pricing is as follows: Spirit E6 - $354.95, Spirit E8 - $399.95, Spirit E12 - $489.95, Spirit ES - $599.95 . www.soundcraft.com.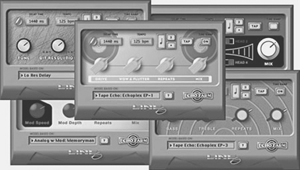 Digidesign announces Line 6's Echo Farm v2.0.1 is now available with higher sample rates for use with Pro Tools|HD - up to 96 kHz on both Windows XP and Mac operating systems. All registered customers who purchased Echo Farm v1.0 via retail channels will be mailed the Echo Farm v2.0.1 update kit. Customers who own Echo Farm v1.0 via a past MIXpack promotion need only download Echo Farm v2.0.1 from the Digidesign website. New customers may purchase Echo Farm v2.0.1 at their local Digidesign dealer. MSRP for Echo Farm v2.0.1 is $495. www.digidesign.com, www.line6.com.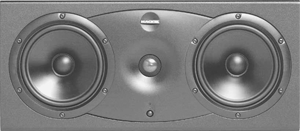 Mackie Designs' new HR626 is the newest addition to their HR series of Active Studio Monitors. The 140-watt HR626 (US $899 MSRP) is the first professional active studio monitor to employ the D'Appolito driver alignment design which provides outstanding bottom end coupled with low-level accuracy of the mid range—the essential component for establishing vocal placement within a mix. Additionally, with its symmetrical left-right sound field, the HR626 possesses the geometric shape required for center channel applications in 5.1 and 7.1 surround systems. The HR626 uses a high-frequency Waveguide-loaded 1-inch dome tweeter with dual 6.7-inch low frequency drivers that are able to provide extended low-frequency response while preserving the speed and accuracy of a single 6-inch design. The HR626 is a bi-amplified, active speaker system that incorporates dual FR Series amplifiers to provide 100 watts to the woofer and 40 watts to the tweeter. Inputs include 1/4-inch XLR balanced and RCA unbalanced. Rear panel controls consist of Sensitivity, an 80Hz high-pass filter, -2 / 0 /+2 dB high frequency shelving filter, Acoustic Space control for optimizing bass output in various room placements, and the Auto On switch. The front panel provides a Standby/Mute switch along with power and overload LEDs. www.mackie.com.
Merging Technologies releases Pyramix V4.1 software. New features include, a new advanced cross-fade editor, multi-point source/master editing, mastering and PQ coding, high quality video integration via an integrated IEEE1394 Firewire Video solution that eliminates the need for third party video capture/playback cards, and more. MP3 support is also now included in Pyramix, adding to the list of native file support including PMF, OMF, WAV, BMF, DSD, AIFF, IFF, AC3, SD-II and Akai DD/DR files. VST and TC Works compatible plug-ins are also now possible in Pyramix. www.merging.com.
Microboards Technology is now shipping CopyWriter Pro, touted as the fastest manual loading duplication system available in the world. CopyWriter Pro features high-speed recorders and is expandable to carry up to 16 CD-R Recorders. The CopyWriter Pro comes in configurations from 2 to 16 drives. A DVD version is also available. Full specifications can be found at www.microboards.com.
Panasonic Broadcast & Television Systems has announced the availability of two professional progressive-scan DVD recorders. The DMR-T3040 teams a DVD-RAM/DVD-R recorder with a built-in 40 gigabyte hard drive to provide expanded flexibility for viewing, recording and DVD duplication. The DMR-T3040 records up to 52 hours (in the EP mode) of video on its 40GB drive, 12 hours on a 9.4GB double-sided DVD-RAM disc, and 6 hours on a DVD-R disc. The DMR-T3030 delivers up to 12 hours of DVD recording. The DMR-T3040 is equipped with an IEEE 1394 input to permit the high-speed transfer of digital video from a IEEE 1394-equipped DV camcorder to the hard drive, and the unit's PC card slot makes it easy to copy images from a digital still camera. The DMR-T3040 offers a programmable auto renewal recording function that can be programmed to automatically record video, such as a satellite feed, at a specific time daily or weekly onto the hard drive, as well as a relief recording feature that automatically records to the hard drive when a DVD-RAM or DVD-R disc is full. Both the DMR-T3040 and DMR-T3030 record onto highly compatible DVD-R disks, allowing them to share video recordings with virtually anyone with a DVD player. The DMR-T3040 and DMR-T3030 provide five different recording speeds, varying in recording quality and length. Both offer a Time Slip feature that allows users to watch a program in progress from the beginning, while the program continues to record to the end. A Direct Navigator function displays a list of recorded programs on each disc for an at-the-glance confirmation of contents. www.panasonic.com.
SADiE announces new Version 5 System Software. Version 5 software has been specifically designed to support the newly designed Series 5 hardware platforms from SADiE. The existing SADiE user interface has undergone a number of enhancements including some major changes to the cosmetic appearance of the mixer and playlist. The traditional SADiE GUI look and feel will be retained as a user-selectable option. Significant new V5 features include the provision of enhanced real-time DirectX support to enable users to access third party software plug-in applications from companies such as Waves, TC Electronic, Antares, and many others. Standard Windows® networking functions are now fully supported, opening up greater multi-user access possibilities to SADiE users with larger scale installations such as major broadcasters and major mastering facilities. A new editing model is also introduced as part of V5, in addition to the traditional SADiE editing methods. '3-point editing' and '4-point editing' refers to a method of working that utilizes a traditional source/destination style of editing, which is conceptually similar to editing online with VTR decks. In SADiE terms, original material is held in a 'Source' playlist and the desired segments of audio may then be copied into the correct position in a 'Destination' playlist, which becomes the master edit. www.sadieus.com.
PRODUCTION LIBRARIES
FirstCom Music announces their long-term agreement with Noise Pump Music, Ltd. (NPM) to provide music for the FirstCom Music Library. Noise Pump's repertoire will be featured in the FirstCom Music Library or the HollywoodMusic Library catalogs. NPM was created by veteran UK producer Aaron Harry, teaming-up with some of the hottest composers in England. The Noise Pump series will debut in January 2003 with an initial 10 volumes: New Jazz Incantation, Dramascore Fusion, Orchestral Phantasia, The World Around Us, Jazz Misery In Twelve Bars, Spot The Difference, Asian Beets Culture, Technovibe, Unload And Show Clear, and Garaged R&B Jam. www firstcom.com.
THE MIX
Congrats to RAPster Lance Hildebrand/WorldwideLance.com on winning the recent Crystal Award of Excellence in the 2002 Communicator Awards. The award was for a package of sweepers produced for the Gerry Newman Radio Show in Cork, Ireland. Learn more about Lance Hildebrand's work by visiting www.worldwidelance.com.