Hamish McLean, Urban Radio, Luton, Bedfordshire, United Kingdom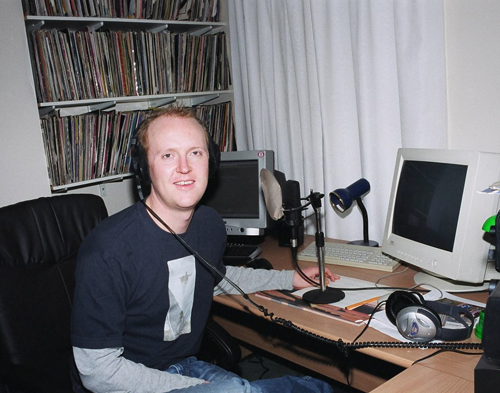 By Jerry Vigil
This month's RAP Interview takes a long overdue trip across the pond to visit with one of the UK's hot new independent producer's. Hamish McLean's start in the business was a little off the beaten path of college radio and internships, and instead began as an imaging producer for several of the many pirate stations that are quite common in the UK. Working from a Cool Edit Pro and Pro Tools equipped studio in his home, Hamish is off to a good start with his company, Urban Radio. Listening to his demo on this month's RAP CD, you'll hear the passion that's inherent in any first-rate imaging producer. We're talking about a guy who's so into his work, he can pick out a piece of production that's been done on Cool Edit Pro simply by hearing the effect presets used! We get a interesting story from Hamish along with an inside look a the radio and production market in the UK. Crank the monitors up, load the demo, then read on!
JV: How did you get started in radio?
Hamish: It all started back in 1987. I've always been interested in radio. It was the only thing I'd ever really wanted to do. I started off as a mobile DJ when I was thirteen. My dad bought me, or rather, I earned a couple of old turntables and he got me a mixer. Two records mixing into each other and stuff like that always amazed me.
I kind of progressed from being a very young mobile DJ into radio. In the UK where I lived there are very few radio stations per person. The only real way to break in is by doing pirate radio. That's what I did in 1987. I was on a radio station called Jive radio. It basically played black music like R&B and hip-hop music that came over from the States. That was my first break into radio. I was also going for higher education at the time, and I managed to stay on that station doing a couple of shows a week while I was doing my education. I wanted to do a degree course in radio, but there were so few courses in radio there at the time that I didn't manage to get one.
In 1990 I got what we call a proper job. I was actually working for the government for six or seven years. In between that I was trying to build up a studio, but before the advent of hard disk recording it was very difficult. I did have an old 4-track Akai and a mixing board and a mike, but I was only doing stuff for pirate radio stations. I was producing commercials and some jingles and things. It really wasn't until 1996 that I discovered what a compressor was and found out what a big difference that could make.
JV: Are there several pirate radio stations in the UK?
Hamish: Pirate radio in the UK is the main source of how music breaks into the UK mainstream. People may think that in the UK, because we probably have as diverse a population as you have in the US, that there are stations for every genre. But back in even 1990, and this is only going back thirteen years, in London alone, there was only one legal music radio station and that was Capitol Radio. So you have approximately ten million people with only one radio station to listen to, and they weren't the champions of what was becoming a more and more progressive sound to the street, which was like urban music — R&B and hip-hop. At that time there were maybe a hundred unlicensed pirate radio stations in London. The main broadcasters now have actually recruited most of the groundbreaking pirates of the time. One pirate station back in the '80s even got a legal license in the early '90s.
Now, even though we have more stations over here than we did have, they're all focusing on the same market, and there's still very few things like underground shows playing stuff like the new music or that kind of scene. There's no exposure for real cutting edge music, what we call drum and bass garage music, R&B and especially reggae in this country at all. And you can't change the station's format in this country without going through the regulatory body and asking for it to be changed. Like a station that pays 80% percent chart music will have to play that for its eight-year license term, then try and get that changed if they want to change it, but that's where the money is. And the unlicensed stations are still playing basically what the street wants to hear.
JV: So they're unlicensed, but quite popular. Why doesn't the regulatory body shut them down?
Hamish: It tries to on a regular basis and there are countless raids on stations in London, but they're also seen as maybe a means to an end. The record companies definitely support them. There was recently a case where Sony actually said on record that without the support of certain pirate radio stations in the capital, their product wouldn't have being heard by a mass audience. Even the police, knowing that these radio stations are appealing to what's known as the street community -- the urban parts of London -- they even wanted to advertise on one of these unlicensed stations about an unsolved murder. It's only when the regulatory body stepped in and said well actually you can't do this, that the police stopped doing it. That has happened time and time again. In London itself, even now, there are probably forty pirate stations that run, some that sound very professional.
JV: How many licensed stations in London?
Hamish: In London itself there are less than ten licensed radio stations.
JV: And you started out producing for some of these pirate stations?
Hamish: Yeah, I've probably been involved in doing the production for probably everyone that's in my surrounding area, which is in Bedfordshire. Bedfordshire is approximately thirteen miles away from London and has about a half a million people, maybe a million. I have been making commercials as well, but that's kind of where I cut my teeth as it were. I moved from my old Akai to a Revox 4-track and was just bouncing things onto a cassette. That's how I started.
JV: You opened up shop and were producing for these pirate stations. What came next?
Hamish: Well I always wanted to be a presenter as well, so in '97 I went to work for a radio station in Oxford called Oxygen. I was working there doing freelance shifts every weekend. Then I moved to another station in Coventry called Kicks 96. I was presenting there, and it was 1999 when I actually gave up my day job with the government. During all this pirate activity would you believe I was actually working for the government? On Monday morning my boss would say, "I heard you on the radio Saturday, Hamish." This big civil servant was actually listening to the pirate station. That was quite funny.
But I gave up my job and went to work for a friend who was running a music production company. To cut a long story short, we discovered quite a big record, which was called "Mucho Mambo" by Shaft. It was actually a take on Rosemary Clooney's record, "Sway," with Perez Prado. We discovered that record and it went to number two in the UK charts here. It sold a million copies and went worldwide. With the money that I got from that as part of the management team, I bought my first Pro Tools system. That was really when my company, which is called Urban Radio, was born. This was in '99.
This coincided with a month I spent in San Francisco, which is part of the reason why I decided to move away from presentation to get into production. My friend had just recently moved there to work for an IT company in Silicone Valley. I found a radio station there called WILD 94.9, the Party Station. I was absolutely amazed by the production. As soon as I got into the car I was tuning around American radio, and I found this station. The first thing that hit me was the processing, how big it sounded compared to stations back in the UK. I'm not quite sure what kit they were using, but it was almost bouncing out of the car stereo. And then the sweepers hit; straight away we got back to his place and I said, "I want to buy a boom box." He took me down to Fry's, and 100 Memorex cassettes later I'm back in the UK. I'm still playing those tapes. What I was amazed with was not only the quality of the production but also how different the production was to anything I had heard in the UK. At that time and still in the UK we were using a lot of American announcers for most of the station IDs and sweepers. But I never heard production quite like what was being used on WILD 94.9. It was the most energetic I'd ever heard. I know there are probably WILDs all over the country with that party format, but the sweepers and the production on that station were awesome.
JV: What happened after you got back to the UK?
Hamish: After that I got involved with a project in Spain called Holiday FM. I was involved in the conceptualization of the project, which was to run an English-speaking station to all the main destinations where British holidaymakers go. No one really spends the holiday in the UK because it's too wet, so they go to all these different places, mainly in Europe. And the idea was to pipe the service through our ISDN across from London to these different holiday destinations. I was involved in looking into that and getting some programming ideas. I spent three months in Spain doing that, which was in 2000.
That kind of led me to where I am now. My main client is a radio station in Marbella, Spain called BFM. I am the Creative Services Director, I suppose, of that radio station. They've outsourced the whole production element of the station to me apart from the commercials. I had an option to do the commercials, but I didn't see it as the best use of my time. But I do all the production of the sweepers and promos, etc., and then ship them back via MP3. BFM covers the whole of Southern Spain.
JV: Let's talk tools. Which Pro Tools system did you get?
Hamish: It's an LE actually, 5.1 LE. After I bought it, I was a little bit disappointed to be honest once I realized how few plug-ins it came with. I didn't really know enough about what I was actually buying. I think a lot of people will understand that when you're running your own company and you're not being bankrolled by a radio station, after spending 2,000 pounds on the Pro Tools system, it's difficult to then justify going out and spending thousands more on plug-ins. So after looking into it, I bought another system. I bought another PC and I bought Cool Edit Pro. I made the change in 2001 to using Cool Edit almost exclusively now. I'll bounce between the two systems. I'll record onto Pro Tools, and because I've got a network here, four PC's including the Mac, I'll then bounce that wave file on to Cool Edit Pro.
I really like Cool Edit Pro. I've found I've done all my best work on Cool Edit Pro. The first thing that was different for me about it was not being able to edit a multi-track screen, but you can do that now, although it's not so good. The effects are excellent — as long as you don't use any of the presets and you make your own presets. I can hear stuff that's produced on Cool Edit Pro when they've used the preset, and it sticks out like a sore thumb. But to be honest, once you've got your wave on the screen and you can actually see it, I think the possibilities are endless no matter what kind of system you're using. It's quite funny… one of my VOs who I was using to do a voiceover sent me his dry voice, and I sent him back the finished product produced on Cool Edit. He was like, "Wow, how did you do that, how did you do this?" And at the same time he sent me a picture of his studio, and he had the most amazing bunch of outboard gear and Pro Tools with the breakout mixer and everything. You've just got to let your mind go free. I think almost anything can be accomplished on anything; it just depends on how hard you want to work at it really.
Other gear includes a Neumann TLM 103. We use that in conjunction with the Focusrite front end VoiceMaster, which is the only outboard gear we have at the moment. We have an Audio Technica AT4033, and we just recently got a Russian microphone, the Oktava, MK319. It's very good. We bought it to get more of a warm sound on the female vocalists who come here. It's very cheap, as well. It's only a couple of hundred quid, three hundred bucks. Actually there's not much difference between that and the Technica. The Neumann is probably the best mike we've got, and I'm thinking of buying a U87 at some point this year.
JV: Do you do voice work as well?
Hamish: Yes. I do 50% of the voice-overs for BFM. I do all the promos for them. I do a lot of on hold telephone messaging and stuff like that. We do countless commercials here for all kinds of companies. We do a lot of nightclub adverts, which are quite fun to do because we can get a really upbeat style and use some of our production techniques rather than just dropping voice over some melancholy music.
I've recently done some TV stuff and was amazed at the difference in money. I walked out doing a twenty-second promo. I was in there for a half an hour for this cable channel, not even a big channel, and I asked the guy how much I was going to get, not knowing, and he told me what the equity rate was, which is like the standard rate if one goes by it, and I was like, "Oh my God, I wonder how much the narrator is getting!" So that's the first time I've ever done any TV stuff, and I've done a bit more since. That's where the money is and I'd like to get more involved in it.
JV: Describe your style of production.
Hamish: My style is like this, when I turn on the radio, I like to see it as a sound track. On BFM the music kind of seeps into the sweepers and the sweepers mix into the music. My aim is when someone hits the automation button on the radio station, the station will actually sound better between the music and the sweepers without the DJ interrupting it. My style is different in the fact that we use production elements but I try to use them very sparingly. We try to use bits of songs and try and manipulate the music. We use flangers on music. We use drops from music and sort of integrate that with the voiceover, all the time looking for this sound track feel where it's almost non-stop. We don't make sweepers that are effect, dry voice over effect, and then a filtered line. That suits some formats, but the format that we're working towards for BFM — which is a very hot kind of rhythmic AC format — we won't use something like that. People might call this style generation X, but we're not doing that. It's not dark; it's just more fluid. It doesn't stop. It's not "bitty" I think is probably the best word. It's not in bits like stuff I sometimes hear on other radio stations where it's a sweeper effect, a voice over and then another effect. Ours will be a lot different than that. It will have a drop from a record, it will have some beats underneath it, and obviously there's a mix-out point where the DJ knows it's going to the next record, and then the whole thing just carries on. I think the word fluid is one way to describe it.
JV: How many different voice talents are you working with now?
Hamish: On and off at the moment we've probably got four or five. We use Mike Goral a lot. When I started BFM I started using him on a retainer basis with Urban Radio, and he's done some other things. I got him to do the whole script for all the sweepers I produced for BFM. He's in Canada. I just surfed by his site one day. He's got an amazing kind of aggressive sound that's the kind of sound I wanted in Spain because no one else is using an American sounding voice. And I didn't want to go in with like a Sean Caldwell type — I probably wouldn't have been able to afford Sean anyway. I wanted someone that was more street oriented, a little bit tougher, and Mike hit the nail right on the head.
We've got some English girls that we're using at the moment that we just got from voiceovers.co.uk, which is the same web site I'm on. And someone else we've also been using recently is Matt Rawlings who we got from an ad in RAP Magazine. We've used him to do some BFM stuff as well – another very effective voice. And all these people apart from one send their stuff by MP3.
JV: Are there a lot of production houses in the UK?
Hamish: Yeah there are, and there are a lot of production people not doing any work. There's not an awful lot to go around because, probably like the States, there's maybe six or seven companies controlling pretty much all the radio business. But there are quite a few radio production companies in the UK.
JV: As there are a lot of voice talents most likely.
Hamish: Yes, a lot of voice talents. One radio station network in particular owns about forty different stations. They are all hot AC, and they use just one voice to promote the whole network. That guy is probably the best paid VO talent in the UK. His name is Dave Kelly. He'll be on the end of an ISDN line, I would suggest, doing a session every day. For imaging and voiceover talent in this country, if you get a break like that, it's brilliant. If not, you really have to look abroad to make some money. There are fewer opportunities here than in the old days where there were forty stations all owned independently, or maybe by four different groups so at least there would be four different voices. And it's the same with all the groups. Like the Capitol Radio group owns another twenty stations, and the same imaging voice is doing all their stations. So economies of scale is really making the products sound uniform wherever you are.
JV: You've been in business for about four years now. How's it going?
Hamish: It's doing very well. This year has been excellent really. We've met all of our expectations financially and been able to refund the studio. We've put a network together now which we never had before, and since we've networked it's made everything so much easier. It's going very well. The most important thing for me now is to get a really good show reel together so I can demonstrate my capability, not only as a voiceover talent, but as a producer as well.
JV: What is a typical day like for you?
Hamish: Normally it could start about 10:00 a.m. What I try and get out of the way first is all of the scripts and voiceover work. That includes getting a voiceover back from anyone or getting the scripts from BFM if they want a voiceover. Normally everyone works quite late in Spain so they may have e-mailed me something at midnight after I've gone to bed. So I try and get that recorded and get that stuff out of the way. Then I'll probably have a break for about an hour and just check all of my e-mails and do some administrative stuff. In the afternoon is when I try and do all of the producing, and that normally goes into late in the night. It depends what it is. A promo can take an hour. Beat mixes can take five hours to do properly. It depends how much effort we want to put into it really.
I'm very lucky because I don't have to produce a certain amount of stuff for BFM. It's up to me what I produce. Obviously I know what they need, and they'll put requests in, but they leave me alone to image the station the way that I see fit. They take direction from me really.
If I have any voiceovers to do like for the on hold companies, or if I have to go to a studio in London, that will probably happen in the afternoon. Then I normally work quite late into the night, 11:00 or 12:00, just doing production. I like to experiment. But it's difficult to know where to draw the line. I'd like to spend more time on voiceovers because it's a lot better pay, but production is much more fun, and it's what I really enjoy doing. And I can actually hear my finished work when I'm doing production, whereas once I've done a voiceover, sometimes I never hear it again if I'm not in the local where it's being played or I don't get the TV channel that it's going out on.
JV: Are there any stations in London that impress you with their production?
Hamish: KISS 100, in my opinion, is the market leader in audio production. Their stuff is absolutely awesome. They get a certain amount of their stuff from ReelWorld in the States, Cracked Audio and some of their song bits, which are produced by ReelWorld. But the main producer at KISS is very talented, and he is making some awesome stuff in London at the moment.
There are several good creative producers really, but sometimes the format doesn't allow them to express their full creativity. Most of the radio stations are playing the same records. For example, in the UK we don't have a dedicated rock station at all. There may be one coming on the air soon in the Midlands, but in London, if you wanted to hear rock music, you can't. We've got like a watered down version called Virgin Radio, but nothing like when I was in the States. You could pretty much hear heavy rock anywhere you went. And there's a great demand for it in the UK. So that's a whole different genre of imaging that we just don't have over here. Like we've only got one licensed urban station in the UK and that's Choice FM in London. That's the only place where you'll hear urban imaging in the UK. So the rest of the imaging is very much a mix match of just contemporary AC. We just have two jazz stations in the whole of the UK, so you'll never really hear jazz imaging. Everyone is chasing the same thing. To be honest, that's why production sounds similar in almost every other radio station in the UK.
JV: Why is there not a rock station there?
Hamish: Everyone seems to want to chase the main dollar, the main amount of people, the big popular market. I think there is no reason why we haven't got one really. Virgin Radio came on saying they were going to play rock music, but really it's not. It's adult contemporary, sort of like retro more than rock. You won't hear in any great detail any new music on there.
I think everyone is worried about how they perform in RAJAR, which is how we measure radio ratings over here. I think they're seeing it's a lot safer to go for something that is already being played but just present it in a slightly different way. You could drive through London about 10:00 in the morning and hear the same record on pretty much every station. An example would be something like Justin Timberlake, "Rock Your Body." You hear that on Capitol Radio, which is equivalent to Z100 in New York. You hear it on KISS, which is the dance format. You hear it on the urban station, Choice FM because he's seen as an urban artist, as well, and you'd hear it on every other single radio station because it's a chart record. Everyone's focusing on the main stream of the audience.
JV: What's down the road for you?
Hamish: I think everything that UK radio has learned has come really from the States, and I'd love to do production with a radio station in the States, on some kind of level. I see that as my next move.
JV: What advice would you pass on to someone in the UK who would like to do what you're doing?
Hamish: I think if you want to make a business out of doing this you've got to accept the fact that you may not get work from this country any more, and you've got to look further than just what's around the corner. Just working at your local radio station is more and more difficult to do because of all the networking and stuff. Just look for any opportunity that presents itself. Look far and wide because Europe's shrinking. And with the advent of the Internet, you can image a radio station anywhere in the world sitting in front of the TV in your pajamas if you want to.
I'm doing a job that I've always wanted to do but I've never had the tools to do it until now. And although I'm thirty-three, I'm really at the start of my career. I think if you're now twenty and you've grown up with this, you've probably even got a bigger advantage than me.
It's a brilliant industry to be in. Sometimes you can get so excited by what you've just produced. I'll say to my girlfriend, "Listen to this," and she'll say, "That was nice." And then suddenly you realize all you're doing is producing a break that goes in between the songs on a radio station and no one really notices.
♦