TECHNOLOGY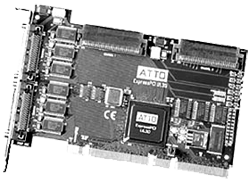 Digidesign's new SCSI|128 kit, which includes the ATTO UL3D Dual Channel Ultra3 SCSI Host Adapter and two cables, accomplishes two significant tasks. First, it offers 128 tracks of record and playback with Pro Tools|HD on both Mac and Windows when used with LVD drives. Second, its built-in LVD support results in improved data integrity, and allows for longer cable lengths — up to 12.5 meters (41 feet) per bus — to accommodate effective placement of your LVD-supported SCSI drives in your studio environment. SCSI|128's Bus Mastering capabilities eliminate the bottleneck of CPU processing time, and the Disconnect/Reconnect feature negates wait time between transfers. SCSI|128 supports top-of-the-line PCI specifications as well as 64-bit/66 MHz PCI (fully backward-compatible with 32-bit and 33 MHz PCI systems). The SCSI|128 kit also supports up to 64 audio tracks on Pro Tools|24 MIX and d24 systems on both Mac and Windows. The UL3D's two external channels handle throughput up to 160 MB/second per channel. www.digidesign.com.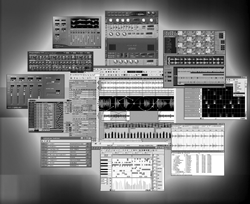 Cakewalk recently announced SONAR 2.0, the latest version of their digital multi-track recording system. SONAR offers unlimited digital audio and MIDI tracks; a centralized interface design for improved creative workflow; advanced audio looping and editing tools; DXi software synthesizer plug-ins; automatable DirectX 8 audio plug-ins; real-time MIDI FX plug-ins; and extensive audio loops and SoundFont libraries. Cakewalk is also announcing SONAR 2.0 XL, the premium-edition of SONAR that provides an advanced DXi drum sampler workstation and new 64-bit DirectX 8 audio-mastering effects. In addition to the tools and loop libraries provided in the standard SONAR 2.0 package, SONAR XL includes: FXpansion DR-008 Drum Sampler Dxi, Sonic Timeworks EQ, and Sonic Timeworks Compressor X. Suggested retail price is $479 U.S. and SONAR 2.0 XL is $599. www.cakewalk.com.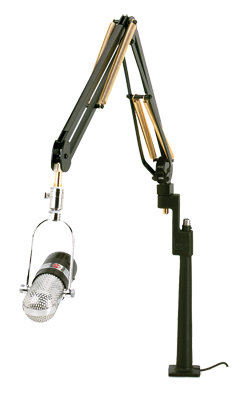 O.C. White announces significant improvements and innovations to their world-standard microphone arms and riser. The new mic arm riser combination, O.C. White Model 61900, is designed to hide the microphone wire and improve appearance. The microphone wire is hidden for most of the length of the arm, yet is easy to install and is removable. The new base provides an invisible vertical wire channel through the riser, which is prewired to an XLR female imbedded at the top (set-screw removable), and 3 feet of pigtail extends from the base for the user to wire as needed. This makes attaching a mic cord to the outside of the riser unnecessary. The new riser has risen to an overall height of 15 inches. This permits the riser to be installed immediately behind most low-profile VGAs and most near-field loudspeakers. The factory-installed riser mic wire exits straight down through the countertop or through a side channel at the bottom, as needed by the user. www.ocwhite.com.
True Systems has released its P2 Analog, a 2-channel microphone preamplifier. The P2 Analog is targeted for critical recording and sound reinforcement applications. Features include selectable M-S decoder, active DIs with impedance modification capability, dual gain range selection, and multi-frequency high pass filter. In addition, the P2 Analog features a Stereo Phase Correlation display that assists in optimizing microphone placement for stereo recording. The P2 Analog is modeled after True Systems' Precision 8 8-channel analog preamp. The P2 Analog is a hybrid, totally balanced, dual servo, high-voltage design which provides top-notch transient response, headroom, imaging and noise performance.www.true-systems.com.
Backbone Networks Corporation announces that its Backbone Radio Basic software application now uses MPEG-4 as its primary streaming format. The new standard delivers higher audio quality coupled with faster compression speed. Backbone Radio (Version 1.1.6) builds upon Apple's QuickTime 6, which recently introduced MPEG-4 compatibility. Defined by the Moving Picture Experts Group (MPEG), MPEG-4 is the new worldwide standard for next-generation multimedia, including streaming for audio and video. With the free QuickTime Player or browser plug-in, listeners can play back any compliant MPEG-4 file, including Backbone Radio streams. The most notable advantage for radio production and streaming is the sound improvement over MP3 at comparable bandwidths. Using Backbone Radio's default bandwidth for streaming to 56 kbps modems, the audio quality is significantly higher than previously obtained with earlier codecs. At available rates up to 256 kbps, MPEG-4 allows Backbone Radio to be used in professional front-end production, including radio "centralcasting" applications. Another feature of MPEG-4 is its tremendous compression speed, especially when using high end G4 Macintosh "client" computers. Since Apple includes the AAC codec in QuickTime 6, Mac OS X takes full advantage of the G4 (or dual G4) horsepower to compress clips in a small fraction of the time of previous codecs. The software permits a variety of material formats to be mixed, even on the same playlist. A playlist may be composed of MPEG-4 clips, MP3 files, QuickTime movies and even WAV files, and stream to listeners who use the free QuickTime 6 players. A thirty-day demo is available at www.backbone.com.
At the 113th AES Convention to be held at the Los Angeles Convention Center, October 5-8, Transamerica Audio Group, the U.S. distributor for Brauner microphones, will be introducing the Brauner Phantom C microphone. Designed for lead vocal and voiceover applications, the Phantom C is the first non-tube (FET), large diaphragm mic from Brauner. Brauner has re-tuned the Phantom C for vocal use where more proximity effect and less sibilance are required. The Phantom C ($1,380 MSRP) offers 8dBa self-noise, 28mV/Pa cardioid sensitivity, and 142dB Max SPL at 0.5 percent THD. www.transaudio group.com.
CEDAR Audio Ltd announces the DNS2000, an automated implementation of its noise suppression technology designed specifically for Pro Tools users. Connected to a Pro Tools host system using just a USB cable, the DNS2000 processor unit provides the DSP as well as the 24-bit AES/EBU & SPDIF I/O for the system. Housed in a compact 1U rack, it offers a remarkable 198MFLOPS of floating-point power, and will process two independent audio channels simultaneously with virtually zero latency. The DNS2000 Remote Control Software runs on all suitable Macintosh-based Pro Tools systems, and is fully integrated within the Pro Tools environment. It provides a fast, intuitive user-interface based on CEDAR's DNS1000 noise suppressor, and controls all aspects of the DNS2000, as well as automating all its operating parameters. Furthermore, it allows you to control up to 126 processor units (252 channels of digital audio) simultaneously. www.cedaraudio.com.

Midiman/M-Audio announced shipment of the DMP3 microphone and instrument preamp, designed as an optimal companion to M-Audio's popular Delta line of PCI audio cards. The DMP3 offers two identical channels of high-quality pre-amplification, each offering XLR and 1/4" TRS inputs and 1/4" TRS balanced outputs. High and low gain controls accommodate a wide range of microphone and instrument levels, offering up to 66dB of gain. The unit's high dynamic range and 20Hz to 100kHz frequency response (+0/-1dB) makes it ideal for 96k recording applications. Each channel also features a VU meter, phantom power, low-cut filter, clipping indicator and phase switch. www.m-audio.com.
Danagger Audio Works announces the release of its first product for broadcasters, the Plan B Silence Eliminator. As its name suggests, the Plan B protects stations from losses due to unplanned outages and equipment failures by providing an alternate source of continuous backup programming. Designed to protect automation systems, satellite receivers or even entire airchains, the Plan B is a digital/analog silence sensor with a built-in MP3 compatible CD player, an autodialler and a voice-based remote control system. It can detect silence or excessive noise on either analog program lines or AES3 digital program lines up to 96kHz with the flip of a switch. Like a conventional silence sensor, the Plan B alerts local personnel to a dead air situation with an attention-getting audible alarm and flashing lights. However, the device takes it a step further by automatically dialing up to three phone numbers in sequence until the alarm condition has been acknowledged. Once the remote user has been informed of system status by a pre-recorded voice, they can choose to listen to the program line or the backup audio over the phone, or control the Plan B itself using the telephone's keypad. www.danagger.com.
PRODUCTION LIBRARIES
FirstCom Music announced OneMusic Library's exclusive long-term agreement with Solid Air Records to offer recordings from their award-winning group of guitarist/composers for the OneMusic production library. Artists such as Grammy winner Laurence Juber, Doug Smith, David Cullen, William Coulter and 20 others will contribute to a new production music category called "Acoustic Underscores" with a series of releases titled "Naked Guitar" designed to provide the ultimate acoustic scoring library. Nine titles are in development for release in the "Naked Guitar" series; each title features 20-25 tracks of varying tempos in a specific style or mood. Current "Naked Guitar" titles in production include: Positive, Positive 2, Determination, Emotions, Novelty, Blues, Country, and Christmas. www.firstcom.com.
From the makers of "Platinum Scratches" comes "The Plague" imaging production library. Two CDs packed with 560 effects, 19 high energy beds, and 19 drum-only beds. Effects include lasers, impacts, pads, wild scratches, plenty of white noise and sweeps, time saving combinations of all elements for quick assembly, and more. Offered at a discount price if purchased with "Platinum Scratches." Custom station ID scratches and special ID production also available. Call Andrew Smith at 201.446.3069 or visit PlatinumScratches.com for demos.
THE MIX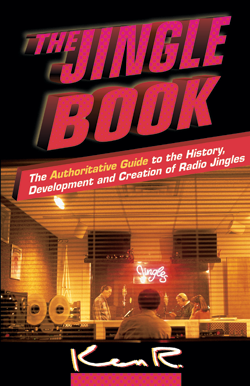 A new book is the first dedicated to the hot nostalgia topic of radio ID jingles. Written by veteran journalist and jingle producer Ken R., "The Jingle Book" includes an audio CD. It will appeal to radio buffs and the growing number of enthusiasts who like to swap stories, CDs and tapes featuring sounds from the "golden age" of jingles in the 1960s and early '70s. The author interviews dozens of the creators of radio IDs including Johnny Mann, Anita Kerr, Tom Merriman and many others. He tells the story of why Dallas was a jingle hotbed, and he tracks down the most famous jingle singers including Trella Hart, Jim Clancy, Gleni Rutherford and other luminaries whose stories appear in their own words. "The Jingle Book" is a 250-page paperback with eight pages of photos and a one-hour audio CD featuring the best jingles from 1960 through 1974 from companies such as PAMS, TM Productions, Pepper Tanner, CRC, Spot Productions and dozens of others. www.kenr.com.
VoiceHunter.com has entered a partnership with AllAccess.com where VoiceHunter.com's search engine of over 5000 voices will now be on line on AllAccess.com's Voiceover page for free, instant, voiceover casting.
♦