TECHNOLOGY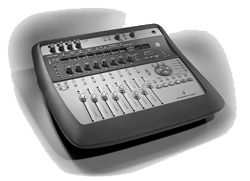 Digidesign's new Digi 002 ($2,495 MSRP) features FireWire connectivity, a touch-sensitive control surface, 24-bit clarity and up to 96 kHz sample rate support, and Pro Tools LE 5.3.2 software for both Windows (XP Home) and Macintosh (Mac OS 9.x). Other Digi 002 features include 8 analog inputs including 4 mic pres with HPF, 48V and variable gain; 8 analog outputs plus separate monitor, headphone, and –10 dBV RCA outputs; 8 touch-sensitive faders, 8 motion-sensitive encoders, and 10 four-character scribble strips for individual track parameters; and 8 channels of ADAT optical I/O, 2 channels of S/PDIF I/O. Digi 002 is shipping with Pro Tools LE 5.3.2 software as well as bundled plug-ins, offering more power and flexibility than before including up to 32 tracks. The free bundled plug-ins are valued at over $2,250 and include: Amplitube by IK Multimedia, D-Fi by Digidesign, D-fx by Digidesign, Maxim by Digidesign, PR0-52 by Native Instruments, Renaissance Collection by Waves, and SampleTank LE by IK Multimedia. www.digidesign.com.
Lexicon, Inc. introduces the new MPX 550, a true stereo dual-channel processor featuring 24-bit A/D and D/A conversion and 24-bit internal processing. This latest in Lexicon's MPX series processors provides both balanced analog I/O's and S/PDIF digital I/O. Powered by Lexicon's proprietary Lexichip™, the MPX 550 has 255 presets (plus 64 user definable) with classic true stereo reverb programs, as well as dual programs that combine two independent effects plus digital compression in four routing configurations. A host of other reverb effects, including Ambience, Plate, Chamber and Inverse, as well as Tremolo, Rotary, Chorus, Flange, Pitch, Detune, 5.5 second Delay and Echo are also included. Four dedicated front panel knobs permit adjustment of up to 20 effect Parameters as shown on the unit's enhanced large graphic front panel display. A dedicated Program knob is used to scroll through Single, Dual, and User programs, jump quickly through program banks, and also allow activation of Cue Program mode, enabling one program to load while another is prepared for loading, facilitating seamless program changes. Each program also includes a unique "Adjust" parameter — a special parameter selected for each preset to control the most critical aspect(s) of the sound quickly and easily. The Lexicon MPX 550 is currently available with an MSRP of $649.00. www.lexicon.com.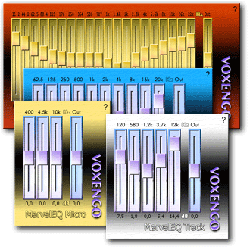 Voxengo announces the release of MarvelEQ, a graphic equalizer plug-in pack ($59 US) containing four PC VST audio plug-ins. The main feature of these equalizers is that they use linear-phase digital FIR filtering which delivers practically uncolored equalization. All four plug-ins come with different numbers of frequency bands and an output gain control. For example, the "Master" plug-in has 20 frequency bands. Every band works in the range of +/- 18 dB. Requirements include Windows 95 or any later Windows OS, at least a 200 MHz processor, and any audio application supporting VST plug-ins. www.voxengo.com/marveleq.
AKG Acoustics has completed and is distributing Mic Check, a CD-ROM and audio CD that enables musicians, producers, engineers and retailers to compare and contrast AKG microphones with various features and prices. This free enhanced audio CD can be played on a standard CD player or as a CD-ROM and includes 89 tracks. AKG Acoustics U.S Marketing Manager, Sarita Stewart, states, "Most microphone purchases are made without the benefit of a real demonstration. The main goal of this enhanced audio CD is to provide the reference points that are needed for the consumer to make a more informed and, ultimately, better purchasing decision. Listeners can hear for themselves the uncolored difference between microphones on many different instruments. Mic Check doesn't replace listening comparisons in a studio, but it is AKG's best attempt to bring the end user one step closer to that ideal." Mic Check is intended for distribution to serious musicians, studio owners, home recording enthusiasts and is available directly from AKG and at the company's website, www.akgusa.com.
Henry Engineering is pleased to announce the all-new MATCHBOX, an updated version of the "original" Matchbox, Henry Engineering's flagship product since 1982. Over 40,000 units are in use worldwide. The MATCHBOX is the industries most popular level and impedance converter. It permits consumer or semi-pro audio equipment to be used in a professional studio system. It features direct-coupled active circuitry for superb audio performance with over 100db of dynamic range. The AC power supply is built-in, so no "wall warts" are needed. The new MATCHBOX is rack-mountable in 1/3-rack width by 1RU high. Up to 3 units can be mounted in a 1RU rack shelf. www.henryeng.com.
PRODUCTION LIBRARIES
AVDeli.com announces four new releases. Flies v2.0, Chemicals, Return to Paradise Lost, and SpeedTracks IV. Get more info at the AVDeli website. And coming in the fall of 2003, AVDeli goes all the way online with thousands of all new sound designer tools, scores, drops, SFX, parody songs and more all available for MP3 download as part of a weekly updated subscription service. www.avdeli.com.
Network Music, a unit of BMG, announces the launch of its newest music library, SLAM! The library focuses on contemporary genres such as "House, Breakbeat, Hip-Hop, Trip-Hop, R&B, Nu Metal, and Punk Revival" and features a youthful edge from MTV style hip-hop, R&B and Pop 40 styles to WWF and X-Games style rock, metal, and punk and emo. The initial library consists of a ten CD package including 120 tracks. Network Music expects to release another five CDs in February 2003 while growing the library to over 25 titles by the end of 2003. SLAM! is available now and can be auditioned at www.network music.com.
Killer Tracks adds new CDs to their libraries. New titles include, Edge 66 Sports 4, Edge 67 Alternative Rock 3, NJJ 70 Urban, NJJ 71 World Beat 1, KT 145 R&B/Pop, KT 146 Adult Alternative, KT 147 Killer Rocks, KT 148 Killer Country, KT 149 Winter Fun, MXS 16 Deep House, and Koka 2226 Christmas Pudding. www.killertracks.com.
THE MIX
Jeffrey Hedquist, President of Hedquist Productions, Inc. in Fairfield, IA (and RAP's Radio Hed columnist), was the keynote speaker at the PRE national convention in Amsterdam on November 19th. All Dutch radio stations are members of this trade organization. Hedquist addressed an audience of media buying agencies, creative directors from advertising agencies, and national advertisers at PRE's annual award ceremony for the best radio commercials in Holland. Hedquist works with clients in 44 states and has won over 600 advertising awards, including Clios, International Broadcasting Awards, and ANDY's. He's given over 120 seminars and speeches for radio and advertising groups in the United States.
After 3 years, Tom Versen, former head of Production and Creative Services for Sirius Satellite Radio in New York (January 2000 RAP Interview), rejoins his partner Tony Sisti at Blue Sky Productions in San Diego. Blue Sky is a full-service audio production company, which counts the major airlines as well as "The Dave Koz Radio Show" among its clients. Tom can be reached at 858-560-8807 or This email address is being protected from spambots. You need JavaScript enabled to view it..
Syntrillium Software and U.K. publisher PC Publishing have partnered to publish Audio Editing With Cool Edit by Richard Riley, a book on PC-based music recording and editing using Syntrillium Software's Cool Edit technology. The 160-page paperback explains how to install and set up the program, how to record from a variety of sources, how to apply EQ and effects like flanging, reverb and delay, and how to sync via MIDI and SMPTE. Readers will learn how to use plug-ins to enhance, clean up and improve recordings, and how to save in multiple file formats, including MP3 and .wav for any platform. For users who master to CD, the book explains how to use Cool Edit's tools for normalizing the mix, executing complex multiband compression, noise reduction and inserting silence, test tones and signals. There's also a troubleshooting section and a collection of tips and tricks gleaned from the author's experience using the program. www.pc-publishing.com.
Emma Clarke has re-launched her website with a new purchasing facility. www.emmaclarke.com/firedair now features a digital shopping mall that sells the audio equivalent of clip art. Featuring a click-pay-download facility that offers generic voiceovers, the website is a "one stop shop" for radio station managers, web designers, telephone on-hold system managers and anybody who needs to add that extra "something" to their PowerPoint presentations. Clips can be found by the site's search engines, which are backed by a database of over 4,000 samples that can be bought individually or as part of a package. Emma is the female station voice of over 150 commercial stations worldwide, including Classic FM, Capital Radio and Virgin in the UK alone.
Groove Addicts has moved to new headquarters, a custom designed facility on Los Angeles' Westside featuring two state-of-the-art recording studios, and two sound design suites. The facility will serve as home to both Groove Addicts' original music and sound design operations and to its affiliate, Who Did That Music?. Studio A is a live recording room with a floating floor and supplemented by a series of isolation booths. The room is large enough to accommodate a small orchestra. The adjacent control room is 5.1 capable, set up for either live recording or audio post production work and powered by the new Yamaha DM 2000 Digital mixing console and the new 192K Digidesign Pro Tools|HD digital audio workstation. The control room also features a 50-inch Pioneer plasma screen monitor for audio post work and twin 22-inch Apple Cinema Displays to support the Pro Tools system. Studio B is equipped with a Yamaha O2R digital recording console and a Pro Tools system. Groove Addicts is located at 12211 W. Washington Blvd., Los Angeles, CA 90066. For more information, call (310) 572-4646.
♦