TECHNOLOGY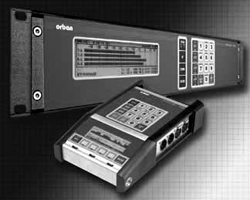 Orban/CRL Systems, in conjunction with Orban Europe (formerly Dialog 4), announce the Opticodec models 7000 and 7400 are now shipping. They are manufactured in Germany by Orban Europe to ISO9000 quality standards. Orban's Opticodec 7000 is a portable audio recorder that can edit and also transmit live. It contains an ISO/MPEG Layer II and Layer III compliant codec for use with ISDN. Also included are G.722 7kHz and G.711 telephone modes. Opticodec 7000 is aimed at mobile radio and television broadcast, voice, music, recording and production studio, and broadcast news gathering applications. Opticodec 7400 is a fixed-location audio ISO/MPEG Layer II and Layer III compliant codec for use with ISDN, and is TCP/IP and UDP addressable for use over any LAN, WAN, Intranet, or the Internet. G.722 7kHz and G.711 telephone modes are included as well. www.orban.com.
Harris Corporation's Broadcast Communication Division recently signed a non-exclusive reseller agreement with Digital Audio Video Integration and Development (D.A.V.I.D.) Systems, Inc., developer of a digital radio operating system, DigaSystem. DigaSystem features a scaleable, modular open architecture that enables radio broadcasters to instantly access digital audio files over a standard networking environment (both wide area and local) with state-of-the-art content management capabilities. With the DigaSystem, content production and content management such as ingest, archiving, scheduling and data storage and management are easily accessible from any computer workstation. Currently, over 400 broadcasters have installed the system for content creation and distribution. With the addition of the DigaWebSystem enhancement, radio broadcasters can manage content via the Internet or intranet connections outside of the DigaSystem environment. www.harris.com, www.digasystem.net.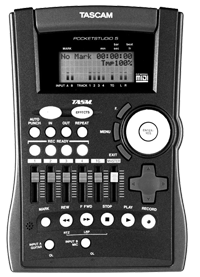 TASCAM has announced that their new Pocketstudio 5 is now shipping and available at authorized TASCAM dealers. The Pocketstudio 5 ($599.00 MSRP USD) is a new low-cost portable multitrack digital recorder that uses Compact Flash cards for media, provides a four-track digital recorder, a MIDI synth module for playback of standard MIDI file sequences, MP3 mixdown ability and a USB port to send completed songs to computers for emailing and web site posting. 100 built-in effects allow the Pocketstudio 5 to act as a complete production device. As a digital recorder, editing capabilities like auto punch in/out, copy/paste editing of audio and MIDI tracks using bars-and-beats and track bouncing are easily accomplished. The Pocketstudio 5 can run for up to two hours using standard AA-sized alkaline batteries and the unit also includes an AC power supply, a 32MB Compact Flash card, and a headset microphone to supplement its built-in condenser mic. www.tascam.com.

Stemming from a long line of Ivor Drawmer designs that brought about the 60s series preamp/compressors, the new cost-effective Drawmer Tube Station 1 is designed to deliver preamplification and warm analog tube compression to the digital home recorder. The new Tube Station 1 (TS1) boasts a Class A Drawmer preamp and a stereo soft-knee Drawmer tube compressor coupled with a 24-bit/96k digital converter in an affordable one-rack space package. A variable Tube Drive control also becomes useful while tracking to dial in just the right amount of warm Drawmer tube saturation, and users can even A/B the results via a separate front panel switch. The TS1's stereo soft-knee tube compression is controlled by a "compress" control which makes the best use of threshold and ratio settings for easily obtainable musical results, and a separate fixed threshold limiter prohibits fast transients and plosives from overloading digital recorders. Other features include balanced ins and outs, phantom power, an effects insert point and sidechain access to the compressor. The optional digital output module offers SPDIF or AES/EBU at up to 24-bit resolution and 96K sample rate. Simultaneous analog outputs are available via balanced XLRs. The TS1 is currently shipping at $749 for the unit and an additional $250 for the digital output module. www.drawmerusa.com.
Minnetonka Audio Software announces the availability of discWelder STEEL, a basic DVD-Audio writing program that allows anyone to deliver high-resolution audio from his or her own PC, at the low price of $495. With discWelder STEEL, the user can import all Linear PCM formats supported in the DVD-A specification, including non-encoded/uncompressed surround (consisting of up to 6 channels of 24-bit, 48KHz audio), and/or high-resolution stereo (two channels of 24-bit, 192KHz audio). Surround and stereo tracks may be used on the same disc, and a discWelder-burned disc will play on any DVD-A player that supports DVD-R. The Windows-based program is simple to use and can burn DVD-A discs utilizing inexpensive DVD-R drives (such as Pioneer's DVR-A04). Additionally, the user may edit the titles of the disc, group, and tracks, using the program's default Background Image and Font. While higher-level authoring and editing features such as menu options, background images, slides, MLP import, video TS import, DLT export and others are not offered in this basic writing program, Minnetonka Audio's full-featured DVD-Audio authoring program discWelder CHROME supports all these features and many more, at a price of $2,495. Add Minnetonka Audio's SurCode MLP ($3,495), and the end-user can author DVD-Audio at the feature level that suits their needs and budget. Minnetonka's discWelder STEEL offers professional-level hi-res DVD-A disc writing at a breakthrough price. www.discWelder.com.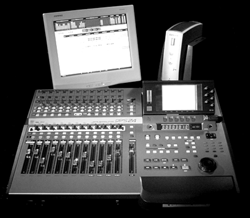 Akai Musical Instrument Corporation is now shipping the DPS24 Digital Audio Workstation. The DPS24 combines a 24-track digital recorder with a digital mixer. Offering a host of editing, mastering, mixing automation, and recording tools, the DPS24 is designed for use in project studios, DVD creation, radio broadcast production, and professional audio applications. Providing true 24 bit/96kHz, uncompressed digital recording, the DPS24 offers 20 tracks of simultaneous recording and 24 channels of simultaneous playback, and supports 24-track recording in a special transfer mode designed to make digital transfers from other sources in a single pass. The DPS24 also features 56-bit internal processing, and a 56-bit, 4-bus multi-effects processor provides a wide range of studio-quality effects. The mixer offers 100mm, Q-Touch™ touch sensitive moving faders, which support full dynamic automation of level and pan, channel on/off, FX/AUX sends, FX select, and UNDO/REDO. The 44-channel digital mixer consists of 12 input channels, 24 disk tracks, and 4 stereo effects returns. Each channel features level, pan, 3-band EQ, dedicated dynamics processing, solo, L/R routing, and more. Featuring non-destructive Copy, Cut, Erase, Insert, Paste, and Move functions, the DPS24 uses an edit "clipboard" allowing audio regions to be copied within the same project, or between different projects. Additionally, up to two tracks can be viewed in the waveform screen at once, making it easier to edit stereo tracks. Interfacing with the DPS24 is done via 28 analog inputs arranged in 2 banks of 12 inputs, plus 2 x RCA tape inputs and 2 x AUX inputs for bringing in sub-mixers, or just about anything else. Each input channel has a XLR-1/4" balanced combo jack (Inputs A) and a separate line level input (Inputs B) that can be selected with a push button switch located at the top of each channel strip. The DPS24 comes equipped with a large capacity 30GB internal IDE drive, and users can link up to seven additional external SCSI drives. An optional CD-R/CD-RW drive is also available. www.akaipro.com.
Syntrillium Software announces the release of a new book, "Audio Editing with Cool Edit" by Richard Riley. This book shows how to get the best from the Cool Edit 2000 and Cool Edit Pro version 2.0 with easy to understand walkthroughs and helpful hints and tips. As an addition to the manual and help file, it reveals many undocumented features and time saving tips. www.syntrillium.com.
PRODUCTION LIBRARIES
Killer Tracks has some new releases. KT-144 Vocals (Ballads & Love Songs), NJJ-66 Motivational 4, NJJ-67 Retail 5, ATMOS-152 Rage Rock, ATMOS-153 New Media Underscores, ATMOS-154 Ethereal Journeys 4, ATMOS-155 Big Fun, ATMOS-156 True Stories, and several more. Listen to samples from each release online at www.killertracks.com.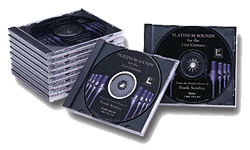 Effective Friday, June 28 2002, Sound Ideas acquired all rights to Platinum Sounds for the 21st Century, the general sound effects collection produced by Frank Serafine. This 10 CD collection offers 2,721 sound effects in eight general categories: animals, electricity and static, industrial, metal, science fiction, supernatural, transportation, and water. www.sound-ideas.com.
Aircraft Music Library announces The Latin Compilation, a library of tracks culled from discs in the Aircraft Library. Available as a buyout. www.aircraftmusiclibrary.com.
Sonic Foundry announced the release of Mick Fleetwood: Total Drumming, a 'Loops for ACID' library containing more than 800 audio samples created by Fleetwood Mac drummer Mick Fleetwood. www.sonicfoundry.com.
THE MIX
Another production brother is gone with the passing of Jeff Colson aka Jay Stone of Source One Spots, Las Vegas who died of an apparent heart attack in June. Dave Wilmont and Bumper Morgan created a 20-minute tribute, which can be heard at www.bumpermorgan .com/mp3/jeffcolsontribute.mp3. Bumper recalls, "His promos, sweepers and commercials were simply amazing. I've long admired his work, since the mid-'70s. He was at KRUX, KRIZ and KUPD in Phoenix while I was growing up there." For more info, please contact Dave at 702-914-3511.
The entire WaveFrame digital audio workstation product line, most notably WaveFrame/7, as well as the WaveFrame trademark, have been acquired by a new company, Cybermation, Inc., which will do business as the WaveFrame Software Group (WSG). Cybermation/WSG is owned by John Schnell and David Hart, who together they have over 25 years experience in product development, management and support on the various WaveFrame platforms. WaveFrame, Inc. has essentially ceased operations. Any business or past servicing issues, including any deals that were in progress with or regarding WaveFrame, Inc., should be directed to WaveFrame, Inc. at (510) 594-9455. Effective immediately, all WaveFrame/7 development, sales and support will be directed by WSG through their Southern California offices. For more information or assistance, please direct all WaveFrame/7 and legacy WaveFrame 6 calls to David Hart at 760-602-9365. www.waveframe.com.
♦