TECHNOLOGY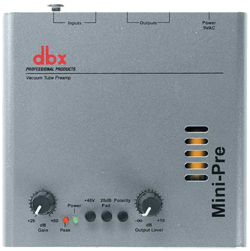 dbx Professional Products introduces the all-new Mini-Pre Vacuum Tube Microphone Preamp. The Mini-Pre takes the classic dbx Tube Microphone Preamp sound and puts it in an easy to use, compact, affordable package. The Mini-Pre offers a feature set that includes: a hand-selected, Soviet-made premium 12AX7 vacuum tube, selectable 48 volt phantom power, 20 dB pad, phase reverse switch, XLR microphone input, 1/4" TS line input, balanced 1/4" TRS and XLR outputs, and a peak LED. www.dbxpro.com.
Digidesign and Line 6 are now shipping the new Echo Farm, the vintage echo effects processing plug-in for Pro Tools®|24 MIX, MIXplus, and MIX3 systems. The Echo Farm brings to life the sound quality of timeless echo effects units. Combined with Pro Tools TDM processing, Line 6's Echo Farm delivers the flexibility and automation that's difficult or impossible to achieve with hardware. Classic tape echo, old school analog delays or filter swept echo-phonic modulations are available with Echo Farm. These vintage effects have all the advantages of modern TDM processing, including extended delay time, bpm/note value delay time setting, tap tempo, and complete automation. Echo Farm allows for control of tape wow and flutter, bit resolution and more. Used in front of Line 6's Amp Farm for guitars or to process any other type of audio signal, Echo Farm adds the classic sound of vintage echo to your mix. Echo Farm includes echo models based on the following effects units: Maestro EP-1 Tube Echoplex, Maestro EP-3 Echoplex, Roland RE-101 Space Echo, Boss DM-2 Analog Delay, Electro-Harmonix Deluxe Memoryman, Dynamic Delay (a la TC Electronics 2290), Lo Res Delay (variable from 24 to 6 bits), Sweep Echo (filter-swept delay), Digital Delay with Modulation, Ping Pong, Reverse, and Auto-Volume. Suggested retail price is $495. Also from Digidesign is the new Pro Tools® Custom Keyboard. The USB keyboard offers plug-and-play setup with any current or recent USB-equipped Macintosh computer, and makes controlling Pro Tools fast and simple. Pro Tools custom key commands are readily accessible from a dedicated, clearly labeled, color-coded keyboard. Using this keyboard is also a great way to learn the Pro Tools commands and is ideal for post-production facilities, professional music recording studios, and users looking for speed and ease. In addition to Pro Tools commands, regular letter, number, and symbol labeling on a conventional keyboard are printed on the Pro Tools Custom Keyboard in gray. Suggested retail price is $250. www.digidesign.com.
Stomp, Inc. announced the release of its newest product, DiscSavers. Unlike ordinary jewel cases, the polypropylene plastic make the cases durable and impact-resistant, and are available in bright red, blue, green and yellow, as well as clear. In addition, the DiscSavers are half the width of a standard jewel case. The sleek design allows computer users to store more CDs where bulky jewel cases take up space. The new generation jewel cases will also come with a functional reusable plastic storage case that will store up to 50 DiscSavers. DiscSavers will have a street-price of $14.99 for a case of 50 and $3.99 for a box of 10. Both are available at retail outlets and online at www.DiscSavers.com.
Digital Audio Labs recently published "real world" performance test results of their CardDeluxe. Want to see how the card stacks up? Check out the results on DAL's newly renovated website at www.digital audio.com.
BBC World Service and IBM announced that IBM has been chosen to design and implement a new digital production system at the BBC World Service's headquarters in London. The new system will transform radio production processes, improving creativity, productivity and efficiency, by giving producers digital access to source material. The IBM solution — based on Radio-Man broadcast content management software from Finnish company Jutel — will be implemented over the next two years. At present, the language service programs of the BBC World Service are edited by splicing tapes by hand — those that are to be broadcast must be transported to the studio, loaded onto a machine and cued for playback. With the IBM solution, material from different sources will be stored digitally, making the editing process quicker, enabling automation of playout and creation of audio for the Internet. The archive will be centrally located and available to all producers across an upgraded BBC network infrastructure.
The Drawmer DC2496 is a new, high resolution analog to digital converter designed for use in demanding recording and broadcast applications. Both analog (balanced XLR) and digital (AES/EBU, S/PDIF, ADAT 8 Channel light pipe and TDIF 8 Channel) I/O is provided as standard. The audio converters are 24-bit and the digital output can be either 16, 18, 20, 22 or 24-bit at sample rates of up to 96kHz. Noise shaped dithering is included and Word Clock input and output is available. Other features include: Dual time constant Stereo Limiter with variable time constants—can apply up to 18dB stereo gain to any input signal; 100dB range 64 element stereo signal meter with peak hold; built-in 100Hz, 1kHz, 10kHz and dual sine wave generator (100Hz Left Ch, 1K Right Ch) sine tone at -40dB, -20dB and variable -24db to -6dB output level to aid connection difficulties and troubleshooting. www.drawmer.com.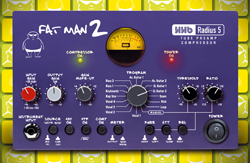 HHB's new Fat Man 2 Tube Preamp/Compressor, which continues the low-cost, preset theme established by its sibling the Fat Man is designed for use as an instrument preamp, vocal processor or a "warm" front-end for any computer-based digital recording system. The HHB Fat Man 2 is a single-channel combined tube preamp and compressor with 15 presets optimized for a wide variety of sources, including five vocal settings, keyboards, acoustic and electric guitars, basses and drums. More experienced users will welcome a manual mode allowing full control of all compression parameters including threshold, ratio, attack, release and soft/hard knee responses. Control of input/output gain and gain make-up is accessible at all times, in both preset and manual modes. A high-quality tube preamp stage accepts mic, line and instrument signals, and provides phantom power and a 90Hz low-cut filter. A balanced line output is provided on a ¼-inch jack connector, and switchable metering of either output level or gain reduction is displayed via a single, retro-style backlit VU meter. The Fat Man 2 uses a classic dual stage 12AX7A triode tube, powered from a high- quality internal power supply. The Fat Man 2 is a 3U half-rack width unit which can be free-standing or rackmounted with the optional 19-inch FatRack. www.hhb usa.com.
Audio Precision, developers of audio and communication test, measurement and high-performance solutions, announced the launch of a new resource on its website, the Solutions Resource Center. Created to give audio engineers the precise information they need to assemble effective test and measurement approaches, the Solutions Resource Center offers established standards for achieving optimal measurement solutions for numerous applications. It includes diagrams showing the major components of a test system tailored to meet their needs. The added resource feature to Audio Precision's website itemizes instruments, software, application notes, accessories, fixturing information, cables and other components that audio engineers require to assemble the right tests for optimal results with their particular applications. Links within the Solutions Resource Center lead to further information, such as in-depth technical notes.The Solutions Resource Center includes applications for: Power Amplifier Testing including Automotive Audio; A-D and D-A Converter Testing; PC Audio and Sound Card Testing; Reduced Data-Rate Audio Systems (Codecs, MP3, etc.); Digital Audio Interface Signal Evaluation; Dolby AC3 and DVD Testing; Broadcast and Production Studio Audio Testing; Broadcast Transmission Testing; and Transducer (Speaker and Microphone) Testing. http://audioprecision.com.
PRODUCTION LIBRARIES
MusiQuick Online is a new web-based search/audition/download service from FirstCom Music. MusiQuick Online searches all of FirstCom's 26,000 unique songs in seconds an downloads songs in minutes. It serves FirstCom customers as an online catalog, music audition resource, music delivery system, custom library manager, and track reporting channel. MusiQuick can be accessed from any page on their site—visitors can search using the "Advanced Search" button, and members use the "MusiQuick" button. It's available 24/7 at www.firstcom.com.
Sky Audio Productions, Inc. announced the release of GRAY MATTER. GRAY MATTER is one CD, packed with 98 tracks of digital production elements and percussive beds. Drones, Impacts, Fly By effects, Switches, Frequency Sweeps, Voids, Reverse Attacks, Effect Packs, Hits, Warps, Scratches, Electronics, Noise Floors, and Scrolling Effects are just some of what the CD has to offer. All the elements are "non-melodic," which means, you can combine your own music, effects, and dialogue. For more information contact Chris Newman, Apache Media Corp, Inc., at This email address is being protected from spambots. You need JavaScript enabled to view it. or phone 858-945-0085.
Promusic Inc. announces the launch of its new website, www.promusic-inc.com. By using the Freshground Music Source software on www.promusic-inc.com, users can quickly find and audition tracks to suit TV, Radio, Film, Corporate, and Multimedia Production. Promusic offers access to more than 2000 CDs from over 25 libraries including Abaco, Cavendish, Connect, Parry, Soundtrax and more. (800)-322-7879.
THE MIX
Randall Horvath has resigned as General Manager of Bill Young Productions and Vanilla Gorilla Productions effective August 24, 2001. He has accepted an opportunity to serve as a Media Advisor to the reelection efforts of the Texas Attorney General, John Cornyn. Rich Witt will be assuming responsibility for the day-to-day operations of Vanilla Gorilla Productions. (281) 240-7400.
Voice Creative announces its first ever 24-hour copywriting contest for radio station employees. Limited to 300 contestants, entrants can win up to $300, along with random cash awards simply for entering. At noon CST on October 1, Voice Creative will email all registered contestants copy points and length requirements for a commercial. Contestants will then have until noon CST on October 2 to write and email commercial copy back to Voice Creative. The winner receives $300 (assuming full participation), and there are 2nd and 3rd place cash prizes. All radio station employees are eligible to enter. Registration deadline is 4pm CST September 29. Entry fee is $6.00. The contest is for copy only, not a produced commercial. To register, go to www.voicecreative.com/contest.html.
XM Satellite Radio announces the First Commercial Satellite Radio Broadcast to the Nation on Wednesday, September 12, 2001. A press conference and the first broadcast is slated for noon - 1:00 pm with an open house at the XM Broadcast Studio Complex from 1pm – 3pm located at the XM Satellite Radio Headquarters and Broadcast Studio Complex at 1500 Eckington Place NE, Washington, DC. Other news from XM, CNN Headline News and XM Satellite Radio have signed an agreement that will dedicate an XM channel to continuous live audio of CNN Headline News. With the addition of CNN Headline News, XM Satellite Radio will offer a total of four CNN channels: CNN Headline News, CNN/Sports Illustrated, CNN En Espanol, and CNNfn. www.xmradio.com.