Page 2 of 2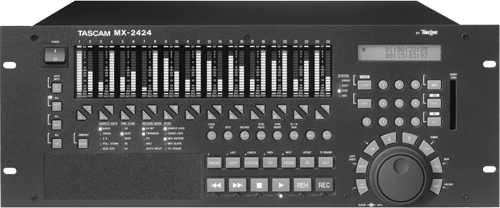 FRONT PANEL
A large front panel contains the bright, 16-step LED meters for the 24 channels and record-ready and signal-present LEDs for each channel. A clever arrangement of triangular track-select buttons makes track arming fast and easy, and four banks of LEDs show the status of sample rate, timecode, record mode or sync status at a glance. There is a numeric keypad for entering locate points, take numbers, EDLs, etc. The transport keys (REW/FF/PLAY/STOP/REC) are like those on any Tascam recorder, which is a familiar environment for most folks. Among the other transport functions are rehearse, autopunch, looping and pre/post-roll functions; an offset function operates on both incoming SMPTE and MIDI sync sources. A front panel slot for a Smart Media flash ROM card simplifies reloading or updating the MX-2424's operating system from an Internet download.
A jog wheel offers audio scrub and locate functions. Surrounding the wheel, just a finger's touch away, are eight function keys (Jog/Scrub mode, Data Up/Down, Nudge/Capture Event, Trim, Setup, Project, and Track View/Unload). Although most basic operations on the MX-2424 are just slightly more complicated than on DA-88, there are also a few operational quirks that had me confused until I got used to the unit's operation. For example, to enter the menu system in order to set session parameters (such as timecode modes, sampling frequencies, pre/post-roll times, digital and analog input source select, crossfade times, disk utilities, etc.) you simply press the Setup key. However, to select or change a menu item, you must first press the button marked Trim, which I found non-intuitive. After a while, I got used to it, but it could be confusing for the first-time user.
RECORDING
Once the MX-2424 is hooked up and record parameters are set (front panel LEDs confirm recording status at a glance), recording can begin. To enter record, you simply arm the required tracks and hold down the Record and Play keys. One-button recording is also an option in the setup menu section.
There is no indication in the two-line, 20-character LCD screen that recording is actually occurring, with only the lighted Record button LED, the track REC indicator LED, and an occasional flash of the status disk light showing. The only time locator indicator is a line on that same small LCD, so if you're a fan of a larger time readout, you'll have to use large display that is part of the ViewNet software. The 24 meters are bright, fast 16-LED ladders with a scale that goes as low as -50 dB. Overloads are held until any transport button is pressed, after which they automatically reset.
Besides the usual recorder transport functions, the MX-2424 features a variety of editing functions, including cut/copy/paste, insert editing, track slipping, wipe/clear and the ability to cut a section while keeping later sections of that track in sync. You can choose to work in nondestructive (with up to 100 levels of undo) or destructive (tape-style) modes. Although it's limited by the small display, the MX-2424 uses a simple method of clipboard style editing; the desired section is copied to a clipboard and then pasted or inserted into the desired place. Once several edits are made, the track can be "rendered" into a single continuous track, and a project supports up to 999 tracks (24 assigned to outputs and 975 virtual), so multiple takes can easily be stored and edited into new "perfect" takes.
FILE COMPATIBILITY
The MX-2424 supports Broadcast .WAV files on its hard disk, which can be formatted for either FAT-32 or Macintosh (both HFS and HFS+). While Pro Tools Session file import and export is not yet supported directly, you can record files in Digidesign's Sound Designer (SD2) format to a Mac-formatted disk for later import into a Pro Tools session. The MX-2424 also supports TimeLine's Open Track List (Open TL) format. The fact that it writes both 24-bit Sound Designer II, and Broadcast Wave formats, at up to 96 kHz, makes it easy to move files between the MX-2424 and any of the popular computer workstations (like Pro Tools, Cool Edit, SAW, and the like). I did this several times with no problems.
One of the useful features of the MX-2424 is that it has the capability of recording and playing simultaneously through both analog and digital I/O, making real-time transfer a lot easier. Additionally, when transferring multitrack recordings into the MX-2424, it has the capability of performing sample rate conversion on the fly if necessary.
VIEWNET SOFTWARE
Like so many other digital boxes, the interface to the MX-2424 relies on a small backlit LCD for communication of all of the various states of the device. I find page-driven programming fatiguing and time consuming. Personally, I would like to be able to see virtually all of the important information at a glance during a session. But this is where the ViewNet software comes to the rescue.
The ViewNet graphical interface application brings the unit to life as a workstation. By connecting either a Mac or PC running Microsoft Windows 98 or NT via a 100 Megabit per second Fast Ethernet connection, the computer is able to not only control the transport functions of a single or multiple 2424's, but perform standard editing functions as well.
With this software, you are able to display in a fairly decent GUI all of the important information on your computer monitor. Editing functionality is also enhanced with the Viewnet software. A "grabber" tool lets you grab an audio element and shift it around or move it to a different track, and selection tools let you define regions for editing. However, at present, the software does not display waveforms — this will be added to the Viewnet software with another upgrade to be released in the near future.
Viewnet appears to be written in the Java language as a sort of "browser on steroids." As such, it's not as responsive as is a dedicated editing program. It feels like there's a little lag time in most operations, and it's especially noticeable when you access a menu item. Having said that, the lag is small and not objectionable, and the software seems quite stable. It will be great when they add waveform editing, but for now it does the job.
WRAPPING UP
During the review period I recorded and edited several projects on the MX-2424, both with and without ViewNet. Both the machine and the software worked without a hitch, glitch, or crash. In all cases the audio quality was every bit as good as other recorders I've evaluated. The front panel controls were fine once I became accustomed to them. ViewNet worked as advertised and made my work go more quickly, although it would have been nice to have the waveform view now. Guess I'll have to wait a little while for that.
One of the best things Tascam has done is to make a blast of information available on a dedicated MX-2424 Web site (www.mx2424.com). Not only can you get a comprehensive tour of the unit before you buy, but everything from manuals to installation instructions to advanced operational help is available as downloadable PDFs. Add to this the latest software upgrades from the download page plus tips from users, and you have anything you need at your fingertips.
The Tascam MX-2424 is a solid studio recorder that performs well, sounds great and is priced right. If you expect to do any editing, you should plan on using the ViewNet software rather than relying on the small display. If your production work demands more than eight tracks, you owe it to yourself to check it out.
The Tascam MX-2424 carries a base suggested retail price of $3,999. For more information in the US, contact Tascam, 7733 Telegraph Road, Montebello, CA 90640, telephone 323/726-0303. For more information worldwide, visit www.tascam.com.
♦