TECHNOLOGY
FrameWorks/DX is the new workstation from WaveFrame designed to offer a 24-bit multitrack disk recorder with integrated surround mixing, editing, plug-in processors, CD mastering, and DVD prep with Dolby and DTS encoding options. FrameWorks core systems start at $4,995 in includes one Mykerinos PCI Board from Merging Technologies. Features include 24-bit audio processing, up to 96 kHz sample rate, up to 64 disk channels, an integrated user-configurable digital mixer, full mix automation of all parameters, 5.1 surround panning, CD mastering, integrated CD-R writing with most brands of CD-R devices, DVD audio prep with Dolby and DTS surround encoding options, integrated EQ (10 band and parametric), multi-band dynamics standard, and open plug-in architecture with support for Microsoft Direct-X. Plug-in options include Time Compression/Expansion, Reverb/Room Simulation, De-noising, De-crackling, and others. www.waveframe.com.
Digigram announced that Fostex has signed an agreement to be exclusive distributor of the Vxpocket laptop sound card in the U.S. and Mexico. The VXpocket will continue to be offered by resellers in pro audio and the music industry who will source the VXpocket from Fostex rather than directly from Digigram. The VXpocket sound card presents excellent audio quality plus compatibility with the most popular applications under both Windows and the Mac OS. The VXpocket has 24-bit converters providing 24-bit performance with PC applications using Microsoft's WAVE protocol and PC and Mac applications using ASIO. The card has two balanced analog mono inputs at microphone or line level and two balanced analog outputs. It features one stereo SPDIF input and output allowing direct digital transfer and an LTC (SMPTE) time-code input. www.fostex.com, www.digigram.com.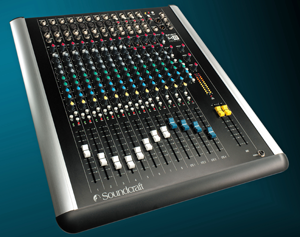 Soundcraft launched a new range of compact mixers, the Spirit M Series. The Spirit M4, M8 and M12 offer four, eight and twelve mono inputs respectively, and all feature four stereo inputs, four stereo returns, 100mm faders and an S/PDIF stereo digital output. All channels have peak and signal LEDs, complemented by a high-resolution stereo output meter. The mono input mic preamp design comes from the award-winning Soundcraft Ghost console. The three-band EQ has a swept mid and tightly focused HF response that delivers a cleaner and more controlled sound. The Spirit M8 and M12 also have rackmount capability involving the simple removal of the side trims and a few screws. Suggested retail prices are $699, $849, and $999 for the M4, M8, and M12 respectively. (916) 888-0488, fax (916) 888-0480, www.spirit-by-sound craft.co.uk.

Avalon Design is now shipping the AD2022, Avalon's fourth generation of fully discrete, symmetrical Pure Class A microphone preamplifiers. The dual mono AD2022 ($3,000) includes the original sonic capabilities and transparency of Avalon's M2, M22 and M5 preamplifiers plus several additional features, including selectable microphone source loading for optimized cable/mic matching, improved high-voltage Class A regulated power supplies, two high Z instrument inputs, variable-passive high pass filter, teflon/silver wiring, and doubled plated circuit boards for superior low level signal transfer. www.avalon design.com.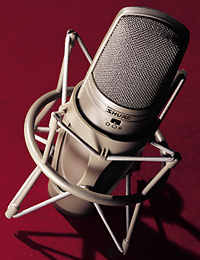 Shure's new KSM44/SL ($1,340) is a multiple pattern (cardioid, omnidirectional, bidirectional), externally biased, dual large diaphragm condenser microphone with extremely low self-noise (7dB). Developed to meet the needs of studio recording musicians, the KSM44 is tailored for vocals, including voice-over, as well as musical instruments. Features include dual 1-inch, externally biased, ultra-thin, 2.5 micron, 24-karat gold-layered, low mass, Mylar ® diaphragms; Class A, discrete, transformerless preamplifier; and full-range frequency response (20 Hz - 20 KHz). A subsonic filter eliminates rumble from mechanical vibration below 17 Hz. Other features include a 15 dB attenuation switch for handling high input SPL sound sources, 3-position switchable low-frequency filter, durable zinc die-cast housing, and an integrated three-stage pop protection grille to guard against wind and breath noise. An internal shock mount reduces unwanted handling and stand noise. www.shure.com.
The Earthworks 1024 4-channel microphone preamp ($3,500) has no whistles and bells and no hum or distortion either. The 1024 provides exceptionally accurate gain. The frequency response is flatter and more wideband than most people dream of (2Hz to 100kHz). Total distortion is unmeasureable by normal measurement equipment. Front panel controls include a precision stepped gain switch from 5 to 60dB in 5dB steps, variable gain control with 20 dB of gain reduction from switch setting to separate output amplifiers, clip indicator LED, and 48 volt phantom power switch with LED indicator. A Standby switch mutes the output while the microphone remains powered. The rear panel features XLR balanced transformerless inputs, XLR outs from stepped gain control, and ¼-inch TRS outs from variable gain control.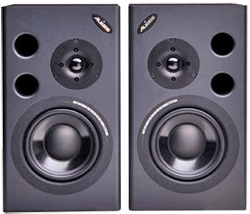 Alesis introduces the newly designed M1 Active Mk2— the next generation of Alesis' M1 Active Biamplified Reference Monitors, listing at $649/pair. M1 Active Mk2's internal active crossover and newly-designed dual amplifiers ensure a broad, extremely accurate frequency response, clear imaging with a wide sweet spot, high power handling and detailed high and mid frequency. Its 6.5" woofer cone is formulated from a high tensile strength, low weight, non-woven carbon fiber providing quicker transient response in the low frequency range and a vast improvement in the detail of critical upper-mid frequencies. The Alesis engineering team redesigned M1 Active Mk2's 1" pure silk tweeter dome which offers a natural response and aids in preventing ear fatigue during long mix sessions. M1 Active Mk2 also features an internally-mounted phasing plug and is ferrofluid cooled to maintain the best balance of transient response to power handling. Two audiophile-quality amplifiers—a 75-watt woofer amp and a 25-watt tweeter amp were developed for the M1 Active, along with 8th-order high-and low-pass electronic crossover filters. The crossover point was reduced from 1.5 kHz to 2 kHz to improve mid-frequency response and midrange coloration. www.alesis.com.
XM Satellite Radio has signed an agreement with Matsushita Communication Industrial Corporation of U.S.A., an affiliate of Matsushita Electric Industrial Co., Ltd., best known in the United States by its Panasonic brand name, for Panasonic to design, develop, produce and market XM-capable radios for factory installation in new cars and trucks. XM has also signed an agreement with Sanyo Electric Co., Ltd. to design, develop, produce and market XM radios for factory installation into new cars. www.xmradio.com.
Digidesign® Pro Tools™ software version 5.1 is an upgrade ($295) introducing integrated surround mixing, more processing power, enhanced MIDI functionality as well as enhancements to editing, navigation, session interchange and system integration. Pro Tools version 5.1 includes all-new surround mixing, editing and processing capabilities on Pro Tools|24 MIX/MIXplus systems (with support for all currently defined surround formats up to 7.1). Version 5.1 also features stereo and multi-channel disk tracks simplifying management of multichannel audio data. (650) 842-7900, fax (650) 842-7999, www.digidesign.com.
TC|Works has announced TC PowerCore, an open DSP hardware platform for any VST recording application. TC PowerCore is a PCI card for the Mac that acts as a DSP Turbo, enabling native users to run extremely intensive hi-end effects that previously taxed the host computer to the utmost. Using some of the latest Motorola 56K DSPs specifically designed for audio, the TC PowerCore provides significant performance advantages over sole native processing, adding roughly the equivalent power of four Mac G4 processors on a single card. TC PowerCore delivers professional signal processing performance seamlessly integrated into any VST-compatible sequencer or audio application such as Cubase, Nuendo, Spark, Peak or Logic. The TC PowerCore card introduces a new Plug-In format, "VST PowerCore" which is implemented to run as an extension to VST: The user interface code runs on the host and acts like a VST Plug-In, while all the CPU intensive DSP code runs on the card, freeing up precious performance resources on the host computer for other native processes like VST instruments. VST PowerCore plug-ins have to be specifically written for TC Powercore, though they are handled like any other VST Plug-In, and may be used in conjunction with common native VST Plug-Ins without any restriction. No special versions of the recording software are required. PowerCore will be available for MacOS in April 2001. Target retail price: $1,599. Also new from under the TC Electronic umbrella is Tube-Tech's new SMC 2A, a stereo, all tube based Multi-Band Compressor featuring a new stereo balance control parameter. It provides 3 independent band specific gain, threshold, attack and release controls with a single master gain control, in a 3-space rack unit. The frequencies of each of the individual bands are variable. Inputs and outputs are balanced and fully floating. Retail price - $4,395. (805) 373-1828, e-mail This email address is being protected from spambots. You need JavaScript enabled to view it., or visit www.tcworks.de.
THE MIX
John Pellegrini announces the formation of Brains du Jour, Radio-Imaging Consultants. You've read his articles in RAP, now put his knowledge to use at your station. Offering creative consultation, copy writing, individualized brainstorming sessions, and idea starting, along with full production and voiceover services, available on retainer basis. Commercials, promos, imaging, liners, servicing station clients, and developing your station's identity. Chose "Ala Carte" and pay for only the services you want, or get the whole mess. Email John for complete information: This email address is being protected from spambots. You need JavaScript enabled to view it..
Tom Richards has joined 95.7 Jammin' Gold/WEJM, Philadelphia as their Imaging Director. Tom exits B101 in Philadelphia and brings over two decades of radio experience to the table. Tom has been an Air Personality, Production Director, and freelance voice talent. He has produced nationally syndicated shows and has won many AIR Awards and Pennsylvania Association Of Broadcasters awards for his commercials and promos.
EveAnna Manley, CEO, Manley Laboratories, Inc. and George Massenburg, CEO, GML, Inc. announce the commencement of production of GML audio peripheral products by Manley Labs. GML, Inc. will vacate its current manufacturing facility on Burnet Ave. in Van Nuys, CA and move its inventories, specialized assembly fixtures and production staff to Manley Lab's Chino, CA factory. The GML units will be built alongside the Manley and Langevin products currently manufactured at Manley Labs and will be supervised by long-time GML Production Manager, Manny Sanchez. www.massenburg.com, www.manley labs.com.
♦