Page 1 of 2

By Steve Cunningham
Since the price of my electric service here in California is definitely going up, it's some consolation that the price of digital production gear is still going down. About a year ago I reviewed the HHB CDR850, a professional stand alone CDR and CDRW burner with a retail price of $1195. Then last summer I checked out the Tascam CD-RW700 stand alone CD burner at $749 list. Not a company to rest on its laurels, HHB Communications has now fired back in the marketplace by introducing their new BurnIT CDR830 CD Recorder, which carries a price tag of $799. Let's take a look at this one.
BurnIT is a low-cost professional audio CD recorder. The new recorder cuts a few corners to hit its low price, but it also delivers a full feature set, a good build quality and audio specifications that meet, and in some cases exceed, those of its predecessor the HHB CDR-850. This is due in part to the advent of inexpensive 24-bit converters, which just plain sound better.
It's also useful to repeat that the main benefit of a standalone CD recorder is that it requires no computer to operate, so it doesn't tie up your PC during a CD burn. It's also portable, unlike your average PC rig. The downside of a standalone unit is that you don't have an opportunity to re-order tracks before you burn the CD. It's just like a tape recorder—what you record is what you've got, so get over it.
THE FRONT PANEL
In keeping with HHB tradition, BurnIT's 2U front panel is finished in the company's corporate purple. But it's a good purple, really. Its CD tray is mounted in the center, just above the multifunction display. The right side features the transport controls, a combination digital record level and data entry knob, a single analog record level knob, and a headphone jack with level control. Left/right balance issues are dealt with in software on this unit.
The left side of the front panel contains the power button, and eight buttons that deal with setup and naming issues. These include SCROLL, which will cause the disc's or track's name to scroll to the left, pretty uselessly, I might add; DISPLAY, which lets you choose between either the time recorded or time remaining; TITLE/MODE, which selects between upper case and lower case when you're naming something (more on this silly business later); MONITOR, which lets you hear the input straight through the unit even without a disc in it; ERASE, which is designed to erase CDRW discs; FINALIZE, which indeed finalizes discs for playback on standard CD players; AUTO/MANUAL which selects between automatic and manual track numbering modes; and INPUT SELECTOR, which lets you choose between the analog, coax digital, or optical digital inputs.
BurnIT also comes with an infrared remote that controls most everything the front panel does, and then some. It controls the transport and track select functions, the CD Text function, and more. The remote is actually somewhat larger than that of the older CDR-850, and while I dislike infrared remotes this one worked well enough, and I was able to deal successfully with its small buttons.
On the front panel, most of the transport buttons are large and engage with a satisfying click. But I found the other buttons to be small-ish and harder to get at as a result. The Analog Record Level and Digital Recording Level knobs are also small, and their lack of fluting or knurling makes them hard to figure and feel. I would have preferred broadcast-level knobs that were knurled for a more positive action.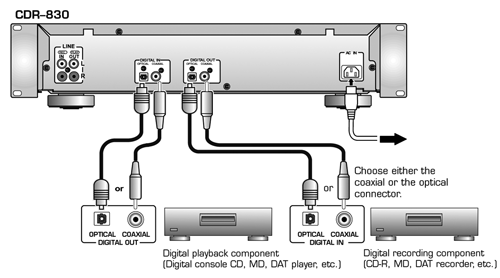 THE REAR PANEL
BurnIT's rear panel is absolutely Spartan compared to the HHB CDR850. Analog inputs and outputs are available on gold-plated unbalanced RCA connectors, with an input impedance of 10 kOhms. Both analog inputs and outputs utilize the latest 24-bit AD and DA converters, and they really do sound great. Digital inputs and outputs are in S/PDIF format, on both gold-plated RCA connectors and on optical connectors. The only other connector on the rear panel is the IEC jack for the power cord.