TECHNOLOGY
Orban is introducing a space- and money-saving webcasting version of the Optimod 6200 digital audio processor. By eliminating presets and features from the 6200, originally designed for digital TV and radio as well as webcasting, Orban has delivered the slimmed down Optimod-6200Sspecifically for webcasters. The one-track 6200S, costing about 15% less than the two-rack 6200, is the first full-featured digital audio processor designed exclusively for Internet audio. (510) 351-3500, www.orban.com.
NTI (NewTech Infosystems, Inc.) has introduced its NTI CD Maker 2000 - Professional Edition mastering software ($69.99) for CD recorders and rewriters. CD Maker 2000 supports Track-at-Once, Disc-at-Once and Session-at-Once recording on CD-R/RW drives ranging from 1x through 12x recording speeds and operating in Windows 95/98/2000/NT environments. Record audio, data and video files. NTI's Live Audio feature allows for any audio feed into a sound card to be recorded live. The CD Maker 2000 includes both audio encoding and decoding, and can decode MP3 to WAV, decode MP3 to CD-DA, encode WAV to MP3 and encode CD-DA to MP3. It includes filters that help alleviate click, pop and extraneous noise in audio files which can be turned on and off separately for better control. A preview function allows the user to check the sound before burning a CD; and on-the-fly audio recording saves immediate hard-disk space and minimizes the potential for burning a coaster due to buffer underruns. On the video side, CD Maker 2000 turns a CD-recorder into a high-performance video CD recorder. Writing a single or multiple MPEG-1 file to CD is as easy as recording audio or data. The MPEG-1 file can be previewed, before recording, via the media player feature. MPEG-1 files recorded with the CD Maker 2000 will play on any video CD (VCD) player. NTI CD Copy, which reliably and accurately duplicates CDs, is included in CD Maker 2000 - Professional Edition. Users also have the option of writing to a hard disk first, and then record to a CD. CD Copy supports a wide range of CD formats, including CD-ROM (XA), Audio CD, Video CD, Mixed-Mode, CD Extra, CD-I, and Photo CD. 714-259-9700, fax 714-259-9727, www.ntius.com.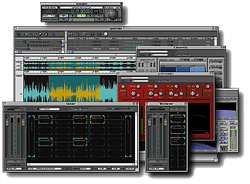 TC Electronic is now shipping Spark XL, a new hi-end version of SPARK supporting Pro Tools 24Mix and featuring audio restoration facilities. SPARK XL is a real-time stereo digital audio editor for MacOS featuring real time processing with 12 VST Plug-Ins. The new Hi-End version adds real time De-noising and De-clicking to Spark's processing portfolio, allowing users to restore material with tape hiss or click problems with floating point accuracy. The restoration facilities do not require a Pro Tools system to be present. Pro Tools users now also have access to TDM Plug-Ins from inside Spark XL. A new TDM FX window allows for up to 4 TDM Plug-Ins to be inserted in addition to the 4x5 native Plug-Ins, enabling the user to build FX chains with TDM and native Plug-Ins running at the same time. Suggested Retail price: $699. Upgrades from SPARK 1.0 and 1.5 available. (805) 373-1828, www.tcworks.de.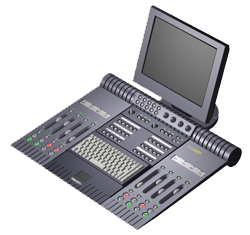 Klotz Digital has developed the new Paradigm Producer, a production platform for web-casting and Internet radio, that fulfills the recent and future needs of audio-media production. "The next generation of radio transmission is no longer limited to audio content but will also support graphics and video display," said CEO Thomas Klotz. The Paradigm Producer is equipped with a number of unique features, which suit it for the Internet environment. With a built-in Klotz X4P network board, users can access a secure audio-media content exchange network for professionals directly through the Internet, a service also provided by Klotz. A built-in graphic tablet, touch pad and keyboard provide for easy multimedia operation. The multifunctional user software enables playlist programming and remote content transmission, in addition on-air broadcasting, production and editing. Online chatting and webcam communication is also possible, as well as Internet browsing and downloading. For audio production and editing, the console is equipped with familiar operator controls. 24 stereo input sources can be assigned to 8-input channel faders. Each input channel features controls for gain, phase reverse, pan/balance, compressor/limiter and EQ parameters, and output bus routing. Assignable hotkeys allow users to customize the console, and all settings can be stored and password protected. (89) 462338-74, fax (89) 462338-18, www.x4p.net.
Cognicity, Inc. announced the availability of AudioKey MP3 tMark Version 1.0, the online music industry's first transactional watermarking solution for MP3 music downloads. This new technology can embed unique watermarks into digital audio files in real-time as the file is being downloaded. Record labels, artists, and music can use this tool to help them protect the copyrights of music that is downloaded over the Internet. For a limited time and for qualified partners, a FREE AudioKey MP3 tMark starter version is available. This will allow content owners and online merchants to experiment with transactional watermarking at no cost or risk. www.cognicity.com.
Central Media Inc. (CMI) and Broadcast News Limited (BN), the broadcast division of The Canadian Press, have announced an intention to pursue a strategic alliance whereby BN will operate CMI's SpotTaxi.com, an innovative Internet-based delivery system for radio spots, throughout Canada. BN serves more than 500 radio and television stations in English and, through Nouvelles Télé-Radio, in French, via BN Satellite, the largest delivery network in Canada. For more information on BN or SpotTaxi.com in Canada, contact Rina Steuerman at 416-507-2127, rsteuerman@broadcast news.ca. For information on SpotTaxi .com, call 206-903-3400 or e-mail This email address is being protected from spambots. You need JavaScript enabled to view it..
Another Internet-based spot distribution network has sprouted. Canadian-based slingspot.com is online and ready for distribution and traffic of radio commercials via the Internet. Fees are charged to the company that traffics and specifies destinations for the uploaded spots (usually the agency), which means radio stations will typically pay nothing to use the service. Get all the details at www.slingspot.com or call (403) 571-0777.

In just over a year, Portland, Maine-based BroadcastAMERICA .com has quietly become the world's largest online broadcasting network, knocking Yahoo's $6 billion Broadcast.com off the number one slot. BroadcastAMERICA .com now has exclusive contracts to stream more than 515 radio stations and 67 television news stations, the U.S. Air Force, Dick Clark's United Stations Radio Networks, One on One Sports, Superadio, Talk America, Radio America, Talk America Network, Morley Safer's American Review Series, and many more. Launched in April of 1999, Broadcast AMERICA.com has grown into a global leader in the Internet broadcasting world. The company now has 80 employees, offices in Berlin, Glasgow and Hong Kong, and strategic alliances with such heavyweights as Microsoft and REAL. Famed entertainer Wayne Newton also recently signed on as a spokesperson for the booming dot com broadcaster. www.broadcastamerica.com.

Countryman Associates, a manufacturer of high-quality microphones, introduced the B6 Lavalier, the smallest lavalier microphone in the world. Measuring 1/10th of an inch in diameter, the B6 is designed for broadcast and live performance applications. Because of its size and imperviousness to moisture damage, the B6 can be worn discreetly on the collar of a shirt or can be taped directly to a performer's head or body. (650) 364-9988, www.countryman.com.
In a move to transform radio and outdoor advertising to an interactive sales opportunity, Chicago-based start-up ewireless recently announced a new direct response service slated to launch in August. ewireless has created a way for radio and outdoor advertisers to interact directly with mobile consumers who will buy items using their wireless phones when they dial #333. Products can be purchased and information or coupons sent electronically or mailed at no cost to the consumer. The entire process will take three simple steps. 1) Advertisers tell their mobile audiences to dial #333 on their wireless phones, 2) The customer dials #333 and asks for the advertiser or product they are interested in, 3) The customer is connected to the company free of charge. 312/988-2424.
THE MIX
Dick Orkin & Dan O'Day present the 5th Annual International Radio Creative & Production Summit August 4-5 at the Luxe Summit Hotel Bel Air in Los Angeles. Look for the detailed flyer in this issue of RAP, e-mail This email address is being protected from spambots. You need JavaScript enabled to view it., visit www.dan oday.com/summit, or call 310-476-8111.
BENMARadio, Inc., the premier copy provider and creative consultancy to radio stations around the world, is pleased to announce the launching of BENMAR Online. Starting on or about July 1, BENMAR Online will offer radio stations an online connection that provides agency-quality copy and ideas utilizing the BENMARadio database of almost 45,000 scripts. Mark Margulies, President of BENMARadio, explains. "What we envision is Account Executives using their laptops to literally bring scripts up right when they're pitching the client. The client then chooses the concept or idea that excites them, knowing it gives them the best chance they have for success on the air. The A.E. can close the business on the spot." Each script can be customized using pull down menus, or a variety of editing tools. More info at benmaradio.com and click the BENMAR Online logo or call 877-751-6667.
Vanilla Gorilla Productions, a division of Bill Young Production, adds two more stations to the Gorilla imaging roster, "The Big 98" WSIX/Nashville, and KBZI/Joplin. More info at 800-811-4847 or This email address is being protected from spambots. You need JavaScript enabled to view it..
Radio stations can participate in online sweepstakes offered by RadioStakes.com. RadioStakes currently offers an Internet-based format for distribution, promotion and fulfillment of syndicated and local online sweepstakes for the radio industry. On-air promotional mentions are used to drive listeners to the Internet where they can register for a chance to win one or more prizes. Radio stations can incorporate RadioStakes sweepstakes in their own sites as a private label sweepstakes, branded as belonging to the station. Smaller market radio stations benefit by taking part in the syndicated sweepstakes, offering large prizes to their smaller audiences. (212) 575-4545 x54, www.radiostakes.com.
DigitalXpress, a St. Paul-based provider of satellite communications services, announced that it is ceasing operations to allow its shareholders to focus on initiatives that are better suited to their core competencies. DigitalXpress is transferring the majority of its customer networks to GlobeCast, according to DigitalXpress chief executive officer Jeff Lytle. DigitalXpress has helped companies deliver information to multiple sites simultaneously via satellite, broadband and the Internet since 1996. GlobeCast is the broadcast services unit of France Telecom (NYSE:FTE) and the world's largest provider of complete end-to-end transmission and production services for video, audio, business television, IP multicasting and Internet backbone. 612-338-3900, 305-856-6452.
♦