Page 1 of 4
John Mangan, General Manager/Instructor, KVTI-FM, Clover Park Technical College, Tacoma, Washington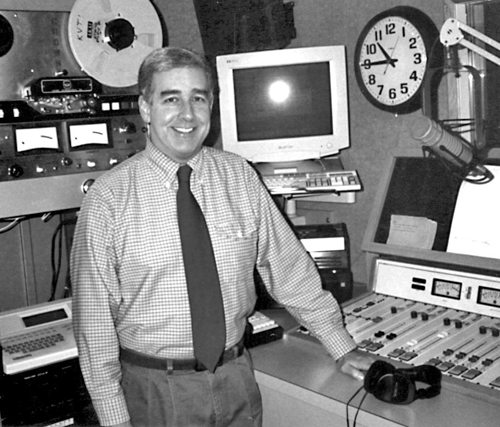 by Jerry Vigil
Where are tomorrow's radio pros coming from? Some of them are coming from Clover Park Technical College in Tacoma, Washington. The college offers an extensive course in radio, headed by long time RAP member John Mangan, instructor, full-time faculty member, and General Manager of the campus station, KVTI at 90.9 FM, a.k.a. I91. This month's RAP Interview peeks at the radio course offered at Clover Park, which includes a healthy dose of production, and we hear some production work from the students on this month's RAP Cassette.
JV: Tell us about your background in radio.
John: I'm one of those people who decided radio was pretty interesting when I was about ten or eleven years old, and I had the advantage back in my childhood years in the early sixties of having a large AM/FM/TV facility about two blocks from my house. When I was in the sixth grade, I would go hang out there after school, which would be about impossible to do today with security guards and everything else. But that was a different time, and you could just walk in. They were more than happy to have a couple of us hanging around after school.
Then I got involved in public television as an intern doing studio work and audio when I was in high school. In college, I got involved in college radio and worked part-time in commercial radio, and in my senior year I did audio for a public television production center that was just getting off the ground in Ithaca, New York.
After some time in the Navy, I went to work for GE's broadcasting division in Schenectady as a management trainee. I worked in business and finance and promotion in Schenectady and then in Denver in marketing and radio programming. I went from there to Seattle/Tacoma as an on-air PD at a country station, and then I went to an easy listening station.
JV: When did the idea of teaching come about?
John: The idea had been in the back of my mind for a long time, and I had written a term paper in college about a model for learning broadcasting in a competitive technical environment—a real working station, not a campus radio station—with some kind of professional management and engineering support in a technically competitive facility for students as a way to learn broadcasting in a real setting. Then, about eighteen years ago, I married a woman who taught at a 2-year college in town, and we were starting a family. She handed me the classified section of the paper one day and said essentially, "Put your money where your mouth is because this school is advertising for a radio broadcast instructor and station manager." At that time, they had a 39 kilowatt FM that wasn't really operating as a station but more as a lab setting. But the idea really appealed to me, and I've been here ever since.
Over the years, there's been a lot of work on curriculum development. We've gone from being a voc center to a 2-year college with an associate degree program. So the curriculum has been through a lot of rewriting and redeveloping over those years, and the station has changed from being a little neighborhood six-hour a day station to a fifty-one kilowatt, twenty-four a day station that's consistently one of the top four or five out of about fourteen or fifteen public stations in the Puget Sound area.
JV: Describe this market.
John: Well, Seattle/Tacoma is the metro, but it's a big six-county metro that's almost a hundred miles across in hilly terrain. So, it's pretty difficult for a lot of stations to cover the whole thing. There are about seventy signals in the market in total. It's the 14th metro in the country, a very competitive market with some great broadcasting going on —terrific people and terrific stations in every kind of format you can imagine. And of course, it's very Seattle centered as most hyphenated metros are. The big city has most of the mailing addresses. We're located in Tacoma, the second city in the market, actually just south of Tacoma. It's been kind of a change since deregulation because there are a lot of Tacoma-licensed stations that used to physically be here, and most of them have moved to Seattle or the Seattle area, leaving the schools and a couple of smaller commercial stations operating in Tacoma and Pierce County. It's a little lonelier down here than it used to be ten years ago.
JV: You mentioned having 14 or 15 public stations in the market. That's quite a few for one market!
John: Yes. In fact, in the total market there are two NPR stations, and then a whole handful of community access stations of one kind or another that are owned by either private foundations or universities or school districts. There are high school stations and there are stations in the two-year college system, and they exist in both the public and private schools. The density of stations licensed to educational institutions here is phenomenal, and they range from quite large operations to very small. We still have a ten-watt FM at one of the high schools in the market that's on the air every day. And at the other end of the student spectrum, there's us with our fifty-one kilowatts and Seattle Schools' KNHC at thirty kilowatts and some other sizeable operations.
The NPR stations have the largest audiences, and those are big stations. KOW at the University of Washington is a talk and NPR station and is a terrific facility. KPLU, which does have its main studio here in the Tacoma area at Pacific Lutheran University, is a jazz and news station and a regular national award winner, a terrific mainstream public station. The two high power FMs in the public area that are really a little out of the ordinary for public radio are our station and Seattle Schools'. Both of us are doing contemporary formats, but they're not the same. Our format is kind of a mainstream, broad-based top forty format, so we're really doing public radio for young adults and teens. If you can think of a cross between non-commercial radio and MTV, that's kind of where we are.
JV: With so many college and high school stations, it sounds like the market is an extraordinary one for people to learn radio.
John: It's a terrific area for that. In fact, I think if you grew up here you might think it was normal for high schools and colleges to have sizeable radio stations because so many of them do. And having grown up and worked in other parts of the country, I know that's not true, but it certainly looks that way around here. And it goes way back. This station went on the air originally at a high school in 1955.
JV: Describe the radio course at Clover Park Technical College.
John: It's a fifteen-month, year round schedule, so that's equivalent to two academic years but done on a continuous basis. It's a two-year degree program. We cover every aspect of radio station operations except for the technical equipment repair. We don't get into the real nuts and bolts of the engineering end. We teach people enough engineering language and enough equipment knowledge to be able to communicate with engineers, but not be one. We put equal emphasis on business marketing, promotion, audio production, and on-air production and journalism. And then around that we have some broadcast history, ways to build a career and look for a job, how stations are organized, programming strategies and formats and that kind of stuff.