TECHNOLOGY
Syntrillium Software has released two new members of the Cool Edit 2000 family of products: the Phat Pack Plug-In and the Tweakin' Toys Plug-In. The Phat Pack Plug-In adds four delay-based effects to Cool Edit 2000 that allow users to fatten up their sound: Full Reverb, Multitap Delay, Chorus, and Sweeping Phaser. The Tweakin' Toys Plug-In offers four special-effect and mastering tools: Hard Limiter, Pan/Expander, Pitch Bender, and Convolution. Each Plug-In is available for $49, and available now by downloading the functional demonstration version from Syntrillium's web site. Users can buy the plug-ins at Syntrillium's online store for immediate use, and until the end of the year, anyone who purchases one of these new Plug-Ins will get the other one free! Check out the Cool Edit 2000 family at www.syntrillium .com/cooledit. 888-941-7100, www.cool edit.com.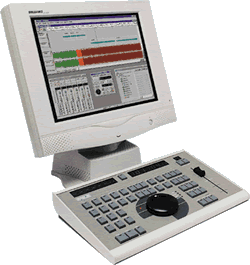 SADiE announces a new digital audio workstation named the RADiA. The new system replaces the SADiE Classic as the new entry-level editing platform. The SADiE RADiA is aimed primarily at the broadcast market. Featuring 4 inputs and 4 outputs and up to 24 replay tracks at 48kHz, the RADiA can be supplied as either a single PCI card for user-configurable systems, or as a complete 19-inch rack-mounting turnkey hardware solution with removable SCSI audio storage. The RADiA is optimised for the new SADiE V4 operating software which is now available as a no-charge download at www.sadie.com. The new version is designed to run faster with faster editing speeds and improved response time. SADiE4 runs on Windows 95/98, Windows NT, and Windows 2000. (615) 327-1140, www.sadie.com.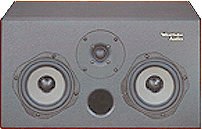 Westlake Audio unveiled its completely redesigned version of the classic BBSM-5 Near-Field Monitor System. The updated system addresses the need for an accurate, near-field monitor for today's high resolution, digital playback systems and varied production situations. The BBSM-5 is a medium power, two-way design, low distortion professional reference monitor. The unit offers an internal, high-level, passive crossover that allows the option of either bi-amp or bi-wire connectivity. The redesign includes a slightly re-proportioned, bass-reflex type cabinet using a single, optimized port, and the exclusive Westlake ISO-back mounting system that provides shock absorption to greatly reduce cabinet vibrations that can be induced into the crossover. The 1-inch, dome tweeter employs a double magnet system that reduces the stray magnetic field which, when combined the proprietary dual 5-inch drivers employing the optional compensated woofer magnets, allows for use near video and computer monitors. The features insure a smooth, phase coherent frequency response of 55 Hz to 20 kHz. The symmetrical design eliminates the need for left/right versions of the cabinets. (805) 499-3686, www.westlakeaudio.com.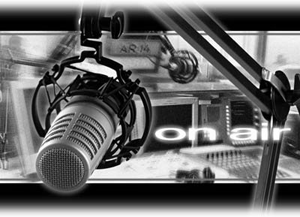 With the ever-increasing number of computers in broadcast studios comes an increase in radiated electro-magnetic RF fields which can be a serious problem for nearby dynamic microphones. Not so with condenser microphones with transformerless output, inherently immune to external electro-magnetic fields. AKG's solution to this problem is the new C 4500B-BC, a large-diaphragm condenser microphone, especially tailored to the needs of on-air radio announcers. Major features include thefront-end firing capsule position for most effective close-to-the-mouth placement with the least visual disturbances for the radio announcer, reduced proximity effect by inherent minimum working distance to the capsule of about 2 to 3 inches, extremely effective internal pop-screening through anewly developed multi-layer pop filter between the front grille and the capsule, a120 Hz roll-off filter, and a -20 dB pre-attenuation pad. 615-360-0499, www.akg-acoustics.com.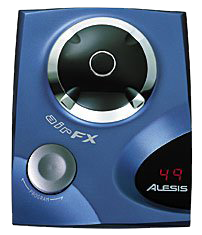 Alesis Studio Electronics introduces airFX, an innovative musical device that processes incoming audio or generates sound effects in reaction to movement. airFX features 50 preset programs that modify any audio signal from CDs and vinyl to live performance in real time. While the performance-oriented nature and high-quality effects of the product appeal to DJs, remix engineers and musicians, airFX is simple enough to be enjoyed by anyone who wants to make their own music. airFX ($249.99 MSRP) is the first product from Alesis to incorporate Axyz (pronounced ax-is) technology which consists of an infrared beam that can be manipulated in three dimensions, along the X, Y and Z axis. Using triangulation, up to five different parameters can be controlled in each preset program. The simple interface consists of a single knob, which is used to select, engage, by-pass, freeze, and release a given effect, and an LCD that indicates the current program. 'Playing' airFX involves pressing the knob to engage the effect and then moving a hand through the invisible infrared sphere to create sounds or to alter the incoming audio signal. The 50 preset programs include effects like panning, flanging, pitch shifting, and resonance filtering. airFX offers other esoteric digital signal processing effects that include programs like Vinylizer(tm) a scratchy vinyl simulator, and a scratching effect that emulates the sound of 'rocking' a vinyl record as it plays on a turn-table. airFX also features real sub-harmonic synthesis, vocoding, synthesizer and percussion/effect sounds. airFX program names include: Haunted Landscape, Gender Bender, Decimator, SunSpot, Tokyo Phase, Percolator, Overdrive, Psychofase, Ghost Flange, Phasors on Stun, Pitch Transporter, Snake Bite and Bow Wow. The unit features stereo RCA inputs and outputs, a frequency range of 20Hz-20kHz, 24-bit converters, and ships with a 9-volt DC external power supply. 310-255-3400, www.alesis.com.
Cakewalk recently launched www.TheDirectXFiles.com, a new web site dedicated to DirectX-compatible audio plug-ins for Windows. The site is also an important resource for Windows audio software developers, and includes a free, downloadable "wizard" for creating DirectX audio plug-ins. Visitors to TheDirectXFiles.com will discover a comprehensive resource for a wide range of DirectX audio plug-ins, with screen shots, contact and purchasing information, industry links, and third-party reviews. www.TheDirectXFiles.com.

New from dbx is the 376 Tube Channel Processor with digital output capabilities. The 376 has taken the essential tools needed for channel strip processors and added to the feature list. The effect menu list includes a tube preamp section, 3-Band parametric EQ section, Compressor, De-Esser and digital outputs in both AES/EBU, and S/PDIF formats. Other features include +48V phantom power, a phase invert switch, low cut filtering, a high impedance, 1/4" instrument input located on the front panel, as well as a mic/line switch, and 20 dB pad. The rear panel includes both mic and line inputs and outputs, word clock sync input and output, insertion jack and digital outputs. You get selectable sampling rates of 44.1 kHz, 48 kHz, 88.2 kHz, or 96 kHz; selectable dithering and noise shaping; and separate analog and digital output controls. www.dbxpro.com.
SpotTaxi.com has formed a strategic alliance with Digidesign which will allow the compatibility and cross-promotion of products for the production and distribution of radio spots. SpotTaxi will recommend Digidesign's Pro Tools digital audio workstation as the preferred multi-track DAW for the production of radio spots and SpotTaxi.com will be the exclusive spot distribution partner of the Digidesign Production Network Web site (DigiProNet.com). An agreement between SpotTaxi and AdOutlet, a provider of e-solutions for the media marketplace, will create an integrated end-to-end solution for placing, trafficking and distributing advertising for radio and Internet radio, through a process that executes a seamless transfer of necessary data from each partner's Web site to the other. Through this partnership, both AdOutlet and SpotTaxi.com's customer base will be able to access each company's resources. In addition, an interface will be created between SpotTaxi.com and www.adoutlet.com, enabling agencies to go to one source for radio and Internet radio media campaigns. They will use AdOutlet's ADS™ platform to generate the target-specific media executions. Once completed, AdOutlet will push the creative requests to SpotTaxi.com who will fulfill the creative and traffic executions. (206) 903-3400, www.spot taxi.com.
MUSIC SFX/LIBRARIES
The Who Did That Music Library catalog has grown to 171 CDs representing seven libraries. Check it out at www.whodidthatmusic.com. Sister company Groove Addicts has signed William Orbit, BT and the Dust Brother's to their commercial composer roster. They join an A+ list of talent that includes Danny Elfman and Stewart Copeland. www.grooveaddicts.com.
THE MIX
Susquehanna Indianapolis Imaging Director Johnny George has been awarded 1st Place in the Spectrum Awards for Best Radio Promotional announcement (Large Market) for his, "Car Phone Request" promo for GOLD 104.5, Indy's Official Oldies Station. (Check it out on this month's RAP Cassette!) George also received a 3rd Place certificate for his "Workday Getaway" for their New Hit Country, 93.9 The Bear. Both promo's were written by Karen James, (Production Asst.), David Wood, (P.D.) and George. Additionally, Guy Forest, Commercial Production Director for the 3 station group, received a second place certificate for his commercial production in the "Radio Humorous" category for Large Market. The Indiana Broadcasters Association sponsors the 2000 Spectrum awards for radio & TV annually. (317) 558-7130.
12 new stations have joined the Big Banana roster. Vanilla Gorilla Productions, a division of Bill Young Productions, has signed exclusive imaging deals with 103.7 The Planet/San Diego, 99.5 KWJJ/Portland, KICKSY 96.5/San Diego, KROCK 93.3/Omaha, Hot Mix 101.9/Fayetteville, Power 95/Biloxi, Froggy 100.9/Barre, 105.5 'JYY/Manchester, 94.5 The Moose/Saginaw, KEAN 105/Abilene, KIBZ/Lincoln, and 93.5 The Cabin/Sonora. 800-811-4847, www.vanillagorilla.com.