TECHNOLOGY

Minnetonka Audio Software is now shipping a major upgrade to Fast EdDit. Fast EdDit has been rewritten to be a full 32-bit Windows application. Fast EdDit 32 interfaces to Direct-X plug-ins making it compatible with a wide range of effects software currently available on the market. Fast EdDit 32 allows Direct-X plug-ins to run in either real-time mode, or in off-line mode. Fast EdDit 32 supports 16-, 24-, and 32-bit audio files. Sample rates go up to 96k. Fast EdDit 32 retains all the features of Fast EdDit including fast cut-and-paste edits and soundfile loading, and the simple and intuitive user interface. All edits are non-destructive. The Fast EdDit package includes two bonus programs. The Sound Catalog lets you make a screen of labeled boxes, with associated soundfiles. Just click on the box to play the sound. The Playlist Editor lets you build libraries of sound segments, and then place them in a playlist to play sequentially. The Playlist Editor has a "play 1" feature to allow you to play the items on the list one at a time. This is very useful for on-air news assist. Price is $199 retail list. (612) 449-6481, fax (612) 449-0318, www.minnetonkaaudio.com.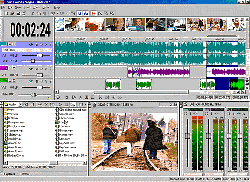 Sonic Foundry introduces Vegas Pro, a new PC Windows-based multitrack media editing system. Mix file properties, bit depths, and sampling rates, all on a single track. Edit during playback, perform non-destructive crossfade edits, and run multiple simultaneous plug-in effects, all in real time. The non-linear hard disk recording system is RAM-dependent; increase performance with multiple processors and additional RAM. Disk throughput, the most crucial aspect of any hard-disk based recording system, is heavily optimized in Vegas Pro. Vegas Pro uses asynchronous I/O, when available. Asynchronous I/O prevents the processor from being stalled while reading from a disk and can result in large performance gains over normal synchronous I/O. Download a fully-functional sneak-preview beta version of Vegas Pro through July 19 at www.sonicfoundry.com. Other features include: 24-bit/96 kHz sampling, unlimited tracks, support of multiple file formats (.wav/.aif) on a single track, 32 assignable DirectX FX sends, 26 Master and Aux outputs, simultaneous multitrack record & play, unlimited undo/redo, multiple I/O support - supports virtually any Windows sound card with multiple ins and outs, dual monitor support, 4-band EQ and compressor inserts available on every channel, audio/video scrub, video preview window, and direct Internet streaming file authoring (Windows Media Technologies 4.0 and RealNetworks G2). Vegas Pro imports/supports: .wav, .aif, .avi, .mov (using Microsoft DirectShow), .mpg (video), and .bmp formats. It exports/saves: .wav, .aif, .avi, .wma (not available in beta release), .asf (not available in beta release), .rm, and .mp3 (with optional plug-in) formats. Also from Sonic Foundry, a new loop library for ACID. Universal Groove Elements incorporates Sound Forge, DirectX and XFX technologies to create a blend of warm underground sounds. Sonic Foundry also announced the launch of ACIDplanet.com, a new Web site that allows users of the company's ACID music creation software to self-publish music online and share their compositions with the worldwide Internet community. ACIDplanet.com allows musicians to use the Internet as their stage by publishing their material using Microsoft's new audio codec, code-named MS Audio, for the pleasure and critique of fans all over the world. The site also incorporates ITVnet's AudioManager, a proprietary system which automates the process of publishing and distributing music on the Internet. (608) 256-3133, fax (608) 256-7300, www.sonic foundry.com.

Alesis introduces MasterLink ML-9600, a new mixdown and mastering system that combines hard disk recording and editing, digital signal processing, and CD creation in a single unit. MasterLink ML-9600 allows studios, musicians and mastering facilities to store, deliver, and play stereo 24-bit, 96kHz audio on standard recordable compact discs. The unit can also produce and playback conventional 16-bit, 44.1kHz Red Book format CDs. MasterLink features a 3.2GB internal hard drive with editing, digital signal processing and mastering functions, a 4X CD-R drive, and 24-bit A/D and D/A converters. Prior to recording, any combination of the four industry-standard sample rates (44.1, 48, 88.2, 96kHz) and three word lengths (16-, 20- or 24-bit) can easily be selected on the front panel. Because recordings are saved to the hard disk, different versions of mixes can be stored in memory and recalled instantly for comparison. Additionally MasterLink can create multiple identical copies of program material. MasterLink's editing features allow the user to reorder tracks, adjust gain, build playlists, trim heads and tails of programs, set start times, preserve best takes and delete tracks before committing the material to CD. Editing is accomplished using front panel controls, which allow users to audition and edit start/end points. MasterLink's onboard digital signal processing functions include "Finishing Tools" such as equalization, compression, normalization and peak limiting, all of which can be applied to program material prior to creating a CD. The 2U-rackmountable unit includes analog inputs and outputs on +4 dB balanced XLRs and -10 dB unbalanced RCAs, as well as digital inputs and outputs in both AES and coaxial digital formats. MasterLink 9600 is a fully functional CD player with 24-bit A/D and D/A converters. MasterLink 9600 is expected to ship in the third quarter of 1999 with a retail price of $1699. (310) 255-3495, fax (310) 255-3401, www.alesis.com.
TimeLine Vista Inc.'s TransAudio PipeLine file utility is a file backup and conversion application for some of the digital audio systems used in post-production. The program is based on the Backup, Tapemode Conversion, Export functions of the TASCAM MMR-8 and MMP-16 Modular Multitrack units developed by Timeline Vista, Inc.. The PC Windows based program reads from WaveFrame, Digidesign Pro Tools, Akai DD series, DEVA (BWF), and OMF/SDII formats; and writes to WaveFrame, ProTools, and OMF/SDII formats. (760) 761-4440, fax (760) 761-4449, www.digaudio.com.
Tascam introduces the CD-150 CD Player. The unit is a cost-effective player designed primarily for studio and small PA applications where "practicality and ease-of-use are required." Features include ±6% variable pitch, Auto Cue, programmable playback, and remote control. (323) 726-0303, fax (323) 727-7635, www.tascam.com.
GetMedia Inc. announced a partnership with WebRadio.com that will enable radio stations to broadcast and sell music simultaneously over the Internet using the combined power of GetMedia's new e-commerce technology and WebRadio. com's Internet broadcast service. GetMedia's technology, which works within a radio station's Web home page, displays song titles in real-time as the station plays them and lets listeners simply click on a title to buy a CD. 408-573-6290, www.getmedia.com.
HHB's CDR850 Professional CD Recorder/Player is now available in a "PLUS" version, specifically modified for use with digital systems in "all digital" applications. The addition of a Word Clock input enables the CDR850 PLUS to be locked to a master clock source during playback. Another new feature is a balanced digital output on an XLR, making possible the much longer cable runs required by larger, multi-room facilities. (310) 319-1111, fax (310) 319-1311, www.hhb.co.uk.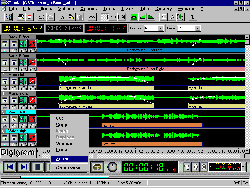 Digigram announced that it has licensed the Dolby Digital Professional Encoder from Dolby Laboratories. In the coming months, Digigram will add Dolby Digital surround sound features to selected products in its range of broadcast and production tools. The first new product will be a special module adding Dolby Digital authoring capabilities to Digigram's Xtrack multitrack digital audio production suite. A similar module will also be developed for Digigram's PCXedit digital audio editor development interface. (703) 875-9100, fax (703) 875-9161, www.digigram.com.
Muska & Lipman Publishing has published MP3 Power! With Winamp, a book about MP3 Internet music technology. The book ($29.99) is co-authored by the creator of Winamp, Justin Frankel. (513) 924-9300, fax (513) 924-9333, www.muskalipman.com.
MUSIC/SFX LIBRARIES
Nightingale Music Productions has recently expanded and is now offering over 800 CD's of buy-out music and sound effects. In addition to their own library, they distribute 8 others: British Audio Designs, ADD music, Dreamland, Music2Hues, Quixotic, Hollywood Edge (music & FX) and have just signed a deal to distribute Sound Idea's (music & FX) as well as East West (FX, music loops & samples)! (416) 221-2393, fax (416) 221-2676, www.nightingale music.com.
Manhattan Production Music is releasing its 49th and 50th CDs in the Apple Trax collection. AT 49 Bad Attitude features rock, jazz, and rockabilly. AT 50 Drums of the World Volume 2 is a second percussion CD with cuts in South American, Middle Eastern, and African styles. (212) 333-5766, fax (212) 262-0814.
THE MIX
Chancellor Media Corporation announced that it will change its name to AMFM Inc., subject to shareholder approval. Shareholders will vote on the name change as well as the proposed merger with Capstar Broadcasting Corporation on July 13, 1999. The Company also announced a broad-based Internet strategy intended to leverage the value of the Company's leading national radio station portfolio, proprietary content, advertiser relationships and 66 million weekly listeners. The Company has formed three new business units: AMFM Interactive, Inc. (AMFMi), AMFM.com, and AMFM Equities, which are intended to position AMFM's E-commerce web sites as highly trafficked Internet destinations, stream online broadcasts of AMFM's on-air programming and other media, and promote emerging Internet and new media concerns. AMFMi, AMFM's consumer E-commerce business, will develop and manage a national network of local web portals, paired with local AMFM radio stations. AMFM.com, AMFM Inc.'s online broadcasting company, will be responsible for streaming media for AMFM stations to AMFMi web sites and provide streaming services for media companies and other corporate clients. AMFM.com will also create and manage Internet-only stations, enhancing proprietary radio content with compatible audio and visual programming. AMFM Equities, the third leg of AMFM's Internet business strategy, will allow AMFM to participate in the growth of selected Internet and new media companies. A bank of promotional commercial time comprised of radio inventory and promotional sponsorships will be exchanged for equity in promising companies whose value can be materially enhanced by AMFM's marketing assistance. AMFM Radio Group will be the nation's largest radio broadcasting entity with approximately 465 stations in 105 markets reaching a weekly listener base of 66 million people.
Dennis McAtee exits KKOW-AM/FM, Pittsburg, KS and accepts the Production Director position at KVOO, Tulsa, Oklahoma.
TalkNetRadio (recently renamed GiveMeTalk!) announced that it is accepting email applications from Internet users to be among the first three globally-broadcast GiveMeTalk! program hosts. GiveMeTalk! has created a special registration site for all would-be broadcasters at www.givemetalk.com, complete with expert interviews on do-it-yourself Internet radio and the challenges and rewards of creating talk programs from your desktop. Streaming audio interviews with top radio veterans are provided free, to help would-be broadcasters in developing their own programs. Three finalists will be chosen from all email applications to work with GiveMeTalk!'s team to create top-quality original Internet talk radio programs. (408) 844 8814, fax (408) 516 9939, www.givemetalk.com.