EQUIPMENT NEWS
Alesis introduces the new M1 Active Bi-amplified Reference Monitor, the first powered monitor for the company. The M1 Active features a 6.5" woofer and 1" tweeter with a 75-watt woofer amp and a 25-watt tweeter amp. Alesis also introduces the first products from its new GT Electronics division. The AM Series large-diaphragm studio condenser microphones include the AM51 ($549) and AM52 ($699) Class A FET condenser mikes, and the AM61 ($999) and AM62 ($1,299) tube condenser mikes. GT Electronics will focus its efforts on the development of equipment using classic analog technology. Toward this end, they have acquired the microphone, amplifier, and signal processing technologies of Groove Tubes, founded by Aspen Pittman in 1978. (310) 255-3495, (310) 255-3481, www.alesis .com.
Pacific Research & Engineering unveiled the new AirWave Digital On-Air and Production Console, a digital companion to the AirWave analog console introduced in 1997. AirWave is available in two mainframe sizes (12 or 20 input modules) and features three stereo program buses, onboard sample rate and A/D – D/A converters, a dedicated split-track telco record feed, and control room and studio monitoring. There are optional digital or analog Remote Line Selectors for extra input capacity, up to two telephone I/O modules with mix-minus generation, B-side input logic, and additional microphone preamp modules with built-in phantom power. In addition, input modules can be reconfigured by the user from analog to digital or vice versa by swapping the "input configurator" card on the module. (760) 438-3911, www.pre.com.
The new Fostex FD-4 is the world's first digital multitrack recorder to retail for under $600. The FD-4 ($599) performs professional 6-track recording (two tracks simultaneously) without data compression and features two XLR balanced inputs, insert points, and a 3-point EQ with sweepable mids, all in an onboard analog mixer with a 105dB dynamic range. Equipped with a standard SCSI-II port, the FD-4 allows users to select from a variety of recordable media, from removable systems such as Zip, ezFlyer and Magneto Optical, to larger capacity SCSI hard drives. Fostex offers an optional factory-installed internal 2.5GB IDE hard drive. Using totally uncompressed audio recording, the FD-4 provides four dedicated tracks and two virtual tracks, giving the product the ability to bounce back and forth between virtual and dedicated. Other features include cut/copy/move/paste editing, non-linear memory, undo/redo, vari-pitch, and onboard MMC/MTC/Midi Clock features. Its Graphical Preview function offers fine adjustment of edit points and the Jog/Shuttle wheel allows for the shuttling of audio or precise scrubbing of edit points. (310) 921-1112, fax (310) 802-1964, www.fostex.com.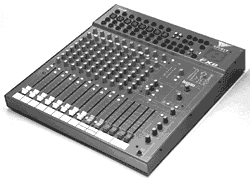 The Spirit FX8 is a 4-bus multi-purpose mixing console featuring a specially designed 16-program Lexicon Effects Section with dual effect capability (including Chorus and Reverb, Chorus and Delay, and Reverb and Delay) and fully editable and storable programs and parameters. The console itself includes 8 mic/line inputs and 18 inputs to mix in total (including 4 stereo inputs and tape return to mix). All FX8's 8 mic/line inputs are equipped with Spirit's UltraMic preamps which provide a full 60dB of gain range and +22dBu of headroom, meaning that the input stage can handle virtually any mic or line device. In the EQ section, a true British 3-band EQ with swept mid benefits from custom designed pots, which give greater control across carefully chosen frequencies. There are 2 Auxiliary Sends, including a dedicated Lexicon effects send, 1 pre-fade send and 1 pre/post-fader selectable send which is equally useful as an effects send in studio mixdown situations. In addition, there are four Stereo inputs, a separate Mono Sum Output and 2 Subgroup Outputs. (916) 888-0488, fax (916) 888-0480, www.spirit-by-soundcraft.co.uk.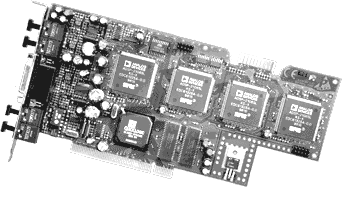 The Pulsar from CreamWare is a PCI card for Mac and PC that features a 32-channel digital mixer, DSP effects, synthesizer devices, a sample player, and third party support. There are 20 channels of I/O using two ADAT I/Os, S/PDIF, and analog I/O. Other features include 96kHz support, 24-bit resolution, an optional 19" analog expansion kit, MIDI interface, and more.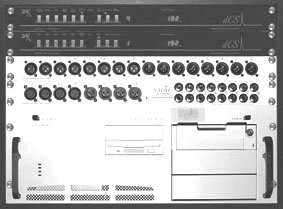 The SADiE 24·96 is the latest system in the SADiE digital audio workstation line, and has been designed for film and TV post production, speech editing, radio production, CD/DDP mastering, music editing, and more. Based around the Windows PC platform, the 24·96 cards are controlled by the SADiE software. Each 24·96 PCI card is equipped with 8 inputs and 8 outputs and can replay 24 tracks of edited 16-bit audio. 20-bit analog conversion is built into the system and external converters are provided for by AES/EBU digital I/O on every channel. Support for 24 bit 96kHz and 192kHz audio is standard, making every 24·96 system DVD-ready. Included in every system is the CAT card, which provides a timecode reader/generator and 4 channels of RS422 interface. The supplied Breakout Box 800 includes 8 channels of XLR digital I/O, XLR digital reference input, RS422 9-pin I/O, XLR timecode I/O, and 8 channels of unbalanced analog I/O. The optional Breakout Box 800B adds balanced XLR analog I/O at all standard operating levels. Each 24·96 card includes an on-board SCSI interface for direct communication with audio disk storage, CDR or Exabyte drives. Up to four cards may be linked together to provide a total of 32 inputs and outputs. The 8 I/O configuration may be purchased either as cards and software only or as a fully configured rack mounting turnkey system.

The Behringer Composer Pro MDX2200 ($309) is a dual channel Expander/Gate/Compressor/Limiter featuring switchable true stereo or dual mono operation, precision 12-point Input/Output level and gain reduction meters, switchable sidechain input with monitor function, switchable +4 dBu/-10dBV operating levels, servo-balanced Inputs and Outputs, and more. (516) 364-2244, www.behringer.de.
Roland's new VS-880EX Digital Studio Workstation builds on the original VS-880, and offers digital recording with stunning built-in effects, more inputs and outputs, more simultaneous recording tracks, more Virtual Tracks, a refined backlit display, and a simplified user interface complete with the acclaimed EZ Routing navigation system. The number of simultaneous recording tracks has been increased to a maximum of eight, and the number of available Virtual Tracks has been doubled to 128. Audio resolution has also been upgraded with 20-bit A/D and D/A converters. An expanded EQ section features eight channels of 3-band parametric digital EQ or 16 channels of 2-band parametric digital EQ which can also be stored and automated via mixer scene memory. (323) 685-5141, www.rolandus.com.
Mark of the Unicorn's Audio 2408 is a computer-based hard disk recording system for Mac OS and Windows that offers 24 simultaneous inputs and outputs at a street price of just under $1,000. The system consists of a PCI card connected to a standard 19-inch, single-space, rack-mountable I/O unit. The external I/O unit offers three Alesis ADAT 'light pipe' connectors (24 channels of ADAT optical I/O), three Tascam TDIF connectors (24 channels of Tascam digital I/O), eight unbalanced RCA analog inputs, eight unbalanced RCA analog outputs, one stereo S/PDIF input, two stereo S/PDIF outputs, and two balanced (+4 dB) quarter-inch TRS main outputs. Up to three 2408 I/O units can be connected to the system's single PCI card for a maximum of 72 input and output connections. The system includes full-featured audio workstation software for Mac OS that supports both 16-bit and 24-bit recording. For Windows, a driver is included for compatibility with audio applications that support standard multi-channel Windows Wave drivers. (617) 576-2760, fax (617) 576-3609, www.motu.com.
QDesign Corporation and Syntrillium Software, the makers of Cool Editä and Cool Edit Proä, announce the release of the QDesign MPEG Audio Encode and Decode filters for Cool Editä users. The QDesign MPEG filters for Cool Editä will allow audio professionals in the broadcast and new media industries to save their Cool Editä session directly into an MPEG-audio file for storage and transmission. Audio encoded at less than 20 percent of its original file size offers indistinguishable difference in quality to its CD source. QDesign's MPEG audio encoding and decoding technology is available for licensing and as stand-alone and plug-in applications. The MPEG stand-alone product for Windows 95/NT is $299. The MPEG AudioSuite Plug-In for Pro Tools 4.x is $495. The MPEG filter for Cool Edit is $149. Visit QDesign at www.qdesign.com for more information.
MUSIC/SFX LIBRARIES
Promusic is now the exclusive US distributor for the Soundtrax Music Library. Produced in Sydney, Australia, the library presently consists of 13 CDs. Also new is Elements, a collection of "Music Beds, Logos, Sounders, Hits, Accents, Endings, Explosions," and lots more. Promusic also announces their new office in Los Angeles. LA numbers are (888) 600-8988, fax (818) 506-8580. www.promusic-inc.com.
THE MIX
Television and radio managers looking for on-air talent need look no farther than their computers. Medialine, the first company to put television job listings on voice-mail, uses the Internet to display resume tapes and airchecks to television and radio station managers. The television website is at www.medialine.com, and the radio website is at www.onairjobs.com. (800) 237-8073, (831) 648-5204.
♦