EQUIPMENT NEWS

Tascam's new CD-RW5000 Compact Disc Recorder ($1299) can read and/or write to all currently available media, including CD, CD-R, CD-RW, CD-R-DA and CD-RW-DA. In addition to its support for all forms of CD media, the 2U rack-mountable unit features XLR balanced and RCA unbalanced analog I/O, an AES/EBU digital input, S/PDIF coaxial and optical digital I/O, a Sync Start function, Auto or Manual Track Increment capability, a sample rate converter, an Erase function, and parallel control I/O capability. Also new from Tascam is the CD-450 Compact Disc Player ($760).

Designed for the recording studio, sound contractor, broadcast facility or DJ, this CD player features Auto Cue and Auto Ready functions, Call and End of Message (EOM) functions, Fader and Event Start capability, Incremental Play, numeric keys for easy programming, plus all the connectors needed to interface with other equipment. The 2U rack-mountable CD-450 provides RCA unbalanced analog outputs and a coaxial (RCA) S/PDIF digital output. The optional LA-450 output kit adds balanced XLR analog outputs plus an AES/EBU digital output terminated in an XLR connector. An optional RC-450C remote controller is also available. (213) 726-0303, fax (213) 727-7635, www.tascam.com.
QDesign Corporation, a leading provider of audio compression technologies and Syntrillium Software Corporation, the makers of Cool Editä and Cool Edit Proä, announce the release of the QDesign MPEG Audio Encode and Decode Filters for Cool Editä users. The QDesign MPEG filters for Cool Editä will allow users to save their Cool Editä session directly into an MPEG-audio file for storage and transmission. Audio is encoded at less than 20 percent of its original file size and "offers an indistinguishable difference in quality" to its source. The QDesign MPEG encode and decode filters are fully compliant to the MPEG-1 and MPEG-2 Layer II standards for digital audio bit-rate reduction. QDesign's MPEG audio encoding and decoding technology is available for licensing and as stand-alone and plug-in applications. The MPEG stand-alone product for Windows 95/NT is $299. The MPEG AudioSuite Plug-In for Pro Tools 4.x is $495. The MPEG filter for Cool Edit is $149. Visit QDesign at www.qdesign .com or call (604) 688-1525 for more information.
DigiTech's new Studio Series S200 Dual Engine effects processor ($340) features a dual engine processor, allowing use of any one of 5 different effect configurations capable of placing effects in any order. Effects includes Reverb, Delay, Chorus, Flange, Karaoke, Pitch Shifting, Vocoder, Compressor, Rotary Speaker, and more. Other features include stereo I/O, 20-bit A/D and D/A conversion, and 96dB S/N ratio. (801) 566-8919, fax (801) 566-7005, www.digitech.com.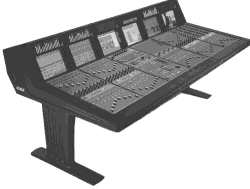 Looking for a serious console for the new millennium? Otari Corporation has introduced the Advanta, an all-new, state-of-the-art, large-format digital audio mixing console with versions designed to address the current and future needs of the music, film, and post-production audio industries. Highly modular and configurable in design, the console incorporates new 40-bit DSP technology and an ultra-fast communications network in a scaleable system capable of handling all digital audio formats up to 24-bit at up to 96 kHz sampling rates. Advanta offers up to 256 inputs in music mixing versions and up to 3 operator positions in film/post versions, both available with a choice of dedicated or mapped control surfaces. (415) 341-5900, fax (415) 341-7200, www.otari.com.
SONIC FOUNDRY announces the Sound Forge 4.5b Beta Version Update. This public beta version is available ONLY for registered users of Sound Forge 4.5. The release now includes file support for RealNetworks' G2 player. Specifically, this file support will allow you to encode your audio and video files using the most advanced streaming media technology available from RealNetworks. (608) 256-3133, fax (608) 256-7300, www.sonic foundry.com.
Sonic Solutions recently announced complete support for the new line of Apple Power Macintosh G3 desktop computers. The new Apple CPUs, targeted at video and multimedia developers, are ideally suited to DVD authoring and professional audio editing with their high-speed CPUs, Firewire data I/O, and integrated DVD playback. Sonic's complete line of DVD production tools is available for the new Macintosh CPUs. SonicStudio HD, Sonic's newly developed digital audio workstation for DVD-Audio and high-density 96kHz, 24-bit audio editing will also be compatible with the new Apple systems when it ships later this quarter. Apple's new hardware is targeted toward video and graphics professionals who need maximum power to manipulate video, audio, and multimedia data. (415) 893-8000, fax (415) 893-8008, www.sonic.com.
Dolby Laboratories Inc. and Lake DSP of Sydney, Australia announced that the two companies have agreed to develop and market a new technology that allows consumers to enjoy multi-channel surround sound on conventional stereo headphones. Dubbed "Dolby Headphone," the system will be featured primarily in multi-channel audio/video products incorporating Dolby Digital or Dolby Pro Logic Surround decoding, but will also work with two-channel stereo programs. Roger Dressler, Director of Technology Strategy for Dolby Laboratories, explains, "Traditional stereo playback on headphones, while pleasant, creates a shallow but extremely wide stereo effect that appears in your head. Dolby Headphone allows the listener to hear the sound much more naturally, out in front, and out of head, and due to the full 5.1-channel surround capability of the system, more than one person can watch a movie from the best seat in the house." (415) 558-0200, (415) 863-1373, www.dolby.com.
BASF is introducing a new ceramic-plated CD-R. Suitable for audio and data applications, the new CD-R Master features a hardened white ceramic coating for added safety of stored information. The ceramic coating works with the transparent protective layer to deliver optimum and stable protection evenly across the reflective layer, significantly improving information preservation. (888) 295-5551, www.emtec-use.com.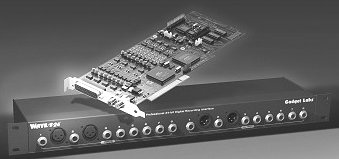 The Wave/8·24 from Gadget Labs is a PC audio card that permits simultaneous recording and playback of 8 channels of digital audio with 24-bit resolution. Utilizing Pentium MMX technology rather than special processing chips keeps the price tag at a low $499 for a multi-channel card. The Wave/8·24 interface includes a PCI adapter card and an external connection patch bay. The patch bay has eight front-access analog 1/4-inch balanced/unbalanced ins and outs plus two XLR ins and outs on channels 1 and 2. An optional S/PDIF add-on card ($129) adds a dedicated 24-bit stereo port. Users can also expand to 16 or 24 analog channels by installing multiple Wave/8·24 interfaces in a PC. Software drivers for Windows® 95/98 and Windows NT are included. Full support of Microsoft's WAVE device programming standard makes the Wave/8·24 interface compatible with leading music/audio applications such as Cakewalk Pro Audio, Cubase VST, Sound Forge, Cool Edit, Samplitude, SAW and Quartz. (503) 827-7371, fax (404) 685-0922, www.gadgetlabs.com.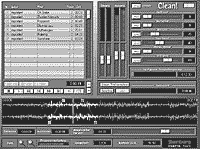 Steinberg's Clean turns your recordings into perfect audio CDs. The Windows software ($99) features processing tools to remove noise, crackles and clicks from audio. Your CD can contain up to 99 tracks. You decide on the exact order. Use the fade-in and out facilities for perfect links between tracks, or add a couple of seconds pause. Use the CD-grabbing facility to make digital copies directly from another CD. (818) 993-4161, fax (818) 701-7452, www.steinberg.net.
Symetrix introduced upgraded versions of two of its popular products. The 302 Dual Microphone Preamplifier and the 304 Headphone Amplifier replace similar models in the Symetrix SX200 Series while offering more features at lower prices. The 302 Dual Microphone Preamplifier ($299) is a two channel dual mono preamp featuring 20-60dB of variable gain. Each channel offers a 15dB pad, allowing the 302 to handle microphone levels up to +14dBV. Phantom power of +48V is available at both inputs. Rear panel connections are XLR jacks for microphone inputs and terminal strips and 1/4" TRS jacks for line outputs. The 304 Headphone Amplifier ($299) is a stereo input/four output amplifier that drives headphones of any impedance. Users control the master input volume and the individual volume levels of the four outputs. Rear panel Pass Thru jacks permit daisy-chaining of multiple 304s. All input, output and Pass Thru connections are 1/4" TRS jacks. Both the 302 and the 304 are 1/2 rack-sized units. (425) 787-3222, www.symetrixaudio.com.
MUSIC/EFX LIBRARIES
Sound Dogs announces that The General, 11,286 stereo sound effects by Sound Ideas, is now available a la carte on their website at www.sounddogs.com. The online sound effects library allows users to search for, audition, select, and purchase sounds in any popular sound file format or sample rate. Email notification is immediate, and includes a secret FTP address from where the user can begin downloading their purchase. (310) 244-7983.
Brown Bag Productions announces the release of their first "specialty/sound library." The new library, called Smoke, features 444 cuts. (303) 756-9949, fax (303) 759-8213.
The Music Bakery adds a new CD to their collection. New categories on the CD include New Corporate Industrial, Easy Interludes, Dramatic Statements, and Mind Games. The Music Bakery is also now offering Categorized CDs, taking existing cuts from several CDs in their library and burning them to single CDs. Categories include High Energy & Sports, US Historical Motivation, Underscores, Corporate Image, Smooth Contemporary Jazz, and many more. (800) 229-0313, www.musicbakery.com.
THE MIX
Jim "The Poorman" Trenton (KROQ, KIIS, MTV's Loveline) has kicked off a rather unique show in Southern California. Anti-Radio began broadcasting on KYPA-AM and KMNY-AM in December. The new music format is devoted exclusively to unsigned bands and artists from independent (not major) labels and showcases all styles of music including (but not limited to) Jazz, Punk Rock, Swing, Rap, Country, R&B, Dance, and Modern Rock. "Anti-Concerts" are planned with The Poorman as the host. (New life for AM radio?) (949) 722-8785 or email This email address is being protected from spambots. You need JavaScript enabled to view it..
♦