TECHNOLOGY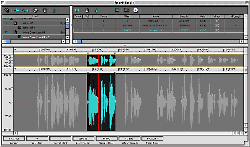 TC Works is now shipping Spark, an all new Digital Audio Mastering Editor for the Mac OS ($499). Spark is a stereo-based audio editor with real-time processing and mastering featuring a "Browser" window, integrating Wave editing, project file management, and playlist all at once. Features include 24-bit/92kHz sampling (hardware dependent on record and output playback), support for AIFF, QuickTime, SoundDesigner, and Wave files, and VST Plug-in support. Processing functions include normalize, reverse, fade, crossfade, time stretch, pitch correction, and lots more. Use the Browser View to edit a file or build a playlist. The Master View provides master faders with highly accurate PPM level meters, a phase correlation meter, and built-in dithering and a real-time "FXmachine" with extensive routing capabilities. Up to 4 stereo streams with 5 plug-ins each can be routed and processed simultaneously. (805) 373-1828, www.tcworks.de.
Sonic Foundry introduces Audio Anywhere, a software suite designed for use with Microsoft Powerpoint and FrontPage applications for enhancing electronic presentations and web pages with custom sound and musical accompaniment. Fully compatible with Microsoft Office 2000, Audio Anywhere features the pairing of Sonic Foundry's ACID music creation tool with their audio editing package, Sound Forge XP 4.5. Files can be saved in a variety of formats including .WAV, .ASF, .AVI, and .RM. Sonic Foundry also announced the development of Boulder, new software designed for copying, encoding, and managing CD music on PCs, portable players, virtual jukeboxes, and traditional electronic devices. Utilizing Windows Media Technology 4.0, Boulder will allow consumers to transfer their favorite music from audio CDs into a high quality compressed format and will incorporate the Windows Media Rights Manager to discourage unlawful distribution of music. (608) 256-3133, fax (608) 256-7300, www.sonic foundry.com.

dbx introduces the Quantum Digital Mastering Processor ($1,999). The Quantum offers sampling rates up to 96kHz, with a true 48-bit digital signal path, combined with dbx's high quality dynamics processing. The multi-band system features a 4-way crossover which splits the signal into 4 bands. Each band may be individually gated, compressed, and limited. A 5 band parametric EQ features variable Q, adaptable or constant Q, and low and high shelving. (801) 568-7660, (801) 568-7662, www.dbxpro.com.
The MX60 Front End One from Drawmer ($629) is a unique mic/line/instrument input channel in a single rack space providing high quality Drawmer processing prior to tape/hard disc recording. Functions include a studio grade mic pre-amp, gate, de-esser, compressor, limiter, three band EQ, and a multi-band 'tube saturation' stage. The MX60 features balanced +4dB XLR and unbalanced -10dB 1/4" I/O. Contact your nearest Drawmer dealer for more info or visit www.drawmer .com.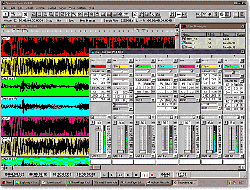 Soundscape Digital Technology unveiled a brand new Digital Audio Workstation called R.Ed. The 32-track, 24-bit hardware has up to 28 inputs and 32 outputs per unit and comes complete with software for Windows NT and Windows 95/98. The target market for R.Ed is the professional recording studio, audio post for film and TV, and multi-track production for radio. In familiar Soundscape style, R.Ed only requires the host computer for display purposes; all the audio is processed outside the PC. This provides maximum stability and audio quality, while ensuring value for money with an investment in high quality audio hardware tailored for the task, rather than in the latest PC. R.Ed features up to 32 tracks of 24-bit audio and supports two fixed and two removable EIDE drives per unit with a maximum limit of 137GB per disk. There are two AES/EBU input channels and four AES/EBU output channels, plus 24 channels of digital input and output via three 24-bit TDIF ports. An optional board provides 2 in, 4 out balanced analog I/O via XLR connectors with 24-bit AD/DA converters. R.Ed provides recording, editing and playback functions with an enhanced version of the Version 2 software from Soundscape's PC based SSHDR1-Plus systems. Editing features include non-destructive editing, cut, copy, move, trim, slip, normalizing, real-time fades, and multi-channel audio scrubbing. Editing can be performed with a mouse, track-ball, pen and tablet, or external hardware controllers. R.Ed can also play synchronized high quality, non-linear digital video files via video capture cards. The mixing environment for R.Ed comes in the form of an integrated, customizable 16-bus Digital Mixer with fully parametric EQs, and all mixer configurations can be saved to disk for total recall of your favorite mixes. (805) 658 7375, fax (805) 658 6395, www.soundscape-digital.com.
Panasonic continues to churn out the hi-tech consumer gear. The new DVD-L50 PalmTheatre portable DVD player ($1,099) is even smaller than last year's DVD-L10, making it the smallest and lightest portable DVD player with a built-in LCD screen. The 2 pound unit measures approximately 5.5" x 6" x 2". Look for DVD-Audio players from the company later this year. These units will feature 5.1-channel surround sound capability, as well as the ability to deliver video. At its highest sampling frequency of 192kHz/24-bit 2-channel PCM, a single CD can store 74 minutes of music on a single side of a single-layer disc. At reduced resolution, more than 6 1/2 hours of music can be stored on a single disc. With the ability to deliver audio, video, and text in large quantities, the DVD looks more and more like the CD of the future. www.panasonic.com.
Eastman Kodak Company announced Kodak CD-PROM (Compact Disc-Programmable ROM), a new CD that combines the technologies of two CDs in one new type of media. The disc can contain mass-replicated information, like software and music published on CD-ROM and will work in standard CD-ROM players. But the discs also feature a recordable area that lets CD-PROM users customize individual discs. One use being looked at closely is the ability of the CD-PROM to reduce piracy of copyrighted information distributed on CD. For example, a signature code can be written to the area unique to the CD-PROM. This code can't be copied over to a CD-R or CD-RW. Programs can be designed to look for this code before launching the software. (Hmmm, how long before CD-PROM recorders hit the market?) www.kodak.com/go/cdr.
Voyetra Turtle Beach is now shipping the Montego II Home Studio, a PC-based desktop production system integrating the company's MIDI/digital audio sequencing software, Digital Orchestrator Pro with the next generation Turtle Beach Montego II sound card. Features include 18-bit D/A and A/D converters, RCA and optical S/PDIF digital I/O, plus twin stereo analog outputs. (914) 966-0600, fax (914) 966-1102, www .tbeach.com.
Star CD (or *CD) is a new service rolling out in selected markets that provides information about music on the radio via your cellular phone. To use the service, consumers simply dial *CD (*23) on a cell phone. A computerized voice response system then prompts the caller to enter the radio station they are listening to. The system then identifies the name of the song the station just played, the artist, and the title of the CD. Callers can even hear samples from other songs on the same CD or scan other tunes the station has recently played, all in a single phone call. If they like what they hear, consumers can buy the CD, and it's delivered to their home. *CD was developed by ConneXus Corporation, based in Berwyn, PA. *CD is currently available to customers of Comcast Cellular Communications, Inc. within the Greater Philadelphia area. ConneXus is negotiating with a number of wireless carriers and plans to roll-out the service on a city-by-city basis. For more info contact Gregory Communications at (610) 642-8253.
MUSIC/SFX LIBRARIES
ECHO(arts) has just released all five of their Themed Jingle packages on one CD. Each jingle is made available in both 30 and 60 second lengths with a donut, intro, close, and instrumental mix of each for a total of eight mixes per theme, and 40 tracks total. The $99 buyout is available anywhere outside of Canada. Demo at (519) 271-8928, call (519) 273-3224, or visit www.echoarts.com.
THE MIX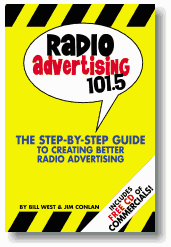 Jim Conlan and Bill West of Radio Works in Houston, TX [RAP Interview, March 1999] announce the availability of their book, Radio Advertising 101.5: The Step-by-Step Guide to Creating Better Radio Advertising. Radio Works is a 12-year-old creative shop that writes and produces radio commercials for clients all over the US. With its slogan of "Funny Radio, Serious Results," the company has found that humor, when done right, can be extremely effective in selling a product or service via radio. With their combined 32 years experience, Conlan and West share their accumulated knowledge of what makes radio advertising work (and not work) in this guide. The book is geared towards advertising copywriters, radio Production Directors, radio salespeople, marketing directors, and advertisers themselves. Priced at $99 (plus shipping), the book is available through Streamline Press at (800) 610-5771, fax (561) 655-6164. Visit www.usradio works.com for more info.
Orban has promoted Rick Sawyer to the position of Director of Worldwide Sales. He will supervise the sales of all product lines through Orban's dealer networks in North America, Latin America, Europe, Asia, the Middle East and Africa. Michael Hession has been promoted to the position of General Manager for Orban. An eight-year veteran of the company, Hession assumes overall responsibility for managing Orban's operations and development efforts. (510) 351-3500, fax (510) 351-0500, www.orban. com.
TM Century, Inc. announced the promotion of three senior managers, Roger Holeman, Bob Jenkins, and Marcus Hill to Vice Presidents. TMCI President and CEO David Graupner comments that "the promotions coincide with a general restructuring and streamlining of the company designed to facilitate TMCI's growth in traditional and new markets." (972) 406-6823, fax (972) 888-6192, www.tmcentury.com.
The NAB Radio Show hits the Orange County Convention Center in Orlando, Florida August 31 through September 3. Among the programming sessions is Imaging vs. Positioning: Why Both Are Important and How They're Different. (202) 429-4194, (202) 429-5343, www.nab.org/conventions.
Vanilla Gorilla Productions, a division of Bill Young Productions, adds new stations to their imaging roster: STAR 102.7, Salt Lake City, UT; KAT 103, Omaha, NE; WHEELZ 101, Saginaw, MI; and 99FM KTPZ, Boise, ID. www.vanilla gorilla.com.
It's hard to surf the web without the people at DoubleClick, the big Internet advertising company, tracking your movements. In the spirit of privacy, DoubleClick has an "opt out" program that sets a generic cookie on your computer which prevents further tracking. Visit www.ad choices.com for details.
♦