Todd Manley, Production Director, WCKG-FM, Chicago, Illinois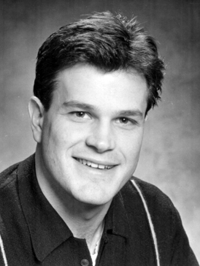 by Jerry Vigil
In the Chicago market, CBS has eight stations. As the dust begins to settle in this wild consolidation ride, the major players are beginning to see new ways to generate revenue, without necessarily cramming eight radio stations in one building with a limited staff. Todd Manley handles imaging for WCKG-FM and also handles the production for CBS Chicago's New Business department, a department that's designed to take advantage of the "power of eight." Todd shines some light on this new avenue and talks about imaging "The Package," a nice little package consisting of Howard Stern, Jonathan Brandmeier, Steve Dahl, and a new show at night called "Radio For Men." Todd's demo on this month's RAP Cassette is loaded with some great work. Crank it up!
JV: How did you get your start in the business?
Todd: I'm second generation in the biz. My dad was a morning guy at a couple of small markets down state, seventeen years in Champaign at the full service AC down there. But I didn't actually expect to stay in radio. I was doing that to pay my way through college. I went to school at SIU in Carbondale and cut my radio teeth at a really cool CHR, WCIL-FM. In the mid '80s, we were a Billboard Small Market Station of the Year. I worked along side a guy who's got a really great music ear, Tony Waitekus. Now he works in the quad cities as a PD and MD. I did a little bit of everything there. I did afternoons on our AM station which was an oldie station, and I also did nights on the FM. I did a lot of production in between and went to school in the morning. It was a lot of fun.
I started out in theater as a frustrated actor but wound up loving radio. Along the way I went from Carbondale to Champaign then over to Indianapolis. This will be my tenth year in Chicago this December. I spent a couple of years on the agency side. Probably my coolest experience in terms of really loving the writing side of radio and the theater side of radio was working at an agency in Indianapolis. They were a really creative group. It was a mid-sized agency with some superb local and regional clients that trusted the creative team there. The guy I learned a ton from was Ron Pearson, and the name of the agency is Pearson, Crahan and Fletcher. Ron actually is a Ball State alum, and legend has it he did a stand-up act in college with a fairly talented guy named David Letterman. Ron had a really great creative head--a smart business guy with a great ear for radio. In fact, in the early years of that agency, they were way into the radio side of things. I learned a ton from them. I got to write, produce, run an in-house studio there, and worked with some people at Orkin's Radio Ranch on some projects. We had some pretty good budgets to spend. Probably the most fun I had there was producing and directing a spot that featured Lorenzo Music and Tom Sharp. That was one of those unforgettable experiences.
I only spent a year there, and then got a call from the Bisby Broadcast people, who at that time owned WYSY. It was one of the 95 AC stations in Chicago in the late '80s. I was from Chicago originally, so when the call came to come here I was real excited about it. I came here in December of '88. Most of the time I actually spent at WPNT. I was Director of Creative Services at WYSY at first, and then I went to WPNT. At that time, I actually worked the morning show as the traffic reporter and was doing free-lance voice stuff, too. I eventually became Production Director my last three years at 'PNT. Then I came to WCKG, and I've been here for a year now.
JV: Was WCKG CBS owned at the time you arrived?
Todd: Yea, it was. And the reason I got here was I had been talking with some folks from CBS here in Chicago about creating a Creative Services production person for the group, the eight station cluster here in Chicago, that would work with the New Business Director. This New Business Director was a position that had just been created. They had been going back and forth on where the department would actually be housed. As it turned out, it wound up at 'CKG. It was strange timing. One of the guys I really spent a lot of time listening to in my ten years here in town, Bill Towery, was the guy I replaced as the 'CKG Production Director. Bill died last summer, and he was just one of the great production people for years in this town. I believe he was at 'CKG for about 13 years. So there was an opening at 'CKG, and at that time they were struggling on whether or not they could justify hiring a production force, building a studio, and putting it in a station. They'd already been talking to me, so they asked me if I'd be interested in coming over here. Also, as part of my role, I would work with the CBS new business person to create campaigns for clients who were non-traditional radio buyers. The focus of our New Business Director is to go after people who have money to spend but put most of it in TV and newspaper.
JV: What are the stations that make up the CBS Chicago group?
Todd: The cluster is 'CKG, which is now primarily talk, B96, WBBM-AM, WMAQ, WXRT, The Score, which is all sports talk, WJMK, the Oldie station, and US99, the country station.
JV: Are any of the stations sharing a building with WCKG?
Todd: No, we're all spread out, and it's just 'CKG here at our location.
JV: About the New Business production, is this work all being done at WCKG?
Todd: Yes, everything that is generated from the New Business Director comes out of my studio. I have access to other people in the market that work for our stations, as voice talent and such, but we pretty much create the spot from beginning to end here. And it's not just spots. Sometimes we'll create composites of a cluster of three or four stations within the group that we're pitching. You might have a client that has an agency that isn't interested in radio initially. So we'll put together these presentation pieces and work to win them over. For example, one major client we acquired lately is Premier Mortgage Lenders. Basically they're like a mortgage rep. We did a whole series of spots for them where they educate people about getting their home loans and how a lot of people get duped. It was very dry stuff, but it's been very successful actually.
JV: Does it appear this "new business" department is working well for the group?
Todd: Yea, I think so. And one of the cool things about working for this company is that they are willing to do big things. They're always looking for a new angle to bring some more bucks in, and that's one of them.
JV: What assistance do you have?
Todd: I've got a guy I'm very lucky to have, Jeff Collins. Jeff could have my job at a lot of places. He's in the process of launching an imaging business of his own, and I've been lucky enough to keep him while he's working on that. And because all the other studios are busy, Jeff and I share our studio and work kind of a fanned out day. Our room is busy almost around the clock. I get in here at five in the morning and work till three, and Jeff takes the baton till midnight or so until everything's done.
JV: How are the responsibilities laid out between the two of you?
Todd: I like to keep it very loose. There are times when Jeff might do a lot of the concert spots that come through here. For example, we do a lot of work with the World Music Theater and all the shows they bring to town, and he'll do a lot of that. In tandem, I do station promos and imagers with our image voice, Joe Kelly. Then there are times when I'll feel like we need to freshen things up a bit and catch people off guard. Jeff's got a great set of lungs, and so we'll use him on various rejoins for Stern, for the Brandmeier Show, and also on some things for our Rock of the '80s show we do late night. We try to mix it up.
JV: Joe Kelly's voice is a natural for your station.
Todd: Yes. I'm really excited about getting him on board. I'm a huge fan of Ken Nordean who has this incredibly spooky, compelling kind of twisted deep voice, and I was looking for something like that. I wanted something that would really leap off the page, and I was able to get Joe to agree to do stuff for us. He's pretty much within an earshot at his AV Deli studios and is really a Chicago legend in terms of voice-overs and such. He is really concentrated on being a music producer and running his company in recent years, and radio imaging is not something he's doing anymore, at least not like before. So I like the idea of having somebody who just kind of wanted to just come play with us. I don't know who else he's doing, but I know that AV Deli has grown so much in the past couple of years that he's traveling a lot.
Another thing I'm excited about is that he's been talking about opening a second studio and having it down in Chicago. I'm hoping to work one on one with him someday. I would love to be able to develop some custom pieces for our station. I love their stuff.
JV: Are you using AV Deli libraries for imaging?
Todd: Yes, we use AV Deli's Rock and Roll and Chicago Blue and the Next Effects and Beat Off series. We also use Rampage from Brown Bag for imaging, and we use Network for spots.
JV: Who's handling the writing duties? Is there a Continuity Director in the house?
Todd: I write the majority of things. A lot of stations I've been at have had a continuity person lending a hand with writing, but I'm pretty much writing things here and going to other people for ideas and such. I write the promos as well, but I draw on a lot of people and get a lot of help. Reid, the PD, gives me great thought starters and writes stuff, too. I actually get great ideas from our board ops. What's really cool about the people we have running the board for Stern and for the Brandmeier shows is that they are dyed in the wool fans of each of those guys. So they tip me off to stuff we can do with certain clips and so on. With Howard though, it's a little more of a challenge because we're not allowed to replay bites of his show.
JV: Why not?
Todd: He's on in so many places he couldn't personally oversee, or his people couldn't oversee exactly how he is replayed and how things are wrapped around his show bites, so he just chooses to have a blanket rule. Now, granted, that can be a disadvantage, but I respect that. I think that Howard's show probably would have come around in Chicago faster, but people just read stuff in the papers and the rags about Howard and didn't know what he was all about until they heard him. There's just a ton there that gets glossed over or painted as a certain genre in magazines and newspapers and other media. I've always longed for the day when I can find those angles of Howard that I think really play well in Chicago and use clips from his show. But I guess I'll just hang in there waiting.
JV: In a lot of ways, you're fortunate to be part of an 8-station group with only one station in your facility. Other than when you share talent or produce composites for the new business thing, what other sense is there that there are seven other stations in the group?
Todd: Well, at 'CKG we have a guy who heads the marketing department for the group. This department creates several campaigns that the group will do from time to time. For example, in the spring we did this program called Spring Into Health. It was a weekend fitness health fair where they sold booth space--your basic trade show type thing--and the whole group got behind it. That's part of their mission, to create various events like that that make sense for all the stations in the group. They use the power of the eight to really drive a big crowd to the event, and that also creates some street traffic amongst the clients that are involved.
JV: Did you actually put the CBS name on it?
Todd: Yea, we called it CBS Radio's Spring Into Health.
JV: Did each station handle their own production of the promos for this?
Todd: Yes, and let me say this. I would never want to be under the gun that each of the stations GMs and PDs are under because of what it cost to run these properties. They're under tremendous pressure from everybody up and down the line. But what's cool about the situation, especially with the guys I work with day to day at 'CKG, is they leave us to do our jobs. They give us broad brushstrokes and don't micro-manage us. There's just too much to do for them to worry about that. They're more big picture thinkers. As a result, with projects like this Spring Into Health, every station is able to put their own thumbprint on it. We sat down with all the Production Directors and Program Directors and had a little meeting on what the umbrella was that we were going to sit this thing under. It wasn't the kind of thing where anybody came back and said "this doesn't work for the whole." It was left up to each PD or GM to determine, "Are we doing our part to bring people in to the door?"
JV: That sounds pretty neat. Are there any other departments that are tied in amongst the eight stations, maybe the engineering departments?
Todd: Not specifically, but what is good is that everybody's been able to develop relationships and know who they can trust. There are times when our Chief Engineer is called upon to run across the street to 'JMK to help out with something.
JV: Would you say there's a sense of a family around the group in Chicago?
Todd: Yea, definitely. The PDs have monthly meetings, and I know the GMs have regular events as well.
JV: WCKG has been imaging itself as "The Package" for about a year now. How did this idea come about, and how's it working for the station?
Todd: It was something that started out as Steve Dahl's idea, and when Reid Reker got here as our PD, he embraced the notion and kind of sold it to everybody else. It's going really well. I don't know how else you'd describe this concept of what we call the Dream Team—Howard Stern then Brandmeier and then Dahl--other than, it's "the package." Years ago, Dahl created this character, Anthony, who is a West Side Chicago born and bred Italian. Anthony was known for saying, "Hey, nice package." And so we use a lot of that on the air. It's fun, and you wouldn't believe how often it turns up on television shows. I've got three or four MiniDiscs full of who knows who saying "the package" or "it's a nice package." It's a very cool thing you can go to all the time, and it gives us a moniker that people can cling to. And it doesn't force us into any specific position. It can mean a lot of different things.
JV: Tell us about the studio setup.
Todd: We actually have four studios because of all the production that goes into the Jonathan Brandmeier Show and the Dahl Show. It's interesting working with Johnny because he has had the Midas touch for years at the Loop here in town. He went from mornings to afternoons for a bit and back to mornings. His show is based in Los Angeles, and he is on LA's FM talk station, KLSX. We just got him in January, and he'll probably have a few more stations before the end of the year.
We have our main production room for imaging and station spots. Then we have a second room that's designated for Brandmeir's show. Even though Johnny is in Los Angeles, his production staff remains here in Chicago. He's got a staff of a couple of guys that write stuff for him and do different character voices on the show. One guy, Jimmy Mack, is just an incredible blade guy, and he does incredible work with out-of-context type stuff from television. He gives Johnny lots of great drops to work with. It's pretty wild how it works. In that studio they do all the prep for Johnny's show, and then it's fed ISDN out to Los Angeles to another production studio that carts the stuff up for Johnny. He still likes to work with the carts; he likes to touch things.
Then, we have a main control room, which is the third studio. The fourth studio is kind of an interesting set-up. Dahl has a production staff, but this studio, which Steve calls The Loft, was built mainly for doing unplugged shows on Steve's afternoon drive show. He gets a lot of musical artists to cruise in here and play some really unique, stripped down sets. It's worked out really well. Steve is a musician in his own right, and as a matter of fact, co-wrote the new Brian Wilson single, "Your Imagination."
JV: What workstations are in the production rooms?
Todd: In our main production studio, we have an Audicy, and in the Brandmeier studio there's a Korg SoundLink. Dahl, in his production studio, has Pro Tools.
JV: Do you bounce around from one system to another?
Todd: I bounce back and forth from the Audicy to the Korg and don't spend much time on Pro Tools. And I've worked in the past on a Roland and others.
JV: What's your favorite?
Todd: I like the Audicy. The Korg is a pretty cool machine, though. I don't know how long it's been around, but it was the original workstation purchased for 'CKG. It does some pretty amazing things. But when I take a 35 minute Dahl segment and try to make it into a 60 or 70 second promo, there's a lot of editing. And the additional prompt or two that the Korg has in comparison to the Audicy slows me down a bit. There are other things that the Korg does really well, but in terms of speed, I go with the Audicy. We produce a ton of promos every week that are here and gone right away. We're always freshening things, and I go for speed.
JV: Are you guys still on cart?
Todd: We do everything on AudioVault.
JV: How's that system working out?
Todd: It's great. It's been fabulous. We, run off two different servers, and we have tons and tons of stuff in there--from rejoins to show exits to custom legal IDs for each show. There's like a bazillion cuts in there.
JV: Have you had any problems with it?
Todd: There's a small frustration I have, and that is when you build a cart and put multiple cuts in it, occasionally, it won't cycle all the way through. And I don't know if that's a wide-spread problem or something I've just been experiencing. But that's the only thing I've ever had a problem with, and there's an easy way around that, too. I just create a different cart and try to only load two or three cuts into a cart. But in terms of our spots, we never put multiple cuts on a cart. So that's not a problem for traffic or continuity. There's a separate cart number for every single spot that's on the air.
It's been great, and the recent upgrade also has a little 2-track digital editor built in. So you've got an option for stations to use it to cut down phone calls and different things like that on the air. It keeps the original recording intact, and then on another window you've got your edited version. It's a cool tool for stations to have. I don't have a use for it yet, but one possibility, as we start to grow and have more talk shows, is to train an intern to work on that thing and take long pieces, cut them down, and leave them on DAT or MiniDisc for me to build promos out of later. It would be a good time saver for me to give that task to somebody.
I think the AudioVault has been here for maybe a year and a half. Early on, we had some fairly regular crashes that honestly were our fault. As I said, Steve Dahl's show has maybe 1500 drops in there, and until we upgraded it a couple of months ago with more drive space, it was overloaded. We had all our promos, positioners, IDs, and different things in there. I'm not sure exactly how much space we've got in this thing now, but it's a ton, and we haven't had any problems at all. It's been a really good system for us.
JV: Are you working on any special projects right now?
Todd: We're spending a lot of time right now imaging a new show at night which we're building sounds for. It's sponsored by Playboy magazine, and it's called Radio For Men. There are two main players on the show. The star is a guy named Pete McMurray who has been working hard for several years to get here. He just spent six or seven years in Rockford and is a great talent. And then there's his partner, a guy who has been doing a lot of sports radio and talent for years, and he's a stand up comic, too. He has a really great sense of this concept of "sex, sports, rock and roll, and other guy stuff," which really is what we're doing all day long.
JV: Sex, sports, rock and roll, and other guy stuff? Sounds to the point.
Todd: Well, you can't classify Howard, Steve, and Johhny in those simple terms. We're a 25-54 station, and we've got to really turn up things a bit at night so we don't lose them to prime time television. We do a lot of tie-in stuff. For example, Dahl has a softball team, and we'll send the night show out to the ball yard to do a really twisted play-by-play of the game. Playboy sends out their playmate of the month to throw out their first pitch. It's a cool spin-off from daypart to daypart. The Dahl Show has been good to the night guys in terms of pumping that up.
JV: How does the production sound on Chicago radio?
Todd: This town has got some really cool production happening. I think for one, Matt Bisbee who is at the Loop, is somebody who has been a driving force for Chicago production for a long time. He's been there for a while, and the Loop is now owned by Bonneville. Then there's 'RCX, and Ned Spindle does really great work over there. It's cool because I think everybody kind of spins around the dial and feeds off each other.
JV: As consolidation continues, do you see future production departments merging to some degree at a multi-station group like yours? Or do you see these large groups keeping their production departments separate?
Todd: I'm hoping the trend is that it stays like it is. There's individuality. I think that's what it takes to get the job done right. I can see in smaller and medium markets where the good thing about consolidation might be that there's more money to hire somebody with more experience and improve the production product in those areas. The real fear is once you get into a situation where there's just one person running a shop for five stations. No matter how talented they are, the work's not getting better. They've got too much to do for it to get better. I've seen a little bit of that in some really small markets where it's obvious that they're just trying to cut out bodies. The salary looks really good on paper to somebody, but the company's still saving a ton. The problem there is that stations, in terms of their imaging, will start to lose their individuality, and you haven't improved the production product even though you have a more talented person in the post.
♦