EQUIPMENT NEWS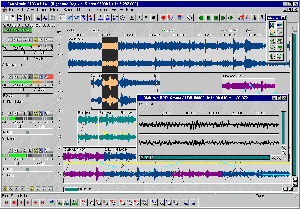 SEK'D has lots of news. They're now shipping Samplitude 24/96 ($1,499), a top of the line version of their popular multitrack DAW software. You get 24-bit, 96kHz recording, up to 999 tracks, and a real-time mixer. Designed for the Windows 95/NT platform, Samplitude 24/96 also includes the ability to record CDs directly from the program. Samplitude Studio Version 4.5 is available now and also includes CD burning features. Samplitude V8 is a special version of Samplitude Studio that takes advantage of the Digital Audio Lab V8™ audio card's ability to use its DSP chips for real-time audio processing and routing. SEK'D's new C-Console software gives Samplitude Pro and Studio native support for the new Yamaha DSP Factory™ audio system. The C-Console software will also function as a stand alone or as a mixer front end for other Windows based software. C-Console is set to ship as soon as Yamaha's DSP Factory begins shipping. The Prodif 32 audio board enables the digital transfer of audio data to and from the computer at 16-bit or 24-bit resolution on industry standard S/PDIF coaxial or TOS link optical connectors. The Prodif 96 audio board allows for high-resolution 24-bit 96 kHz audio transfer from the mastering deck to the computer. An additional 20-bit stereo output is supplied for analog mastering or headphone monitoring. Digital outputs include optical/RCA/XLR connections, which can also work simultaneously. (707) 578-2023, fax (707) 578-2025, www.sekd.com.
Sonic Foundry announced that Creative Labs will bundle Sonic Foundry's Sound Forge XP with Sound Blaster sound cards shipped worldwide. Sound Forge XP is a scaled down version of Sound Forge and retails for $49. Sonic Foundry has also released six Loop Libraries for ACID. Choose from Street Beats, Signals I and II Analog Synth Dance Loops, Funky Xtreams I and II, and Syntonic Generator each priced at $59.95. (608) 256-3133, fax (608) 256-7300, www.sonicfoundry.com.
Enco Systems has announced that components of its DADpro32 Digital Audio Delivery System are now available as individual modules. The new EZ Modules permit a facility to purchase only the features required for tasks at each Workstation. EZ Modules are available for various Live Assist and/or Automated Players, Cart Walls, Recorders, Stereo or Multitrack Editing, Auditing of Music Scheduling, or Traffic and Billing logs, as well as the new NewsDAD32 Wire Capture and Editing System. NewsDAD32 is an integration of features between Enco and WireReady's NewReady32 and includes all the features of NewsReady32 but is optimized for seamless integration of sound bites and other audio cuts as recorded and edited within DADpro32. (800) 362-6797, fax (248) 476-5712.
Dolby Laboratories will introduce at the AES Convention in San Francisco this month, the DP569 Digital Encoder. The 5.1-channel digital reference encoder ($5,000) is targeted at DVD producers and DTV broadcasters for DVD and laser disc authoring, digital TV, cable, and satellite applications. (415) 558-0200, (415) 863-1373, www.dolby.com.
Audix adds two new mikes to their line. The CX-101 and CX-111 are large-diaphragm studio condenser mikes designed for vocals, acoustic instruments, woodwinds and reeds. The CX-101 lists for $499. The CX-111 ($599) utilizes the same capsule as the CX-101 but is equipped with a –10dB pad and a bass roll-off switch.
Get rid of that old portable cassette deck and record your audio out in the field on the new Marantz PDM690 Digital Recorder ($999). The unit uses standard PCMCIA cards with your choice of two recording formats, PCM or MPEG, and the .WAV files can be transferred to your computer. I/O includes both analog and digital. (630) 820-4800, www.marantz.com.
Sony's new DPS-V55 Digital Multi-Effects Processor is a cost-effective ($555) unit based on the DPS-V77. The V55 uses the same DSP rate, the same processing chip and 2-bit converters. There are 45 effect types that can run on the processor's four channels, giving users the opportunity to mix in 2-channel stereo or 4-channel surround sound. (800) 635-SONY, www.sony.com.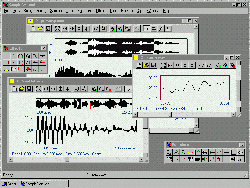 dissidents recently released Sample Wrench version 4.1 ($259) for Windows 95/NT. Sample Wrench is a CD quality visual sound sample editing package for mono and stereo sounds. It works with both Windows sound cards and a variety of MIDI and SMDI keyboard samplers from E-Mu, Kurzweil, Ensoniq, Peavey, Akai, Korg, Roland and others. With the new version, the menu system has been reworked to allow faster and more efficient access to Sample Wrench's many effects and functions. The update provides a number of useful new processes such as Grunge and an extensive Statistics capability. New file save options are available to increase Sample Wrench's already wide file compatibility, including WAV, AIFF, AU, RealAudio, VOC, 8SVX and others. (315) 797-0343, www. dissidents.com.
Lexicon recently introduced the PCM81 and PCM91 digital effects processors. These units replace the PCM 80 and PCM 90. Both units have AES I/O. The PCM 81 incorporates the algorithms and presets formerly provided on Lexicon's Pitch FX and Vocal FIX cards. The PCM 91 incorporates the algorithms and presets formerly provided on the Dual Rvb card.
MUSIC/SFX LIBRARIES
OGM Production Music adds two new CDs to their library bringing the collection to 102 CDs. Premium 33 features contemporary Latin dance music and strong rock production elements. Archives 9 is a collection of "soothing" acoustic themes featuring rich strings. (800) 421-4163, fax (213) 461-1543, www.ogmmusic.com.
Tuttle Soundlabs of Poughkeepsie, NY announces the release of Re-Constructed Sound: X-periment 1. RSX1 is an imaging elements package aimed at the Alternative/CHR/Urban formats. It is 99 tracks on CD featuring 70+ "Sonic Embellishments" and 25+ "Foundational Units/Foundational Fragments." It's a buyout for $150. E-mail This email address is being protected from spambots. You need JavaScript enabled to view it. for e-demo, or call (914) 486 4665.
Power House Music Library announces the release of two more CDs bringing the collection to twenty. Piano Romance PH-CD 019 features 19 themes/38 cuts of original compositions for solo piano. Comedy PH-CD 020 has 23 themes/65 cuts of lighthearted and whimsical compositions. Available on annual license or lease, all CDs or single CDs. (407) 843-5454, www.power housemusic.com.
River City Sound Productions announces the release of a new CD in their Specialty Series. Volume 12 Useful Stuff 1 features 57 tracks of themes, moods, and elements in 60 and 30 second versions. The single CD offers a mix of Disco, Cajun, Patriotic, Tropical, Lullaby, Funeral, Western, Game Show, and several other categories of music. (901) 274-7277, fax (901) 274-8494, or check out a demo on River City's new Web page at www.rivercitysound.com.
THE MIX
With Halloween around the corner, Little Evil Things might be worth looking into. The CD or cassette is a set of audio horror stories performed by professional actors complete with musical accompaniment. (877) LIL-EVIL, www.littleevilthings.com.
The National Association of Broadcasters has a new online resource for members. NAB WebSource is an interactive site designed to keep stations up-to-date on developments on the Internet that will affect the broadcasting industry. Features will include interviews and articles each month for station managers, webmasters, and sales staff. A one-month free trial of the services is available to non-NAB members by contacting NAB at (202) 429-5300. NAB members will find NAB WebSource in the Members Only section at www.nab.org. The NAB also announces the Broadcast Career Fair which will be held at the NAB Radio Show in Seattle October 14. The fair will feature opportunities for careers in the broadcasting industry. Recruiters will be on hand to promote job openings and discuss career opportunities. Call (202) 429-5498 or visit www.nab.org/ech for more info.
Richard Stroobant, producer at CJAY/CKMX in Calgary, Alberta, Canada recently started a "Producer's Network" consisting of several of Canada's top producers. The group shares ideas, audio, contact info and more via e-mail. Interested parties should email Richard at This email address is being protected from spambots. You need JavaScript enabled to view it. or call (403) 240-5837.
Former WQCY/Quincy, IL (market 296) Morning Host/MD Paul Helms makes a quantum leap to Production Director at Trumper Communications, Inc. in Salt Lake City (Market 34!). He's teaming up with Creative Services Director Doug Burton, handling production and imaging for KISN and its 3 sister stations.
Finger Lakes Productions International announces that Radio Voyager Network, FLPI's new global live satellite English-language radio network, will officially launch on September 15, broadcasting from studios overlooking Washington, DC. Radio Voyager, which will be the industry's first radio network to broadcast live simultaneously in Europe and the US, will offer a contemporary music mix with international news and a series of hourly features. Programming is also available on the Internet via RealAudio at www.radiovoyager.com. (607) 27-9400, fax (607) 277-0961.
♦