EQUIPMENT NEWS
Sonic Foundry introduces Sound Forge Version 4.5 ($499). Features include support for both Microsoft NetShow Services and Real Networks RealAudio/Video 5.0, a built-in batch converter for automated processing of multiple files, a spectrum analyzer function, and an advanced loop editing tool set with support for Sonic Foundry's ACID loop-based music creation product. Upgrades and demo downloads are available on the Internet. Current owners can upgrade from Sound Forge 4.0 for $99, or from Sound Forge XP 4.5 for $249 directly from Sonic Foundry. Demo versions of Sound Forge 4.5 can be obtained by visiting the Sonic Foundry website at www.sonic foundry.com. Sonic Foundry has also released three more ACID Loop Libraries, bringing the selection to nine CDs. The new releases ($59.95) are Cyclotronic Resonator by Sound Werx containing everything from House, Dance, Techno and Pop to Noise and more; Ethnicity featuring rhythms from Indonesia, Australia, India, Arabia, Turkey and the Philippines; and RADS by Pocket Fuel, a collection of kick, snare, hi-hat and ride cymbal patterns along with drum fills and cymbal samples. (608) 256-3133, fax (608) 256-7300.
Alesis introduces their first PCI-format computer interface card. The ADAT-PCR™ ($499) is the nonlinear recording and editing solution for ADAT users. With the PCR, ADAT users can send eight tracks of audio into a computer with up to 24-bit resolution, use the included software-based editing interface for intricate audio manipulation, then transfer the edited tracks back into their ADAT system with single sample-accurate precision. You can also use the PCR to add another eight tracks to a recording system that will record and play back in perfect sync with ADAT digital tape recorders. (310) 255-3400, fax (310) 255-3401, www.alesis.com.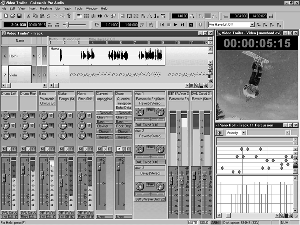 Cakewalk is now shipping Cakewalk Pro Audio 8 ($299), the latest version of the company's software for recording, editing, and mixing MIDI and high-resolution digital audio. Key features new to Cakewalk Pro Audio 8 are 24-bit/96kHz audio, MIDI plug-ins, integrated video support, an enhanced 32-bit mix engine, and vector-based audio mixing. A Deluxe edition ($399) includes Cakewalk's new Musician's Toolbox III, a two-CD collection of video clips; multimedia tutorials; and audio and MIDI loops and grooves. Also new is Cakewalk Audio FX 2, a real-time 32-bit DirectX plug-in that uses advanced processing algorithms to apply the classic sound and warmth of several different vintage guitar amplifiers and analog tape decks to digital audio. (888) CAKEWALK, fax (617) 441-7887, www.cakewalk.com.

The new Marantz PMD520 ($999) is a 3-head dual cassette deck specially designed for high-quality duplication and long period logging with confidence monitoring. Features include optional XLR inputs/outputs, large transport buttons, automatic calibration in each tape well, high speed duplication internal and external using multiple 520's, loop through output for duplication, Overlap Serial Recording (OSR)--B starts just before A finishes, parallel port and RC5 for remote control, and more. (708) 820‑4800, www.marantz .com.
Emu Systems recently joined forces with Ensoniq Corporations MI Division. The combined organizations are doing business as Emu-Ensoniq. Results of the sharing of technologies and concepts are expected to appear in the marketplace early next year. Emu has begun shipping EMU8710 PS ($395), Emu's second generation PCMCIA card for Windows 95 laptop computers. EMU8710 PS differs from the first generation card by adding a microphone input, increasing SoundFont RAM from .5MB to 2MB, and increasing wavetable ROM from 2MB to 4MB. You get the card, a MABOX (MIDI/Audio Breakout Box) cable, and a set of third-party application software. Also available is the SMPTE Sync Option card and Version 2.5 software for the Darwin hard disk recording system. The new software provides full support for the new SMPTE card in addition to several new features including Autopunch, 4GB SCSI drive support, and increased back-up facilities. (831) 438-1921, fax (831) 438-7854, www.emu-ensoniq.com.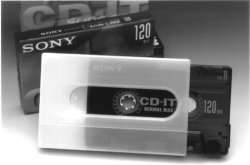 Cassettes don't seem to be going anywhere soon, and Sony has improved the standard 2-piece hinged cassette case with the new CD-IT Slide Case. The polymer design securely holds the tape, yet lets it easily slide out from the case with a simple motion of the thumb. Targeted at teens, the eye-catching package is available in vibrant colors and will add about 25 cents to the cost of a blank cassette.
Syntrillium Software announces the release of the Cool Edit Pro 1.1 Upgrade Version. This new release is designed to upgrade users from OEM versions of Cool Edit Pro (SE and LE) bundled with sound cards and other hardware and software packages. Before this release, users who wanted to upgrade from SE or LE could do so only through Syntrillium Software. Now they can get the upgrade direct from the dealer. Version 1.1 requires a licensed copy of one of Syntrillium's OEM clients' products but is otherwise identical to the standard version of Cool Edit Pro. (602) 941‑4327, fax (602) 941‑8170, www.syntrillium.com.

Rocktron helps you interface external audio with your PC with the PC Preamp. The PC Preamp is designed to be a permanent fixture of a computer system and fits under the monitor. The unit features 1/4" and XLR inputs, Clean and Distortion modes, and an EQ shape feature. The Clean mode features a clean tone with light compression. The Distortion mode features over 70dB of gain and sustain with a gain control. The stereo RCA AUX inputs and level control offer the ability to plug in other external devices such as keyboards, external mixers, etc. (248) 853-3055, fax (248) 853-5937, www.rocktron.com.

New from dbx is the 586 Dual Channel Vacuum Tube Mic Preamp ($995). Features include hand selected and matched Premium 12AU7 vacuum tubes in path; mic or line/instrument inputs on each channel with +4/-10dB operation; a Drive control for a wide variety of tube effects, 3-Band EQ with sweepable frequency, wide/narrow Q, and hardwire bypass; separate 1/4" insert sends and returns on each channel; and analog VU meters to monitor tube drive, insert, or output levels. (801) 568-7660, fax (801) 568-7662, www.dbxpro.com.
Innovative Quality Software continues to improve upon their popular SAW line with SAWPro. New features include 24-bit/96 kHz capabilities, multiple dithering options for mastering to CD, new high-res rendered graphics, up to 99 levels of multiple undos, MultiTrack Soft-Clipping, new pop-up context shortcut menus, and lots more. Version 1.2 is now available with added features and fixes. The price tag is $950. Registered users of SAWplus32 can upgrade for $350. (702) 435-9077, fax (702) 435-9106, www.iqsoft.com.
MUSIC/SFX LIBRARIES
Promusic is distributing a new CD of over 200 production elements, music beds, and sound design treatments called Elements which is available on a buyout basis. Details and sound samples are available from the Promusic website at www.promusic-inc.com or call (800) 322-7879.
F7 Sound and Vision has a CD-ROM of "experimental" sound effects—"thunder hits, machine ambiences, cyber sounds, sci-fi beeps, low rumbles, electric static, lo-fi noise," etc.. Concept:fx features 195 sounds in both AIFF and WAV formats at 44.1, 22.05, and 11.025 kHz resolutions. Concept:fx works on both Mac and PC platforms. $49.95 buyout. Check the demo at www.f7sound.com or call (813) 991-4117.
AirCraft Music Library introduces Co-Pilot, a new feature of the AirCraft Music Library (starting with CD 65) that allows you to customize music cuts. Each music selection includes a version with split tracks enabling the user to use Co-Pilot to edit and re-mix tracks in a variety of ways. (617) 482-7447, fax (617) 542-7222, www.aircraftmusiclibrary.com.
THE MIX
The NAB Radio Show visits Seattle October 14-17. Production related seminars include Branding Your Station With Creative Production and Ten Key Ingredients To Creating Effective Commercials, both on October 14, the latter presented by Dan O'Day. Visit www.nab.org/conventions for details or call the NAB's fax-on-demand service at (732) 544-2888.
Congrats to Jeffrey Hedquist (of RAP's Radio Hed) and crew on their success at the recent 1998 Silver Microphone Awards. A commercial Hedquist Productions wrote and produced for Wright State University of Dayton, OH was named the National Winner in the Institutional/Professional category. Hedquist Productions also managed to take home National Finalist awards for eleven other spots and campaigns. Check out this month's RAP Cassette for the winning spot for Wright State University!
Hats off to Rob Walker of Airwave Recording Company who will be awarded the A.I.R. Awards Lifetime Achievement Award at the black tie gala slated for November 7. The event benefits the March of Dimes and is sponsored by Ford Motor Company.
♦