EQUIPMENT NEWS
Sonic Foundry introduces the new 4.5 Version of Sound Forge XP ($59.95), their mass market version of Sound Forge. The new version adds support for Microsoft NetShow Services and RealNetworks RealSystem as well as a suite of new loop editing tools and features for creating loops for ACID, the company's loop-based music creation software. (608) 256-3133, fax (608) 256-7300, www.sonicfoundry.com.
Sonic Solutions announces the introduction of the world¹s first complete DVD-Audio authoring system, Sonic DVD Producer AV. DVD-Audio is the next-generation consumer audio format that offers 24-bit, uncompressed digital audio at high-resolution sampling rates of 96kHz and 192kHz. It also includes a host of features, such as real-time text, slide shows, interactive menus, and integrated digital video. (415) 893-8000, fax (415) 893-8008.
TC Electronic unveiled the M3000 Studio Effects Processor, the next generation in a series of high performance processors from the Denmark based manufacturer. The M3000 is a dual engine true stereo processor featuring 24 bit A/D and D/A converters, with a full compliment of signal processing algorithms including reverb, delay, chorus, flange, tremolo, dynamic EQ, pitch, phasing, soft compression, gate, advanced expander, limiting, and more. Presets can be stored in RAM or via a PCMCIA card slot. The back panel features gold plated connectors and includes AES/EBU, SPDIF, TOS Optical, ADAT, MIDI and analog I/Os as well as a pedal input. Retail price of the M3000 is $2499. Also new is the Finalizer Express Studio Mastering Processor, a cost effective ($1,599) and easy to use version of the Finalizer Plus. The Finalizer Express features 24 bit A/D and D/A converters, with a complete set of multi-band dynamics processing tools via a WYSIWYG hardware user interface. AES/EBU, SPDIF, TOS link Optical, MIDI and analog I/Os are all provided. And there's more from TC. The new TC|MegaReverb ($799) is a high-end reverb TDM plug-in for Pro Tools/24 Mix systems with algorithms based on the M5000. (805) 373‑1828, www. tcelectronic.com.
Klotz Digital has announced the US introduction of the VADIS DC radio production console. This digital production console offers modular construction and is available in six mainframe sizes. It has four stereo buses, PGM, AUD, UTL and TEL, various mix-minus options, and Mono Sum output capabilities. The amount of DSP power is user-selectable. Five band parametric equalizers, 1/3 octave graphic EQ, limiters, gates, compressors and delay modules are all available on the Vadis DC. The console has mic, analog line and various formats of digital line inputs. Outputs can range from analog to various digital types, such as AES/EBU, ADAT, SPDIF, Y2 and others. Any source connected to the VADIS DC console can appear on any fader of the console. At the push of a button, source configurations can be recalled. The DC has over 20 different module types in addition to clock and timer, cue speaker, monitor modules, full machine control and LCD button panels. (770) 729-6811, fax (770) 449-9236.
With the introduction of Pro Tools version 4.2.1 software for Windows NT, Digidesign now announces support for the Windows NT platform with existing Pro Tools|24 hardware as well as the new Pro Tools|24 MIX and Pro Tools|24 MIXplus. Additionally, Pro Tools sessions and audio can be interchanged between Mac OS and Windows NT systems. Nearly all of Digidesign's TDM and AudioSuite Plug-Ins as well as the Focusrite d2 and d3 are Windows NT compatible, with others following shortly. The new Pro Tools|24 MIX is a single-card digital audio workstation core system that provides 64 tracks and extensive mixing and processing capabilities. Featuring six Motorola 56301-series DSP chips, Pro Tools|24 MIX offers two to three times more on-demand mixing and processing power from a basic system than Pro Tools|24. Also available is the Pro Tools|24 MIXplus system, which provides an additional PCI card with six chips dedicated to effects processing. Costing only 25% more than a Pro Tools|24 MIX core, Pro Tools|24 MIXplus offers more than double the DSP processing power and supports up to 32 channels of I/O. (650) 842-7900, fax (650) 842-7999, www.digidesign.com.
Emu-Ensoniq announces the Mantis Modular Digital Mixing System, the forthcoming 112 input digital mixer with configurable I/O, Mac and PC mixing UI software with dynamic automation and surround sound support, internal 32-bit processing with 24 bit A/D and D/A converters, and a dedicated control surface as well as support for the Mackie HUI. Prices range from $2500 to $10,000 depending on configuration. System components include the Mantis Mainframe (3 rack space mixing engine with 7 digital I/O expansion slots), Mantis Annex (analog expander), Mantis Console, and Mantis Mix dual platform automation/remote control software. Shipping is expected in the 2nd quarter of '99. Now shipping is the new Darwin Version 2.5 software and the long awaited SMPTE Card for the Darwin. As well as supporting the SMPTE card, the new software adds new features including Autopunch and support for 4GB SCSI drives allowing for up to 100 minutes of 8-track recording. You can also now export from one to eight tracks as a .WAV file. (831) 438-1921, fax (831) 439-0389, www.emu-ensoniq.com.

PreSonus has a loaded voice processor. The VXP Dynamic Voice Processor ($499) features a microphone preamplifier, compressor, expander, de-esser, and 4-band semi-parametric equalizer. The "Smart Compressor" offers eight preset compression curves, tailored specifically for voice processing. (504) 344-7887, fax (504) 344-8881, www.presonus.com.
Summit Audio introduces the MPE-200 Microphone Preamplifier and 4-Band Equalizer. The MPE-200 is Summit's initial offering in the Element 78 product line and offers a discrete Class A high level design and analog path designed by Mr. Rupert Neve. The 2-channel unit provides a high performance preamp with high and low pass filter sections and a 4-band equalizer plus storage of up to 25 settings. (516) 784-7865, fax (516) 784-7866.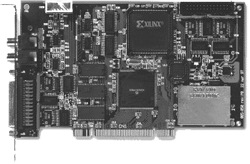 Soundscape Digital Technology has a new PCI audio card. Mixtreme ($700) has the ability to run 16 tracks of digital audio simultaneously, in and out of the computer, using 2 standard TDIF ports. To seamlessly achieve this the card is supplied with the V2 MIXER software from the company's SSHDR-1 Plus DAW. The TDIF ports allow easy integration with the SSHDR-1 Plus and other professional digital audio products, such as the Tascam DA88, Yamaha 02R and 03D consoles, and others. Mixtreme is intended for use with other widely used PC software, such as Sound Forge, Cakewalk, Emagic Logic Audio, Cubase Audio & VST, SAW, amplitude, and Cool Edit. As well as the twin TDIF ports, it has MIDI in/out/thru and optional S/PDIF in/out/wordclock. To support Mixtreme, Soundscape has added 2 new I/O units, the TDIF-ADAT unit (currently known as SS8IO-2) and a TDIF to 8 channel unbalanced unit (SS8IO-3) with 20 bit AD/DA converters and RCA (cinch) connections. Price for each unit is $600. (805) 658-7375, fax (805) 658-6395, www.soundscape-digital.com.
Spirit by Soundcraft unveils the Digital 328 digital mixing console. The Digital 328 comes in a 32/8/2 frame size that includes 16 mic/line input channels with Spirit's trademarked Ultramic+ preamps, high pass filters and inserts, and 16 tape return channels, all routable to groups and mix. 5 pairs of stereo inputs have also been included, bringing the console's input count up to 42. Every input has access to identical facilities, which include 3 band fully parametric EQs, 4 external effects sends, and access to two internal Lexicon effects units with editable and storable parameters. Two floating stereo dynamics units (including compressors, limiters, gates and duckers) are assignable to any input or output. An additional ADAT optical interface is included as a digital effects send, while both AES and S/PDIF digital I/Os are freely assignable, allowing them to serve as digital effects sends and returns, or as digital mix inserts. As far as automation is concerned, every console function is instantly recallable with 100 scenes storable manually, against timecode or against MIDI clock. Dynamic automation is also possible through sequencer software as each console function has been assigned its own MIDI message. Motorized faders on every channel input, tape return, group, master and mix outs, allow levels to be viewed easily without having to rely on automation software. (916) 630-3960, fax (916) 630-3950, www.spirit-by-soundcraft.co.uk.
MUSIC/SFX LIBRARIES
Network Music announces the release of AfterShock - Son of Shockwave, their newest elements package and followup to the popular Shockwave package. The new 4 CD set contains 389 cuts consisting of "Glides, Sweeps, Drones, Winds, Jets, Flybys, Lasers, Zaps, Bursts, Sprays, Snarls, Guitars, Explosions, Ambient Sounds, Stagers," and more and heralds "1000 years in the making!" Check out the flyer in this month's issue of RAP for more info and a demo, call (619) 451-6400, or visit www.networkmusic.com.
FirstCom Music has released four of its existing music libraries to the radio industry and is offering these libraries under the licensing package known as the Personal Production Library (PPL). The libraries, previously only offered to the audio visual industry, include the FirstCom Library, Hollywood Film Music Library, Chappell Recorded Music Library, and Music House Library. This brings FirstCom's total library to 920 CDs available for radio. As with other FirstCom libraries, clients will be able to "pick and choose" to build their own custom libraries. (800) 858-8880, fax (972) 242-6526.
Echo (arts) has just released CD-X, a CD of 15 original Christmas music beds in 60 and 30 second lengths with mixouts for a total of 60 tracks. $45 buyout. (519) 273-3224, demo on line at www.echoarts.com.
THE MIX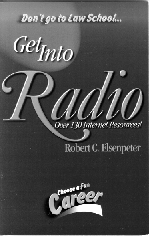 Get Into Radio by Robert Elsenpeter is a new book from Fender Publishing ($14.95) with some helpful info about getting into the business. The book looks as several areas of the business including on-air, show produc-ing, sales, promotions, engineering, and production, and offers tips in the areas of voice-over, demos, resumes and more. (206) 720-1911, www.fenderpub.com.
Need a break? Tell the boss you're off to the NAB European Radio Conference in Madrid, Spain. It all happens at the Palace Hotel in Madrid November 15-17. Lots of stuff for management, sales, and programming; nada for production types this time.
Chris O'Brien exits SoundByte Digital Audio Productions to become the new Creative Services Director at WYSP/Philadelphia!