Page 1 of 3
Ray Avila, KFI -- AM 640, Los Angeles, California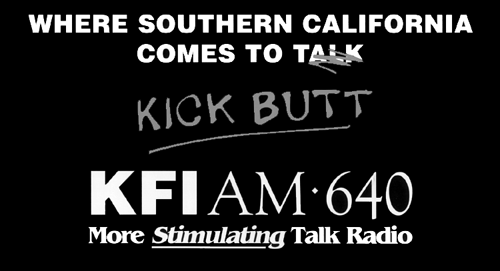 Ray Avila has only five years in the business, yet he has managed to become an imaging producer for a top rated station in the #2 market. Perhaps a three-year internship with KROQ's John Frost makes for a good start. Ray now handles most of the imaging production for KFI-AM, a 50,000 watt news/talk station in Los Angeles that presently holds the status of being LA's number one English speaking station, beat out in the 12+ ratings only by two Latin stations. He also handles various production duties at sister stations KOST and KACE as well. Join us for a glimpse into the imaging wars in Los Angeles from the studios of someone lucky enough to spend three years learning from John Frost, and talented enough to turn those lessons into top-notch creative production. And be sure to check out Ray's demo on this month's RAP Cassette for an awesome sample of imaging from one of America's hottest news/talk stations.
JV: Tell us how you got into radio.
Ray: I've lived in Southern California all my life and grew up with Los Angeles radio like KIIS-FM, KLOS, KROQ. I actually got my first bug in radio at Long Beach City College where I took some radio classes. From there I became the music director at the student-run radio station, KLBC, and transferred to Cal State Long Beach where I graduated with a BA in Radio and Television/Film.
While I was at Cal State Long Beach, I was doing a lot of radio internships. I did one for a year at KNX-FM before it was Arrow. Then I did an internship with KROQ. I started off just answering phones, then worked my way into helping with certain shows, then ended up in production as a production intern, and that's where I really got the bug to get into production.
JV: Was John Frost there at the time?
Ray: Yeah, John Frost and Raymond Bannister.
JV: These must have been your mentors.
Ray: Yeah, very much so. Raymond pretty much showed me the basics of production and the commercial end of things. John was definitely the creative end of things at KROQ. He showed me a lot about how creativity played a big part of the radio station and the imaging of KROQ. I did almost a three-year intern stint over there. I really got a good look at what creative production is, and that was the place to be for that.
JV: That's great, being able to get your degree while hanging around in a market like LA at a station like KROQ.
Ray: Yeah. I've always told myself that if I were going to make it into radio, I'd have to be here in LA. This would be the market to get into.
JV: So where was your first gig?
Ray: My first gig was at KGIL in the San Fernando Valley where I worked as a board operator for two years. I also did some production for them, not a whole lot, but I helped out on the commercial end of things. At the time, KGIL was up for sale, and I eventually switched over to the sister station, KMGX, and did some board work and production and programmed the automation for the station. That ended quickly, and I found myself out of radio for about six months.
Then I ended up here at KFI. I started as a board operator and worked my way into production. At the time, there was nothing available at KFI and KOST. The people in production have been here for years. They all have eight to ten years in the production department, and there was no movement when I got here. So, I talked to the Production Director at the time, Ken Davis, and told him I'd really be interested in doing some production for them. Eventually I bugged him enough that he gave me a shot at filling in for the production assistant for a month. That guy ended up getting into TV, and that opened up an opportunity for me. I got in, and I've been here five years now.
JV: When did KACE come into the picture?
Ray: KACE came into play about two years ago, maybe three. That's when we acquired another production person.
JV: So how is the production department structured for these three stations?
Ray: Well, we don't have a Production Director at all now. It's actually run by Ernie Kristof. He's the Operations Manager, and he pretty much oversees the production department. There are four of us in the department, and all four of us are doing all the commercials and promos and IDs for all three stations. It's a weird structure, but it works. If someone's out, the other person can come in and fill in for him. It's an unusual situation where all of us can do everybody's job. We have three production studios and they're always busy.
Ernie Kristof has done a great job for us in production. Whatever we need, we can get from Ernie. He's never held us back on wanting to improve our production department. Without Ernie, it would be a very difficult climb for us. He has definitely helped us a lot by getting us the tools and the equipment we need. With the load we're doing, it makes production a little bit easier.
JV: Who are the other people in production?
Ray: We have Don Elliott, and he does a lot of the voices for the station, commercial voices, tags, and promos, too. Gil Perez helps Don with a lot of the retail stuff. He also works on some promos. Mark Drummond works pretty much just for KACE. He does everything for KACE—promos, commercials—you name it, he does it. I mostly produce the promos for KFI, and I produce commercial work for all three stations, or at least for KFI and KOST.
JV: Do you use outside voices as well?
Ray: No, everything we use is in house. Our station is a union station, and we have to make sure that we use people in house. If we do use somebody outside, that's a very rare occasion. KFI is a vast pool of talented people. I will use people from the morning show to do some of the jingles that I produce. We have so many people up here that do different voices. I can go down to one of the producers and say, "Hey, I need a character voice. Could you attempt this?" More than likely, they can do it. The primary voice for KFI is Mark Dennis. He's the voice of the station, and he also does traffic.