EQUIPMENT NEWS
MAXELL is positioning itself to take advantage of the expected growth of MiniDisc by offering recordable MiniDiscs as part of their media line and plans to launch a national ad campaign in support of the technology. (201) 794-5918.
SONIC FOUNDRY introduces Soft Encode ($695), a Windows 95/NT software-based Dolby digital encoder that provides Dolby Digital AC-3 encoding, the standard for DVD audio encoding and other applications such as HDTV and digital cable and satellite transmissions. Also new from the Foundry is the XFX-2 DirectX Audio Plug-in Pack, the second in a series of plug-ins that run on any program that fully supports the DirectX format. The XFX-2 CD-ROM ($249) features real-time previewing of effects and includes six plug-ins: Noise Gate, Graphic Dynamics, Multi-Band Dynamics, Paragraphic EQ, Parametric EQ, and Graphic EQ. The company also recently announced that SCV London will be the exclusive UK distributor for its products. (608) 256-3133, fax (608) 256-7300, www.sonicfoundry.com.
ROLAND CORPORATION has licensed its Sound Canvas sound set and the GS Format to Apple Computer for inclusion in QuickTime 3.0, the newest version of Apple's multi-platform multimedia architecture. The agreement provides for Roland's Sound Canvas sounds and GS Format extensions to General MIDI to be integrated with a forthcoming QuickTime-based software synthesizer, yielding professional-quality, MIDI-based audio output to interactive software developers. (213) 685-5141, fax (213) 722-0911, www.rolandus.com.
SONIC SOLUTIONS introduces DVDit!, new software designed to bring DVD authoring to the corporate desktop. The application converts multimedia productions and presentations into DVD-Video discs. DVDit! is designed to work with applications such as Microsoft PowerPoint, Apple HyperCard, Adobe Premiere, and web authoring tools. DVDit! produces a DVD disc image file which can be saved on a DVD-R recordable disk for playback on a set-top DVD player or DVD ROM-equipped PC. (415) 893-8000, fax (415) 893-8008, www.sonic.com.
E-MU SYSTEMS in partnership with Creative Technology unveiled the EMU10K1 as "the world's most powerful single chip audio processor." Boasting over two million transistors and more than 1,000 MIPS of processing power, the chip will form the basis of new Creative Sound Card products offered by E-mu Systems. (408) 438-1921, fax (408) 438-8612, www.emu.com.
Growth of the AudioVAULT product line and other new product lines has resulted in the creation of a new division at BROADCAST ELECTRONICS. The Studio Systems Division will be headed up by Ray Miklius. Jeff Bernrose, Manager of Systems Engineering directs the system engineering and turnkey installations under the new division. (217) 224-9600, fax (217) 224-9607, www.bdcast. com.
TECHNICS has a new CD player for the discriminating ear. The SL-PS770D is a single CD player incorporating a Virtual Battery Power Supply for virtual immunity to noise from power supply and digital circuits. Together with S-Advanced MASH Class A DAC converters, the result is improved dynamic range, bass, and stereo. The unit is expected to be available in July at a suggested retail of $349. See dealer for details.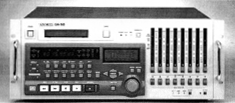 TASCAM's new DA-98 ($5,999) builds upon the success of the DA-88 8-track recorder and adds new features including confidence monitoring, individual input monitor select switches, switchable reference levels, an integrated electronic patch bay, digital track copy capability, a comprehensive LCD display, dedicated function / numeric keys for system operation, a built-in synchronizer, a D-sub connector for parallel interface control, and more. The DA-98 is fully compatible with both the DA-88 and DA-38. Also new from Tascam is the DA-20MKII DAT Recorder. Priced at just $1,099, the DA-20MKII builds on the original DA-20 and adds a sampling monitor function, Auto ID detection level switching, an error rate display function, and self-diagnostic capability. It's equipped with multiple sampling rates, long play/record mode, S/PDIF digital I/O and a wireless remote controller. (213) 726-0303, fax (213) 727-7635, www.tascam.com.
SEK'D AMERICA announces software updates now available. New maintenance releases of Samplitude Studio 4.05,Samplitude Master 3.23, and CDAudio 2.2 are now available for download from their Web site at www.sekd.com. Samplitude Studio 4 is now shipping with CDAudio, SEK'D's software for burning Redbook CDs. (707) 578-2023, fax (707) 578-2025, www.sekd.com.

STUDIO AUDIO & VIDEO has just released Version 3.03 software for the SADiE DAW. New features for V3.03 include a new 9-pin window, which enhances control of the remote deck, and phase reverse and left/right channel swap functions. The software upgrade is available on the SADiE Web site free of charge. (615) 327-1140, fax (615) 327-1699, www.sadie.com.
LEXICON recently introduced the Lexicon Studio System, a collection of hardware components for digital audio on the PC or Mac platform. At the heart of the system is the Core-32 PCI Studio Engine. It is capable of supporting up to 32 simultaneous channels of audio via the PCI bus with 24-bit resolution. The Core-32 also allows the end-user to synchronize and control popular external devices. The LDI-12T Interface provides a high-quality 20 bit A/D/D/A interface for the system with one stereo analog pair of +4 balanced input and output XLR jacks mounted on the front panel. A pair of -10 RCA input jacks are also provided. All inputs are selectable via software. The LDI-12T has TOSLINK optical input and output connections for any ADAT compatible device to provide eight channels of digital I/O. A pair of coaxial RCA connectors provide 2 channels of digital input in S/PDIF consumer audio format. The LDI-16S Interface is an expandable digital interface that allows the end-user a wide variety of choices to interface with their digital audio workstation. The basic version of the LDI-16S features 8 channels of analog I/O through balanced XLR connections operating at +4db. The LDI-16S can also interface with any TDIF format device such as the Tascam DA-88 and the DA-38 to provide eight channels of digital I/O. A 9-pin connector allows machine control that supports Sony serial protocol. The PC-90 Engine uses the core processing engine of Lexicon's PCM-90 Digital Reverberater to add reverb and dual processing power. In addition, 100 new presets have been created specifically for the PC-90. (781) 280- 0300, fax (781) 280-0490, www.lexicon .com.
KORG has two new effects processors: the DL8000R Digital Multi-Tap Delay and the AM8000R Ambience Multi-Effect Processor. These 1U rack-mount digital processors feature full-bandwidth frequency response (20Hz-20kHz), a broad dynamic range (>96dB) and a 48kHz sampling rate with 18 bit linear, 128X oversampling A/D and D/A conversion. The DL8000R Multi-Tap Delay provides stereo delay times of up to 5,200ms, 10,000ms delay in mono. Other features include eight delay taps, independent left and right 3-band EQs, and 128 user program memory locations. The AM8000R Ambience Multi-Effect Processor provides a range of 40 stereo effects. These include an array of delays, reverbs and modulation effects, plus effects such as compressor, limiter and resonance filter. (516) 333-9100, fax (516) 333-9108, www.korg.com.
MUSIC/SFX LIBRARIES
AV DELI announces the upcoming release of two new libraries: Pop Tools is a 6 CD set of over 1700 tracks of "3D sonic accentuations, attacks, breakers, sweepers, stingers, voice manipulations, microscores, workparts" and more, and includes two CDs of "big beats." La Casablanca is a 2 CD set consisting of 60, 30, and 10 second versions of "free style and pop for promos and background jams" plus 101 Latin beats. (414) 632-8610, fax (414) 632-5527.
♦