EQUIPMENT NEWS
Orban has been joined by Prophet Systems in an effort to develop new software that will allow finished productions to go directly from production workstations, such as Orban's Audicy, to on-air delivery systems, such as Prophet System's Wizard For Windowsä. Orban engineers have proposed the new software as an extension to the existing Broadcast .WAV File (BWF) standard. The software would allow workstation users to imbed the continuity information required by on-air delivery systems in broadcast .WAV files. Currently, such information must be added manually before an on-air system sound file can be broadcast. With the proposed software, a two- or three-step process involving multiple systems would be condensed into one step at the point of production. Both companies plan to have the software shipping by the first quarter of 1999. For more information on the software, contact Geoff Steadman at (617) 789-4673. For more information on Orban products, contact Amy Huson at (510) 351-3500; fax: (510) 351-0500; visit www.orban.com.
EMTEC Pro Media Inc., North American sales and marketing group for BASF-brand media, has announced the introduction of BASF Formatted ADAT Master. The BASF Formatted Master eliminates the time-consuming need to format ADAT masters before recording, allowing recording immediately to tape. The life of ADAT recorder heads will also be extended by eliminating the "drum-on" hours required by real-time formatting. EMTEC has also announced plans to collaborate with Alesis to produce an instructional video, "Care & Feeding of Your ADAT," which demonstrates basic cleaning and maintenance procedures for ADAT. BASF is also developing a 20-bit Formatted ADAT Master, which will be available the first quarter of 1999. (888) 295-5551, www.emtec-usa.com.
Berkley Integrated Audio Software, Inc. (BIAS), manufacturer of the popular audio software products Peak, Peak LE, and SFX Machine, announces its acquisition of Deck from Macromedia, Inc. The acquisition is effective immediately. Deck is a dedicated multitrack audio workstation for the Macintosh. The most current version, Deck 2.6 ($399), works in conjunction with third-party audio cards or in "native mode" where it can be used with almost any recent Macintosh with no additional hardware. BIAS is also announcing that active development has commenced on Deck 3.0 (ship date TBA). This forthcoming version will support the ASIO standard, and will also support VST plug-ins. Upgrades to Deck 3.0 will be free for anyone who purchases a new copy of BIAS Deck 2.6 on or after October 31, 1998. (415) 331-2446, www.bias-inc.com.
ICS (Intelligent Computer Solutions) introduces the CD MASSter Infinity ($10,995) high-volume CD duplicator. The system consists of four 4X Matsushita recorders and automatically loads and unloads CD-Rs. A standard 4GB drive is used for disk image storage. The CD MASSter Infinity can write over 12 CDs per hour. (818) 885-7500, fax (818) 885-6769, www.ics-iq.com.
Telex is in the CD duplicator market with the CDP 2001 Desktop CD Duplicator. It can burn to 20 drives simultaneously and is expandable to burn up to 280 CDs at a time. (800) 828-6107, www.telex.com.
Etak, Metro Networks, and Differential Corrections Incorporated announced that real-time traffic information will be available over FM subcarrier via the DCI RBDS FM Radio network in 10 major US metro areas. The service, designed for use with in-vehicle and hand-held products, informs drivers of traffic incidents, traffic speeds, road conditions and construction, special events, weather descriptions, and more. It is scheduled to cover 75 top cities by the year 2000.

New from Digitech is the Quad4, a multi-effects processor that features the power of 4 multi-effects processors into one unit. The Quad4 features 4 completely independent inputs and outputs that deliver the power of four independent mono processors or two true stereo processors. Features include a large display, multiple input/output signal path routings, automatic input leveling, dynamic parameter modifiers, full MIDI implementation, multi-function effect modules, and a wide variety of effects including Reverse Delay, Time Warp, Vocoder, Spring Reverb, and more. (801) 566-8800, fax (801) 566-7005, www.digitech.com.
Tracer Technologies is now shipping the 32 bit version of Diamond Cut's Audio Restoration Tools ($199). The real-time audio application is designed for PC users who want to clean up old cylinder recordings, Edison Diamond Discs, old 78s, modern vinyl LPs and 45s, plus cassettes and reel-to-reel tapes. (717) 843-5833, fax (717) 843-2264, www.tracertek.com.
Pacific Research & Engineering introduces QuikBilt II, a new line of modular radio studio furniture aimed at middle and lower market broadcasters. See more at www.pre.com or call (760) 438-3911.
Eventide introduces UltraShifter software for the entire Eventide Ultra-Harmonizer 4000 series. Using real-time adaptive resynthesis to create a natural sounding vocal pitch shifter, the UltraShifter can modify or maintain pitch and spectral content over a four octave range, enabling users to manipulate the size, voice color, and even the vocalist's gender. (201) 641-1200, (201) 641-1640, www.eventide.com.
The Aark 20/20 from Aardvark Pro Digital Audio has been reduced in price to $799 with new features added. The 20 bit PC recording system includes a PCI card and breakout box with 16 channels of analog I/O (eight in, eight out), stereo digital I/O, and word clock I/O. The package ships with Samplitude Basic from SEK'D. Software compatibility includes Steinberg's Cubase VST, Sonic Foundry's Sound Forge and CD Architect, IQS.'s entire SAW series, Cakewalk Pro Audio, and Syntrillium Software's Cool Edit Pro. (734) 665-8899, fax (734) 665-0694, www. aardvark-pro.com.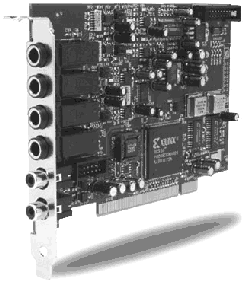 Digital Audio Labs introduced the CardDeluxe, their new PCI audio interface for the PC platform. The CardDeluxe ($595) brings 24/96 balanced analog and S/PDIF digital all to a single card. Features include analog two channel in/out via 1/4" TRS connectors, S/PDIF digital in/out via RCA connectors, 8 to 24 bit resolution, 22 to 96khz sampling rate, +4/-10 balanced/unbalanced full duplex operation, 4 channel operation using both analog and digital I/O, Windows 95, 98, and NT drivers, and DirectX support. Shipping is slated for January 1999. Also new from DAL is the CardDSP ($1195) which combines the single slot simplicity of the CardDPlus with the hardware DSP power of the V8 real-time studio system. Featuring 24 bit 96kHz technology, the CardDSP acts like a self contained mini-V8, unleashing the real-time mixing and effects power of its onboard DSP via RSA enabled programs and plug-ins from Waves, Cakewalk, Minnetonka Audio Software, and more. And, with an available slot for an optional DSP Supercharger module, you can add even more channels of real-time effects processing. Shipping is expected in March 1999. (612) 559-9098, fax (612) 559-0124, www. digitalaudio.com.
Innovative Quality Software announces SAWPro v1.5 Software featuring the addition of Steinberg's VST technology permitting use of all VST plug-ins. A separate free VSTLinker download is available for all SAWPro, SAW32 and SAWPlus32 registered users. There are several other operational enhancements as well as fixes to bugs in earlier versions. . (702) 435-9077, fax (702) 435-9106, www.iqsoft.com.
MUSIC/SFX LIBRARIES
Promusic has added four new Christmas CDs to their collection, Christmas Mix (double CD), Christmas Rapping, Essential Christmas Collection, and Religious Music. (818) 506-1588, fax (818) 506-8580, www.promusic-inc.com.
THE MIX
Congratulations to Johnny George, Imaging Director at Susquehanna Indianapolis (95-5WFMS, Gold 104.5 and 93.9 The Bear). Johnny won Large Market Best Station Promotional Award for 93.9 The Bear at the recent Indiana Broadcaster Association (I.B.A.) Awards. And hats off to Commercial Production Director, Guy Forrest, who won Large Market Best Commercial Award for 93.9 The Bear. The station itself, Young Country, 93.9 The Bear, walked away with Large Market Station of the Year 1998, and Air Personality, C.K. Webb, won the Large Market Most Humorous Award for 95-5 WFMS. Nice work people! (317) 558-7130.
Kudos also to Jeff Kirkwood/CHUM-AM/FM, Toronto for picking up his second Gold Medal and second Grand Award at the recent New York Festivals! (416) 925-6666.
Top Format Productionshas released their latest demo, Ratings Up – Tomorrow's Jingles for Today's Radio" featuring jingle packages for several formats including AC, Hot AC, Full Service, Schlager, CHR, Dance, Oldies, Rock, and Classical. +31 (23) 5-320-640, fax +31 (23) 5-315-473, www.topformat.nl.
The National Broadcast Association for Community Affairs (NBACA) announces the Jerry Lee Foundation Award to recognize the effectiveness of local crime prevention. The award will be given annually in recognition of an outstanding community service program, news series, or public service campaign examining the demonstrated effectiveness of local crime prevention programs. $2,500 cash prize. The Jerry Lee Foundation was formed in 1997 by Jerry Lee, co-founder and co-owner of WBEB-FM, Philadelphia. (215) 564-3200.
♦