Equipment News
An independent users group for the Orban Audicy and DSE workstations has formed on the Web. Moderated by Jay Rose of The Digital Playground, the group provides a forum for Orban DAW users to share ideas and have input on future workstation development. Access to the user group is available at www.broadcast. net/blists.html. Dean Tiernan, Orban's customer service engineer for the Audicy, acts as the technical advisor to the group. (510) 351-5100, fax (510) 351-0500, www.orban.com.
At the AES Europe convention in Amsterdam, Antex Electronics announced permanent price reductions on many of its acclaimed digital audio adapters. The new prices are effective immediately and include a 20% reduction on Antex's popular Series 2/SX product line—the SX-36, SX-34, SX-23e, SX-9, SX-6 and SX-5e soundcards. The SX line is used extensively in the broadcast arena. Antex's new Broadcaster line of radio production products is also targeted for the 20% reduction. The new price structure brings the MSRP of the 12-channel BX-12 Broadcaster from $3,495 to $2,895. The 8-channel playback-only companion card will list for $2,295. Antex's flagship audio for video PC soundcard, the StudioCard AV Pro will drop from $1,595 to $1,395. (310) 532-3092, fax (310) 532-8509, www.antex.com.
New from TC Works is TC Native Reverb, now for Mac OS ($549). TC Native Reverb provides TC-quality Plug-In reverb for users of native recording environments supporting Steinberg's Cubase VST Plug-In format, such as Emagic's Logic Audio or BIAS Peak. A free demo is available at www.tcworks.de. Also new is MasterX, TC's first multiband dynamics processing plug-In for Pro Tools TDM systems. MasterX provides integrated multiband expansion, compression and. Features include accurate level metering with clipping counters and peak hold indicator. A digital ceiling parameter allows the user to precisely limit the maximum volume for mastering CDs, or other types of applications where brick-wall limiting is required. TC Works also announces the arrival of Native Essentials in the US, the latest in a line of digital signal processing plug-ins for Direct X compatible audio applications, such as Cakewalk, Sound Forge, WaveLab, Cool Edit Pro and Cubase VST PC. Native Essentials ($349) is an entry-level three-function software plug-in bundle consisting of Reverb, EQ, and dynamics processing (805) 373-1828, www.tcelectronic.com.
Lexicon has a new affordable effects box. The MPX100 ($249) is a true stereo dual-channel processor with 24-bit internal processing, 20-bit A/D-D/A and S/PDIF digital output. Features include 240 presets with effects such as reverbs, tremolo, rotary, chorus, flange, pitch, detune, delay and echo. A front panel Adjust knob allows instant manipulation of the effect's critical parameters and an Effect/Balance knob lets the user control effect level or the balance of dual effect combinations. (617) 736-0300, fax (617) 891-0340, www.lexicon.com.
Spirit by Soundcraft has a new digital console. The Digital 328 ($4999) comes in a 32/8/2 frame size that includes 16 mic/line input channels with High Pass Filters and inserts and 16 tape return channels, all routable to groups and mix. 5 pairs of stereo inputs have also been included, bringing the console's input count up to 42. Mic/line inputs, tape returns and group and master levels are accessed in banks of 16 via 3 fader bank buttons. Every input has access to identical facilities, which include 3 band fully parametric EQ, 4 external effects sends, and access to two internal Lexicon effects units with editable and storable parameters. Two floating stereo dynamics units (including compressors, limiters, gates and duckers) are assignable to any input or output. Full metering and monitoring is provided with 16, 10-segment bargraph meters showing individual mic/line, tape return or group and master levels. The master meters double as meters for the dynamics processors. (916) 630-3960, fax (916) 630-3950, www.spirit-by-soundcraft.co.uk.
Korg recently unveiled the D8 Digital Recording Studio, an 8-track recording, editing and mixing system in a single compact unit. You get fully digital, uncompressed processing (24-bit internal, 16-bit recording and playback at 44.1 kHz) onto eight tracks (2-tracks simultaneous recording, 8-tracks simultaneous playback) and includes a built-in 1.4GB hard disk in addition to a SCSI interface that will accommodate up to seven external drives (4GB each, maximum). The D8 has a 12-channel, 4-bus digital mixer section. Fader, EQ and Pan settings can be memorized as scenes. Audio Trigger Record enables the D8 to begin recording automatically in response to an input signal. Other features include a scrub function, 100 locate points, 65 preset digital effects programs featuring 50 different types of effects, S/PDIF I/O, AUX I/O, and more for just $1,250. (516) 333-9100, fax (516) 333-9108, www.korg.com.
New from dbx is the DDP Digital Dynamics Processor. At $599 list you get fully digital gating, compression, limiting, de-essing, and sidechain EQ. Features include a large graphical display, 24-bit A/D and D/A conversion, a digital input/output option, 50 factory presets, 50 user programmable presets, high resolution metering, and XLR and 1/4" balanced ins and outs. (801) 568-7660, fax (801) 568-7662, www. dbxpro.com.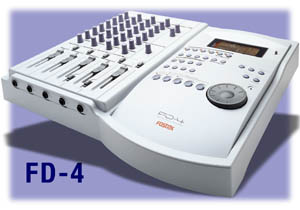 The new FD-4 from Fostex ($595) is a 4-track disk-based recorder with a mixer featuring four input channels, 2 aux sends, 2 stereo returns, 2 XLR balanced mike inputs, insert points and a 3-point EQ with sweepable mids. Equipped with a standard SCSI-II port, the FD-4 allows users to select from a variety of recordable media, such as Zip, ezFlyer, Magneto Optical, and larger capacity SCSI hard drives. Fostex offers an optional internal IDE hard drive. Recording is uncompressed audio, but an Extended Time function sets sampling to 32kHz. Other features include cut/copy/move/paste editing, non-linear memory, undo/redo, vari-pitch, and onboard MMC/MTC/Midi Clock features. A Graphical Preview function offers fine adjustment of edit points and the Jog/Shuttle wheel allows for the shuttling of audio or precise scrubbing of edit points. (562) 921-1112, fax (562) 802-1964, email This email address is being protected from spambots. You need JavaScript enabled to view it., or visit www. fostex.com.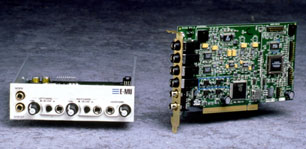 The E-mu Audio Production Studio is a PCI based system ($699) with 64 voices of sampling, multitrack hard disk recording, and real-time DSP effects along with software. The "Plug and Play" ready system includes a PCI card, drive bay input/output module, and a suite of software including a MIDI /Audio sequencer, a sample preset editor, mixer/effects control software and hundreds of sounds on CD-ROM. The E-Card, the heart of the Audio Production Studio provides S/PDIF I/O on RCA connectors as well as balanced, line level analog I/O on 1/4" TRS connectors. DSP effects include an 8-parameter Studio Reverb, Chorus, Flanger, Delay, Distortion (with pre and post EQ), Compressor, Envelope follower, and Parametric and Shelving EQ. The E-Drive is an audio I/O module that mounts in a computer drive bay to provide analog and digital I/O on the front of your computer. The E-Drive features switchable mic/line inputs with studio-quality mic pre-amps and switchable phantom power, balanced 1/4" TRS connectors, and a 1/4" headphone output with separate volume control. The E-card also features a second, separate S/PDIF input/output. The E-Control Mixer is a software application that allows you to manage the input and output routing of the system. Each input "strip" has a stackable insert, 2 effect sends, volume, pan, mute and solo controls. (408) 438-1921, fax (408) 438-8612, www.emu.com.
Music/SFX Libraries
The cooperation between Spotlight from Belgium and AK Media from The Netherlands resulted in Lazer Classics. The buy-out CD is a collection of lazer effects designed for radio IDs and promos. For more information or a demo contact AK Media Productions, PO Box 830, 3800 AV Amersfoort, The Netherlands. Phone +31 (0)33-4554277, fax +31 (0)33-4560554, email This email address is being protected from spambots. You need JavaScript enabled to view it., or visit www.akmedia.nl.
Music 2 Hues presents their latest 16 CD collection of buy-out production music. CDs include 8-12 full length themes with broadcast edits. $59 per CD with volume discounts. New CDs released quarterly. Phone/fax, (888) 821-7515, www.music2hues.com.
The Music Bakery announces the release of their latest CD. New categories of music include Think Positive, Dramatic Atmospheres, Acoustic Inspiration, and Orchestral Scores. (800) 229-0313, www.musicbakery.com.
The Mix
Wondering about copyright laws and the Internet? The Senate unanimously approved the Digital Millennium Copyright Act, which offers the same protection to online computer software, music, movies and written works that they enjoy in more tangible form. In a key provision, the legislation exempts libraries and online services from prosecution for copyright violations committed by patrons and customers. Individuals who violate copyrights for financial gain will be liable for $1 million in fines and up to 10 years in prison. (Wall Street Journal 15 May 98)
voiceovers.co.uk is a new UK voice-over Internet directory. The service is free to producers (paid for by subscription fees by voice artists) to promote UK voice-over artists. Give it a look at www.voiceovers.co.uk.
Congrats to RAPster Kurt Kaniewski/WMRN, Marion, OH on his showing at the recent Silver Microphone Awards. Entries were good for 5 national finalists, 3 national finalists/category runners-up (2nd place overall in category), 2 national winners, and National Best Of Show! Kurt reports WMRN is only the 2nd radio station to ever get best of show. Look for some of the winners on The Cassette!
Have you won some awards lately? Tell us about them, and forward the winners for presentation on The Cassette!
Congratulations also to Greg Williams/WMC, Memphis and wife Lisa on child number five! Benjamin Harding Frith was born on July 5th. Should hear lots of kids in Greg's commercials!
♦