Equipment News
Sonic Solutions introduced Sonic DVD Vobulator, a professional authoring tool designed for the next generation of DVD-ROM content. Available for both Mac OS and Windows NT, the application enables multimedia producers to create content for DVD-ROM and digital broadcast use. Designed to convert video, audio and still image assets into the data formats required by DVD, Sonic DVD Vobulator includes software-based MPEG-2 variable bit rate video compression, Dolby Digital surround audio compression, and Video Object (VOB) multiplexing and de-multiplexing. Vobulator for the Macintosh OS is priced at $7,999. A Windows NT version will be available later this spring. More info at www.vobulator.com, www.sonic.com, phone (415) 893-8000.
AMS Neve announces new hardware and software enhancements for its Libra Live digital broadcast production console and also several new features for the 55 Series analog console. Both will be on display at NAB98 in Las Vegas this month. (1282) 457011, fax (1282) 417282 (head office in Lancs, England).
Eventide Inc. has introduced the DSP4500 Ultra-Harmonizer, the newest in the Harmonizer series. The DSP4500 combines all the features and software of Eventide's three 4000 series models, the DSP4000 Studio, the GTR4000 GuitarPro, and the DSP4000B Radio/TV Post Production model. In addition, the new unit includes the Alchemy 101 library, a collection of 225 presets from Scott Gilfix. Over 1000 presets are included as standard in the DSP4500. The DSP4500 also includes an 87-second internal sampler, digital and analog I/O, and newly upgraded 24-bit A/D and D/A converters. (201) 641-1200, fax (201) 641-1640, www.eventide.com.
Sonic Foundry introduces ACID, a digital audio loop sequencer for Windows 95 and Windows NT. The program ($399) specializes in loop arranging, allowing real-time pitch and tempo adjustments on multiple loops simultaneously. ACID features DirectX Audio Plug-in support, ships with hundreds of loops, and allows users to import 16 and 24-bit .WAV or .AIFF files from other sources. (608) 256-3133, fax (608) 256-7300, www.sonicfoundry.com.
Telex introduces the USR-100 UHF Wireless Microphone System at NAB in Las Vegas. The USR-100 offers 100 transmission channels and can operate on ten different channels simultaneously. (612) 884-4051, fax (612) 884-0043.
Panasonic's new Ramsa DA7 8-bus Digital Mixer makes its debut at NAB. Priced at $4,995, features in this 32-input, 8-bus, 6-aux mixer include 24-bit I/O capability, surround sound mixing capabilities, dynamic and snapshot automation, and one function/one step screen layer operation, to name a few. An easy to read screen display shows all mix, processing, routing, time code, and surround sound parameters. Parametric EQ and dynamic controllers such as compressor/limiters are assignable on all inputs and Aux returns. (714) 373-7277, www.panasonic.com.
CANAL+, Europe's largest pay-television group unveils its Mediahighway+ system at NAB in Vegas. The system is an open interactive multimedia home platform system that will offer features such as fast Internet access via satellite, access to push technology, home shopping/banking, interactive weather reports, interactive advertising, job seeking services, and more. (213) 644-3700, www.cplus.fr.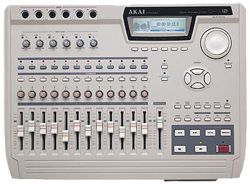 Akai's new DPS12 Digital Personal Studio combines a 12-track random-access digital recorder and a 20-channel (at mixdown) MIDI-automatable digital mixer for just $1,499. Features include 250 virtual tracks, the ability to record 8 tracks simultaneously (6 analog and 2 digital), record onto internal removable media drive or external drives via the standard SCSI-2 interface, backup to DAT or SCSI drives, 16-bit linear data format (no compression), 48kHz, 44.1kHz, and 32kHz sample rates, backlit 248x60 graphic LCD, graphic waveform display, and lots more. (817) 336-5114, fax (817) 870-1271, www.akai.com.
Roland's new VS-840 Digital Studio Workstation builds on the technology of the VS-880 and brings the price down to under $1,400. The VS-840 combines 8 tracks of digital audio recording, digital mixing and editing, 64 virtual tracks, built-in studio-quality effects, and Zip storage. Other features include 999 levels of Undo and an optional SCSI port. Connections are made via five 1/4-inch audio inputs (one of which is a dedicated guitar input), stereo RCA-type master outputs, two RCA-type auxiliary/monitor sends, MIDI I/O, and coaxial/optical digital outputs. The VS-840 can record up to four tracks of audio simultaneously and play back up to eight of its 64 "Virtual Tracks" at any given time. (213) 685-5141, www.rolandus.com.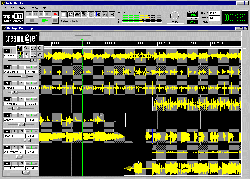 The TDAT16 from CreamWare is a new 16-channel DAW ($2,198) for the PC. The TDAT16 hardware offers two ADAT interfaces on one PCI board. Each of the optical ports can be switched between S/PDIF (2-channel) and ADAT (8-channel) formats. The TDAT16 software is an enhanced version of the tripleDAT software, a four-channel version. New functions include multi-channel record, mixing, and routing facilities. TripleDAT now provides the user with up to 16 channels of recording while playing back on up to 16 output channels. TDAT16 is suited for use with digital mixing consoles or in an Alesis ADAT environment. To interface with the analog world, CreamWare offers their A16 ($1,298) external converter unit. The A16 translates two ADAT optical ins and outs to 16 analog ins and 16 analog outs. (604) 527-9924, fax (604) 527-9934, www.creamware.com.
The Digitech Studio Series S-100 multi-effects processor is a dual engine processor featuring stereo I/O, -96dB S/N ratio, 7 effect routing configurations, MIDI control, and 20-bit A/D and D/A conversion, all for under $200. (801) 566-8800, fax (801) 566-8919, www.digitech.com.
Music/SFX Libraries
GMI Media Group is on the net with a new Web site at www.gmimedia.com. The site features online demos of their CD libraries using RealNetwork's Real Audio 5.0. Also, besides giving RAP Members 20% off on their Lazer Impact Plus and Powerdisc libraries, GMI Media is now also offering the SFX Toolkit free to RAP Members (a $39 value) with the purchase of one or both of the other CD's!
Chateau Brazil announces the upcoming release of RockLogos, a 3-CD library of 3 to 8 second "microscores, attacks, and breakers" and 9 to 25 second promo scores. Over 700 cuts in classic rock, hard rock, and "acoustic/electric rock 'n blues" styles. (414) 632-8611.
The Mix
Congrats to RAP Member and columnist Andy Capp who exits KELO Radio to take on a position as writer/producer/director for Nichols Media, a commercial production company in Sioux Falls, South Dakota. Andy's email address has reverted back to his old AOL address at This email address is being protected from spambots. You need JavaScript enabled to view it..
The Digital Content Creation Conference and Expo announced support from major industry leaders who will be exhibiting new digital technologies at the show December 2-4 in Los Angeles. Supporters include Compaq, IBM, Digital Equipment Corp., MetaCreations, and others. (714) 513-8651, fax (714) 513-8612, www.dcc wexpo.com.
CD Radio is relocating from Washington, DC to New York. CD Radio was one of two successful bidders for a license to launch a national satellite-to-car broadcasting system which will use two satellites to broadcast to motorists in the U.S.. The new headquarters will house 50 different radio stations. The first satellite is scheduled for launch in August of next year. (212) 312-3523.
DC Creative Services Inc. has finalized an agreement with Bill Young Productions of Houston, Texas to acquire Vanilla Gorilla Productions of College Station, Texas. Vanilla Gorilla will relocate to Sugarland, Texas, and Randall Horvath, President of DC Creative Services will remain on staff as General Manager of Vanilla Gorilla Productions. (409) 694-7011, fax (409) 693-4775.
♦