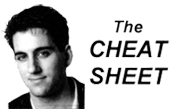 by Flip Michaels
Ever since the digital effects revolution began, it seems that these tiny toys have been arriving by the hundreds. Great, right? Well, it can be a bit confusing. With each box having its own distinct characteristics, some intense research might be required to pinpoint the unit that will complement both you and your studio.
In this Cheat Sheet, you'll find some of the most popular tools to make your job a bit more creative. Of course, it all stems from within, but a little electronic advancement couldn't really do any harm...now and again, eh?
Eventide's DSP4000-B Ultra-Harmonizer: Most of you are familiar with the H3000-B, really the first true application-specific audio effects processor to become an industry standard. Eventide has "one-upped" themselves with the new DSP-4000B. (This too, is a true stereo effects box.) FXs that would be impossible with most processors are now preset algorithms with this box. Just press a button to hear an airplane captain speaking from the cockpit. Press again, now it's the kid from your fast food drive-thru window. There are dozens of audio environments to choose from. Also with the DSP-4000B, prod-pros can alter existing programs to create new effects, saveable as oh, say "Flipverb." Other features include dynamic effects like "Stutter" (effortlessly!), "Swept Combs" (six sweepable delay lines with stereo panning), "Diatonic Shift" (a pitch-shifter that stays in key) and "Ultra-Tap" (twelve delay taps with full control over panning, level, and delay). This program allows the user to sample random presets or select your own, say "Sweep Right" or "Sweep Up/Down." (I love the random feature.) Just play your liner over and over until it stutters exactly the way you imagined it. Then rip the masterpiece off of your record source! P-pp-pp-pretty c-c-cool. More fun-fxs: "Martians," "Backwards," "Dragway Ad," and "Warped LP." In addition, the DSP has a "Patch Editor" allowing users to choose from over 90 effects modules and connect up to 40--essentially your own virtual patch bay. The Eventide DSP-4000B comes standard with analog and optionally with digital inputs and outputs. The digital option provides full 24-bit AES/EBU and S/PDIF digital I/O as well as XLR-type analog ins and outs. Studio quality is assured via 18-bit A/D and D/A converters. It's MIDI ready, has a large graphics based LCD screen, and a front-panel removable memory storage card extending user presets past the point of RAM. There are few like an Eventide. If you've got the budget, check out their long line of testosterone toys. The MSRP (list price) is $3995 without digital I/O and $4995 with. Lexicon's MPX 1 Multi Effects Processor: The MPX could be considered a long lost twin of the Eventide H3000-B. It too, has great processing power with similar virtual patch bay features and pre-programmed effect settings. Working for your morning zoo turns into a new "hobby you get paid for" with creative demands like moon walks, Beatlemania screams, and suicidal leaps from tall building environments. You can create all of these, either by altering algorithms or layering. Get this unit and you might give management a false notion of hours and hours of hard work! Connections to the MPX 1 are via balanced XLR and quarter-inch analog and S/PDIF digital ports. MIDI mighty, 16 to 32-bit processing, 18-bit A/D and 20-bit D/A conversion. Effects are user programmable with 250 available memory locations--200 factory presets and 50 user presets. There are a handful of mic presence programs like "Big Room," "Church," "Stadium," etc.. Others include "Tremolo," "Chorus," "Canyon," and "Filters." There's even a "Lexichip," which is devoted solely to reverbs and ambiance algorithms (reverbs are notorious for eating DSP power). You'll love the LCD with scrolling help options. MSR price = $1,299.

Ensoniq's DP/2 Parallel Effects Processor: The DP/2 is a parallel effects processor based on the company's successful DP/4+. Whereas the DP/4+ is essentially four processors in one box (4 discreet inputs), the DP/2 will process 2 different input signals. Inputs and outputs are both unbalanced and balanced, using 1/4" TRS jacks. Note, in a world full of $300 processors boasting 18-bit converters or better, the DP/2 (surprisingly) has only 16-bit converters on input and output with no digital ins/outs. The LCD is also somewhat small. It is MIDIable. Plenty of effects (both preset and programmable) with a wealth of options. In addition to the standard reverb and pitch-based modulation effects, Ensoniq offers noise gating, ducking, panning, EQ, noise/sine wave generator, de-esser, delays and even a guitar/bass tuner! This "sound tool box" is for the low-budget needs of radioland. Priced at just $795 it is a powerful, flexible toy.
Sony's DPS-V77 Multi-Effects Processor: The DSP-V77 is a true stereo digital I/O multi-effects processor. One of the first points Sony stresses in the manual is an understanding of the signal flow. The signal processor in the V77 is divided into two parts: block A and B. Each block is made up of an EQ and FXs. You can choose independently within block A and B or whether to have the EQ pre or post the effect. Even though most consoles have the option of adding EQ to either your send or return, it's nice to be able to store it along with the effect. Preset categories include reverb, delay, dynamics, filter, gate, chorus, flanger, phaser, panning, pitch, and what Sony calls "other effects." Good unit, great MIDI interface. Depending on which optional cable you have (either S/PDIF or AES/EBU), digital inputs and outputs can be accommodated. The connector on the V77 is an eight pin mini DIN. AES/EBU connection allows for a full 24-bit input and output as long as you can send and receive 24-bit. I should also add that analog inputs are both 1/4" unbalanced and XLR balanced. There are four selector "banks" with 1/2 representing 99 preset effects, and 3/4 having a total of 198 memory locations for future presets. Three very informative manuals included. You won't find too many boxes out there with this quality in this price range: $1,775.
ART's FX-1 Multi-Effects Processor: For those with minimal budgets ($159), ART's "personal" effects processor might be the key to a little creativity. Offering some 60 presets from 30 different effects, the FX-1's 15-bank consists mostly of single effects: reverbs, modulation effects, two different delays, a doubler, pitch shift, and tremolo. There are also dual effects like reverb/panner and tremolo/reverb. The stereo multi-effects apply two or three effects to a sum of both input signals. Talk about small! This box is roughly a 5" square (maybe 1.5" tall), so it can go just about anywhere! If you're only looking for a few presets (no control over delay times), the ART FX-1 is a real bargain.
Most of these boxes mentioned are accessible on the Web by typing in just a few key words into your favorite search engine. Most manufacturers will allow test-drives, so don't be shy. And as always, check your RAP Network list for a peer reference.
♦