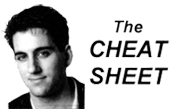 by Flip Michaels
Wackiness in the Workplace
Have you ever put a chair facing the printer, sat there and told people you were waiting for a document? Or maybe paged yourself over the intercom? How about naming each of your pens and insisting that the meeting can not begin until they are all present? Pretty wacky, eh?! Well, so is a naked mic in your studio. Really.
Go ahead, laugh. But you could be saving yourself the time of editing pops, along with protecting your mics from corrosion. "I would love to use spit-screens on our mics, but my chief engineer is under the impression that they distort the sound," commented a colleague requesting to remain anonymous. "Tell that to the hundreds, if not thousands of studios and broadcast facilities that use them--go figure."
"Spit screens are very transparent and will get the most out of your mic," Karl Winkler, Product Manager at Neumann USA (This email address is being protected from spambots. You need JavaScript enabled to view it. or 860/434-5220 x154) told me in a recent conversation. "Without a spit screen, tiny bits of salvia, which are slightly acidic, will interact with dust and corrode the metal in your microphones. The mics will then start sounding funny, dull and crackle." I've seen many studios using wind screens (the big 30 mile an hour foam type) and was curious as to his opinion on this: "They tend to absorb the extreme high frequencies. Not to mention that over time, the foam will also shed into the mic." Karl added that the mics can be sent back in and cleaned, for approximately $70 each.
"We use AKG 451 EBs in our 2 rooms--crisp highs, nice bottom end but EXTREMELY prone to popping." John Masecar of Mix 99FM, Toronto e-mailed me. "When I first arrived here they were equipped with the AKG removable metal screens with built-in pop filters (actually just a foam inner lining). The screens, however, created their own comb-filtering. So I took them off and tried working without any 'pop filtering,' opting for alternative mic placements. With some jocks, the results were fair to good; with others it was total frustration. I eventually went to large capsule dynamic mics (no proximity effect) until we purchased some 5-inch nylon Wind Tech "pop screens," the type that hang on the end of a goose neck and sit right in front of the mic head. These things work so well that I've gone back to the 451s with great results. Most jocks can now work the mics closely with minimal pops and negligible coloration."
Let your mic work for you. Spit screens retail from $25-35 and are available through your engineer.
Likeable Links:

Welcome to K-VOID, a Web site: "devoted, well not exactly devoted to... but about the wonderful world of broadcasting (and other related stuff of no value)." Here you'll find the Radio Index Search Engine, perfect for those trying to find the address, phone and fax numbers of Program Directors. Other areas of interest on this page include The Radio Surfers Headline News and Brainstormers. Give K-VOID a browse at www.cris.com/~om18/index.shtml
Digital Audio Directory or D.A.D. is a gallery of audio Web site listings with everything from audio equipment manufacturers like Roland, Spectral, Eventide and IQS/SAW to radio corps. and interesting audio resources. You'll find your D.A.D. at www.doctoraudio .com:80/dad.html.

Speaking of IQS/SAW, users will definitely want to point and click on over to www.iqsoft.com. Here, you'll find technical support notes that go far beyond the basic manual material. If you're interested in the demo versions of SAW or just about anything else IQS makes, this too, is the place to visit.
Thanks to the "Toastmaster" (This email address is being protected from spambots. You need JavaScript enabled to view it.), I've just been updated on a new collection of free screensavers that can bring news and other information directly to your desktop. Imagine your news department getting updates from DBC Financial News, E! Online, Sports Illustrated Online, USA Today, The Wall Street Journal Interactive Edition and ZD Net Computing Central! Downloading begins with a visit to www.afterdark.com. Just a reminder: as always, when using on the air, be sure to credit your sources.
Lastly, fellow RAP member Don Lawler is looking for testers to try out his new Web site "Spots" (members.aol.com/goodspots). Turns out Don too, has jumped into the digital domain with a software package and subscription service for cranking out copy. He can also be e-mailed at This email address is being protected from spambots. You need JavaScript enabled to view it..
♦