Page 1 of 3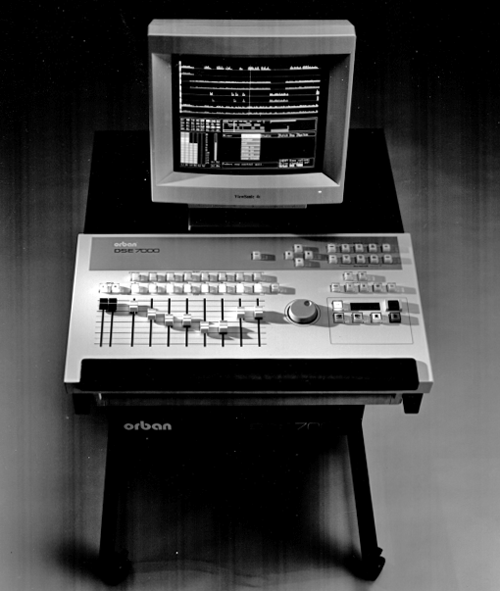 by Jerry Vigil
Four years ago, the Radio And Production "Test Drive" took a look at the AKG DSE-7000. The software version at that time was version 1.0. The high priced workstation flaunted swift RAM-based operation, a dedicated control panel, and a user interface so friendly, anyone with even the most basic analog recording knowledge could be up and running on the DSE-7000, performing multi-track recording and editing, within an hour. Four years ago, there were a lot of digital workstations on the market, but most of these were cross-overs from other fields such as music recording and audio for video production. The DSE was, and still is, distinctive in that it was designed to do nothing else except radio production. Over the past four years, the DSE-7000 has gone through some changes, and all of them were for the good.
In appearance, the most obvious change is in the name. The AKG DSE-7000 became the Orban DSE-7000 early this year. Sister company Orban assumed support, development, manufacturing, and distribution of the DSE-7000. The strategic move also puts the DSE in a product line that is focused solely on broadcast audio.
The most pleasing change has been two major price reductions. Four years ago, a basic system with 17 minutes of recording time (64 meg of RAM) cost $53,600. Today, the same system is priced at $19,950 and includes a hard disk for storage that's twice the size of the disk in the 1990 system.
The more subtle changes have been in the software, as well as with the addition of some hardware. The most recent operating system is Version 4.0. But before we get into the details of the new features of the DSE, it might be useful for those totally unfamiliar with the DSE to get a brief overview of the machine.
The DSE is a RAM-based workstation; the alternatives are hard-disk based systems. The RAM is expensive, but the payoff is in the remarkable speed with which the editing functions occur. With hard-disk based systems, many functions require extensive reading and writing of data to and from the hard disks. With the DSE, the majority of the reading and writing is done to RAM, which is much faster than data transfer to and from disk.
The DSE is an 8-track digital recorder. You get a color monitor, the CPU which houses the computer and I/O cards, and the dedicated control panel. A roll-around stand is optional. The computer running the software is a 386 PC. A computer keyboard is attached and used for naming files. It is seldom used for anything else.