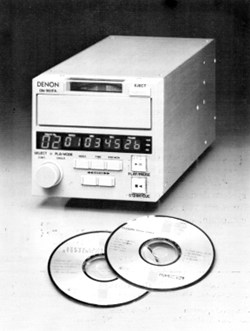 by Dave Oliwa
Your CD player should be your most used piece of equipment next to your microphone and your multi-track. If it's not, you are definitely working too hard. If you're still pulling music, sound effects, and other recorded material from vinyl or analog tape, it's time to step into the '90s. Denon's newest entry into the field of professional CD players is the DN 961FA. In what appears to be the same or similar package as their CD "cartridge" player, the DN-961FA graduates backwards into an "old fashioned," drawer type machine, eliminating the need for a CD "cartridge" case.
The front panel is beige with a smoke display panel. The two main control buttons (Standby/Cue and Play/Pause) are very solid and sure, obviously chosen for lots of less than gentle closures. A detented data wheel, about an inch in diameter, chooses track numbers and index numbers, when the index button is pressed. Pressing in on the wheel while turning it causes the track selections to jump in increments of ten. The wheel clicks as it goes around and allows access in either direction. A sleeve around the data wheel chooses continuous or single play modes.
Between the control buttons and the data wheel sit three buttons over two buttons to control Index on/off, Time remaining/elapsed, a programmable End Monitor, and two Search buttons.
This time, Denon decided to produce a machine without a drawer motor. The plastic tray opens with the press of a metal Eject button in the upper right hand corner. It slides open, cushioned by an internal spring assembly. The drawer comes to a stop before the full circle of the CD tray is revealed. Although the amount is minuscule, if you're not used to a CD drawer that requires inserting the CD with the leading edge first, a couple of collisions with the front panel will train you quickly!
The drawer closes smoothly with a solid push. On closing, the front panel display lights and the lighted Standby/Cue button lights yellow. The display shows, from the left, the Track number, the Index number, Minutes, Seconds, and Frames. All are red characters except the Index number, which is green. It should be mentioned the Track number is slightly bigger.
Three small LED's to the right of the time display show when Time/remaining, Index, and Varispeed are engaged (more on Varispeed later.)
---
The Denon DN-961FA is not quite six inches wide and will fit into a rack three abreast by three rack spaces high. It is seventeen inches deep, knob to connector. Although it runs very cool (25 watts), the solid, metal case has generous venting on the top and sides.
The back panel is where you'll find an old style rocker switch for the power on/off. The power cord socket sits next to the fuse holder. Line out is delivered, balanced to a pair of XLRs, a constant level headphone jack, and an AES/EBU balanced digital XLR. A level up to +18 dBm is adjustable by two PC mounted pots accessed through the back panel. Remote control uses a multi-pin connector and an RS422 port.
It looks like a cart machine. But the similarity ends there. Plug this thing into a protected power supply and look out it's a computer in disguise!
There are so many presets, it takes three and a half pages in the manual to list them all. The Cue detect is variable from infinity up to 36 dB. A Fade In duration is available up to 247 msec. The frame display can be preset on or off during playback. The DN-961FA lets you decide how the machine will power up! Make the Time display show time/remaining. Set a variable speed to +3 percent. Delay the Start by as much as 300 msec to make dumping music into a hard disk system a breeze. Play a CDR disk you've recorded on your CD Recorder, even ones without a TOC. Enable or disable front panel switch inhibits. Do the same to remote controls. Send tally times up to 35 seconds. End monitor times to the same, and a number of others including how you want the buttons to flash!
Tested in the multi-track room, the machine was quick and precise. As far as the hand powered drawer, I'll vote yes my CD's were cued two, maybe three seconds faster while not waiting for the drawer to close. Hey, every second counts! One nice feature was the machine's ability to be programmed while a track was playing and to switch at the end of that track, without leaving play, to the next programmed track. The Search buttons cue to any of 75 positions in one second, more than enough for the average production expert. Tracks and Indexes deep into sound effects CD's were zeroed in with no delay other than the three second standard wait.
Complaints? Not many. The data wheel as opposed to a keypad for entering track or index numbers is a case to be argued amongst the masses. On the subject of design, the LEDs that indicate Varispeed, Time/remaining, and Index are very close to one another and all red. Even from a short distance, it's hard to tell what mode is being represented. Maybe a future machine will have three different colors. In a "real world" problem, one of the two machines that were tested had a sticky drawer fresh out of the box, but the machine that didn't performed like a champ.
The electronics are up to par with the transport. Frequency response is virtually flat 20 20K, stereo separation is 90dB or more, distortion at .008% or less. Sixteen bit linear.
The Denon DN-961FA drawer type CD machine is priced a little over a thousand dollars a bargain if you compare it to the cost of a Studer, Technics, or Sony. And with the drawer, there's no more broken CD Carts, no more little green handled screwdrivers.
We've come a long way since records! And we're going in the right direction.
For more information on the Denon DN-961FA or any other Denon product, contact Denon America, Inc. in New Jersey at (201) 575-7810, Denon Canada, Inc. in Markham, Ontario at (416) 475-4085, or your nearest Denon dealer.
♦