Page 1 of 3
by Jerry Vigil
This month, we don't Test Drive any one particular piece of equipment, but instead kick the tires on three new and interesting items found at the recent NAB convention in Dallas.
The AirCart from AirCorp Systems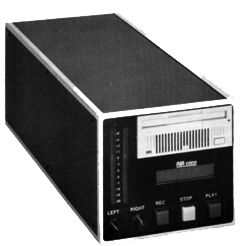 A hot topic, not only at the convention, but throughout the industry for some time now, has been the issue of data compression and its possible ill effects on audio when audio is compressed several times and/or mixed with other compression algorithms. That's one reason the new AirCart® from AirCorp Systems should capture the interest of many in the coming months. The AirCart is yet another in the growing family of "digital cart machines." What sets the AirCart aside from the others is the fact that there is no data compression in use, and the format is the 3.5-inch, 128 megabyte magneto-optical disk. The result is eleven minutes of stereo, uncompressed audio recorded at 48kHz sampling frequency (better than CD) on a small and durable medium.
Furthermore, AirCorp Systems has exchanged technology and information with Digital Broadcast Associates. The two companies share the AirCart's format to create a new digital standard known as Aspect®. This new standard will permit complete compatibility and interchangeability between machines from either manufacturer, and opens the doorway for other manufacturers to look at the Aspect standard as a format they may adopt for future pieces of equipment. The fact that the format doesn't use data compression will certainly make it one for other manufacturers to consider. As we continue to journey into the digital domain, there's no question that an industry "standard" will answer many of the questions concerning station engineers everywhere.
The AirCart is still in the developmental stage. The unit we saw was a working prototype. Beta units are expected to be on site within weeks, and full production and shipping is scheduled for the first quarter of 1994. There are no "playback only" units. All units are record/playback units. Operation is extremely simple as the unit's front panel would suggest. You get two LED bargraph level indicators; input level controls for each channel; a Record, Stop, and Play button; and an LCD display. The 3.5-inch magneto-optical drive offers a rugged feel with a relatively quick load and eject time.
The LCD display offers what you'd expect -- intro time, length, client name or song title/artist, etc.. Expanded display functions not available on the prototype are planned for the beta units. The 3.5-inch magneto-optical disks are available from several manufacturers including 3M, Hitachi, and Verbatim. We were told these disks would be available for under twenty dollars each, a fair price for a 128 megabyte magneto-optical disk. A nice feature of this type of disk is that a magnetic field is not enough to erase the data since it is "melted" onto the disk with a laser. Other preliminary specs include a frequency response at 5Hz to 20kHz, S/N ratio >90dB, THD <.05%, and play start time of 10ms maximum. There are XLR balanced analog ins and outs and an optional digital AES/EBU or S/PDIF interface (coaxial/XLR/optical with sample rate converter.) The cost of one AirCart is expected to be between four and five thousand dollars.
Korg i3 Interactive Music Workstation