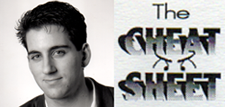 by Flip Michaels
Creative freedom, three-day deadlines, Account Executive vacations, a full-time support staff, top notch, fully operational production facilities, jocks capable of reading cart labels, openminded clients, our peers, inspiration, a good day's pay for a good day's work, toys, recognition, loyalty, and beeeelieve meeee...I could go on.
But what do they like? WHO? You know, Joe the AE, Sue the Traffic Director, Bob in promotions. Do you treat them the way they want to be treated?
(Psssstt! Sounds like Flip went to a seminar!) Yeah, so? This one was different. Helpful.
SUPERIOR SUPERVISOR:
Dun & Bradstreet's "Superior Supervisor" seminar has what most don't -- reality. From assistant to manager, they cover what really happens and what you really need to know.
Remember these? "STRESS: Disease of the Overwhelmed" (Cheat Sheet 1/92), "COMMUNICATION: A Giant Leap of Knowledge" (Cheat Sheet 6/92) -- they're in there!
In Cheat Sheet format:
You'll cover the four Supervisory Preferences/Orientations:
1. The Relater
2. The Thinker
3. The Inspirer
4. The Director
* What category you and your fellow employees fall in?
* How to handle various situations, based on orientation, such as: annual reviews, time management, delegation, personality conflicts, staff development, goal setting.
* Preferred ways of interacting with others.
* How the different styles of orientation can irritate each other.
All in one day! For more information on this seminar and others offered, call Dun & Bradstreet at (212) 692-6610.
LOTTERIES - YES MORE!
A special thank you to Creative Services Director Peter Drew and his assistant Bill Grimmeisen at WTIC in Hartford, Connecticut. They, like most of us, have some form of a 200,000 page, needs to be updated, get-your-dictionary, handbook on what to do and not to do in radio.
Check out what they faxed me, directly out of the NAB's Legal Guide to Broadcast Law and Regulation:
"...broadcasters are permitted to advertise lotteries authorized or not otherwise prohibited by the state in which they are conducted if they are conducted by (a) not-for-profit organizations; (b) governmental organizations; or (c) commercial entities, provided the lottery is clearly occasional and ancillary to the primary business of the commercial organization."
What? I'm sorry. Did the NAB say something? WOW! What does "ancillary" mean? (I had to look it up -- accessory; auxiliary -- make sure you use it only as an adjective in your next commercial, okay?)
With statements like that, no wonder so many stations are playing lotteries. My interpretation may be different than yours; yours may be different than your GM's; his/hers may be different than your station's legal council's interpretation! Soooooo, if your department has a commercial that possesses these three elements: 1) prize, 2) chance, 3) consideration, AND you still think there's an exception, consult your GM. Don't risk it.
♦