Page 1 of 3
Ray Sherman, Production Director, 97X/WXLP-FM, Davenport, IA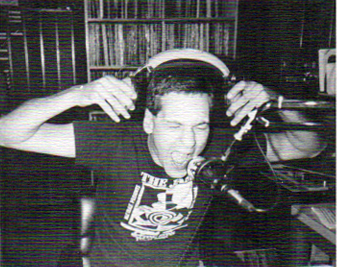 by Jerry Vigil
For quite some time now, we've been getting tapes for our monthly Cassette from a powerhouse station in Davenport, Iowa, a pleasant little city in the market known as the Quad Cities. We were quite impressed with the quality of work coming to us from this small market with an Arbitron Metro Survey Area population around 300,000 and a market ranking of 120. So, we decided to check in with Production Director Ray Sherman to find out what this talent with a major market sound is doing in a small market. We also find out what kind of small market station attracts this kind of talent. Unfortunately, due to the RAP Awards finalists being on this month's Cassette, you will have to wait until next month to hear Ray's work, but trust us. It's as good as it gets in Small Market, USA!
R.A.P.: Where did you get your start in radio, and how did you wind up at 97X?
Ray: I got started in college radio at Western Michigan University in 1973. I did that typical thing and drove thirty-five miles to do a morning air shift for free at the college station so I could get a tape together to get my first real gig. That first gig was at an AM daytimer, WYYY, down in the swamps of Kalamazoo. I had a five hour air shift and the Production Director title. I did this for about a year and a half, then I sent out three air checks and got a call back from KBEQ in Kansas City. They needed an all-night guy for sixty bucks more a week. So, at twenty-one years of age, I packed my stuff in a U-Haul and went to Kansas City.
I worked at KBEQ from 1976 to 1981. I did the all-night show for about a year, then had a chance to move up. The Production Director at the time was Mike O'Brien who really showed me a lot in my early days about what being a Production Director was all about. I moved into the six to ten p.m. shift and eventually became the Production Director.
After KBEQ, I got an opportunity to go to Chicago which was where I grew up listening to radio as a kid. WKQX, at the time, had changed from album rock to A/C. I worked the night shift there from ten till two. There was no emphasis on my production because there were engineers to run the equipment. I had no hands-on production, and it felt really strange not being able to touch the equipment.
I was at WKQX for about a year when they let me go, but, in my mind, that was a good deal because WMET came on to the scene. WMET had been there already, but they had just been purchased by Doubleday. I worked at WMET for about a year and a half, and it too was a station that didn't put a lot of emphasis on production. Doubleday sold the station after about eighteen months, and there I was looking for another job.
WCKG then came on to the scene in Chicago, and I managed to get a part-time gig there. Bill Towery, who is WCKG's Production Director today, was the Production Director back then as well. I was able to get a lot of hours in as a production assistant. The station is and was very production intensive. We did lots of promos, drops, show opens, and things like that. Bill Towery was instrumental in showing me another side of production I hadn't seen before. I worked at WCKG for about eighteen months and found myself out of a job again. That's when the opportunity here in Davenport opened up at WXLP.
R.A.P.: How did the move to Davenport come about?
Ray: WXLP had just been purchased by Bob Goodrich of Goodrich Broadcasting in Michigan. They also own WVIC, WSNX, and WODJ. When Bob bought the station, it was down in the dumps, though it did have a heritage in the market. Jeff Scarpelli, who was the Corporate Manager at the time, came in as the station manager, and Chuck Finney, who was the Corporate Program Director, also came in. They had just bought the station, they needed warm bodies, and I needed a check. I thought, "Hmmm, the Quad Cities? It's not Chicago, but hey...."
It's a hundred and eighty miles from Chicago, so I'd drive out on Monday and work all week. Then I'd drive back to Chicago on Friday night. I did that for a few months, sort of on a trial basis to see if I liked the gig and if they liked me. We did, and it became a good deal. I figured I could move the wife and kids out here, buy a house for one-fourth what it would cost in Chicago, put the kids in a good school system, and that kind of stuff. We've been here for five years now, and I'm still happy here. I'm still having fun, and it's still a good place to work.
R.A.P.: What makes 97X a good place to work?
Ray: Bob is the kind of operator that gives his employees what they need, including the best equipment. Now, we don't have a lot of things some radio stations have, but whatever we need to compete, Bob gets. In the beginning, that included moving our studios to a new building. Bob bought an old funeral home and converted it into a radio station. We call it the Rock and Roll Mansion. The embalming room still exists upstairs, and there's more square feet in this building than I've ever had at any radio station I've ever worked at.
R.A.P.: I imagine there are quite a few jokes running around about the building once being a funeral home.
Ray: Oh, yea. And when we first started in this building, Bob didn't want us to refer to it as an old funeral home. He'd say, "Call it the Rock and Roll Mansion." So we did, and it stuck. Now, when you mention The Mansion to someone, they know what you're talking about.
But getting back to what it's like working here, the company believes in hiring good people. At all his stations, he hires good engineers, good programmers, good managers, and good salespeople. And people will come and go, but the basic premise of the Goodrich philosophy of hiring good people holds true, and there isn't a great turnover. I think it's a great operation.
Bob is very supportive of his people, and I mean more so than just buying the equipment they want. For example, he supports the DJ's and their rights to freedom of speech. That may sound a little funny, but he won't just fire somebody if they say something that upsets a client. Part of this philosophy probably comes from the fact that Bob also owns theatres, and he once owned an X-rated theatre in Grand Rapids. He'll tell you that it was "Deep Throat" that made him the money to buy his first radio station. Grand Rapids, Michigan is a fairly conservative place, and Bob was probably having some hard times with the local "do-gooders." Bob's a charter member of the Grand Rapids ACLU, and he believes in the right of free speech. So, while we are expected to be responsible for what we do, we do have freedom here. He's not up-tight, and it's a great atmosphere.
R.A.P.: What responsibilities do you have as Production Director?
Ray: Aside from the usual writing and producing of commercials and promos, I also do a two-hour air shift from one till three in the afternoon. I feel like I have a luxury there because I'm still able to dabble with being a DJ which is something I still find fun to do; and at the same time, I still have most of the day to play in my studio. On a typical day, I get in here around eight or eight-thirty and work till five-thirty and later sometimes.