by Gary Moore
X100, San Francisco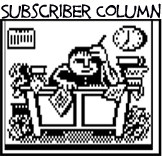 I'm in at my normal time and I already know today will be very busy. It's Friday and everything through Monday has to be complete and in the can before I can go home and begin my weekend.
First things first: I begin by going directly to the discrepancy log to make sure nothing was scratched. You never know when the night jock you assigned work to, has called in sick, or some other problem has come up. I have the talents of one jock that I can assign stuff to and be assured that the product will be great. All other work is done by me.
During the day I have access to three different voices. I have them drop in the studio and lay down voice tracks. They're done and I produce. This is a good system because the sound of the station becomes my responsibility when it comes to commercials. 95% of all commercial production goes through my ears before it hits the air. This is a good way to maintain quality control. As of my last writing, I was handling all commercials and all promos. Recently we hired Brian James from Pittsburgh who specializes in promos. He now has his own 8-track studio, and I have mine. He does promos and I do spots.
The first project of the day is dubs. I like to get all dubs done first and decrease the stack of work to be done. Then I have work that needs to be voiced. Sometimes I will voice it and some-times not. I spread the voice work out evenly to avoid hearing one particular voice too often in a stopset. I make sure to use the right voice for each spot. If I think my voice is inappropriate for a certain spot, I won't use it. Our afternoon jock is usually in before 11, and if I need his chords, I usually have him in and out of the studio before lunch time. Our midday jock is available when he gets off the air at 2 o'clock. I also have access to a few voices around the station. It is important to have a complete stable of top professional voices. It is equally important to choose and use them properly.
Now, all the dubs are done and I can concentrate on producing the spots that I have voice tracks for, normally four to six pieces per day. Of course I'm aware that an emergency may arise at anytime: Late copy changes, a client and/or salesperson needing a cassette, calls from sales people on car phones warning me that they're coming in with something for me to do, only they won't be in until after the deadline because they are coming up the Bayshore Freeway and traffic is slow and go. Splendid. Many things can and will happen so I do the best I can to schedule my time properly.
After a while, everything is produced, but it is possible that traffic has delivered more work and it probably starts tomorrow. At X100, we have a cut off time for sales; Everything that starts the next day is required to be into traffic by 1pm. If you have deadlines, do your best to stick by them, but realize that there are exceptions to be made and be ready to make them. If I have absolutely no work to do because nothing is selling, and a sales order comes in past the deadline and they want it to start this afternoon, I'll do the work and get it on. It can only mean more revenue for the station.
The day comes to a close and that is a relief because all the work through Monday is done, and the weekend is officially underway. I've done anywhere from 15 to 20 dubs and 1 to 10 dubs with tags. All of our live tags are recorded so the jock never has to thumb through some book to find the correct tag to read. Add four or five spots that have been written, voiced and produced, various cassettes delivered to sales, a 90 minute cassette of our station composite to the promotions department, and the day has definitely been complete.
Everyone is taken care of and now my time is my time. If I have freelance work to do, now is the time to do it. If I don't, I'm done. At the end of each day I'll throw a CD in the player and rock while I clean up my studio. Sometimes clients come in to see our facility, and they need to be impressed if they are going to buy what we do. Once my studio is clean, I'm done... Have a good weekend.
♦