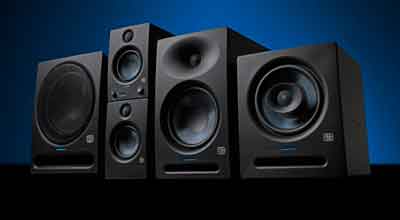 PreSonus Audio Electronics announces the new and powerful line of Eris® Studio Monitors that will be available in three distinct tiers—Essential, Studio and Pro. This tier system ensures that any creator, from casual bedroom songwriters to passionate audiophiles to professional audio engineers working in top of the line studios will be able to utilize this new product evolution to further their craft. Although not considered a tactile instrument, reference monitors are a crucial part of any studio set up and signal chain. With that being the case, the Eris® Studio Monitors have been thoughtfully crafted with enough finesse and functionality to ensure that whether recording, producing, or mixing, they will provide a premium monitoring solution for creators at every level.
"We're very lucky to have a diverse base of users who approach sound design from wildly different vantage points. It runs the gamut from beginners all the way to leaders in the engineering space, and while some might see this as a challenge, we see it as a distinct privilege," said Adrian Haselhuber, VP of Product Management at PreSonus Hardware. "With this new line of Eris® Studio Monitors, we are taking our deep expertise in speaker design to the next level. We hope to show our dedication to providing creative tools that are equally as potent in the bedroom of a first year songwriter as they are in a state of the art recording studio."
The Essential, or Eris® Series ($99.99-$249.99 USD) are entry level monitors that are ideal for casual creators. Thanks to their compact size and pared down functionality, the Eris® series provides a path for casual listeners to level up their experience and for recording musicians to build a quality, project studio. While these are the entry level models in the Eris® family, they do not skimp on performance. Most models available in this first tier deliver durable, versatile, Bluetooth functionality, on-board tuning, headphone outputs, and above all else, unbiased crystal-clear sound. Adding a subwoofer to full-range speakers enables users to hear the low-frequency foundation of mixes more accurately, better-informed decisions and create more translatable mixes can be made. Specially designed to complement the voicing and frequency response of Eris and Eris Studio-series, the surprisingly loud Eris Sub 8BT drops down to 30 Hz, allowing those to hear the full sonic spectrum and produce better music. PreSonus Eris models include: Eris 3.5, Eris 3.5 BT, Eris 4.5 BT, Eris 5 BT and Eris Sub 8 BT.
The Eris® Studio series, ($149.99-$249.99 USD) are geared for more dedicated DIY producers and musicians looking to advance their home-monitoring set up offering a range of models starting with the Studio 4 for more compact working spaces to the Studio 8 for users looking for more volume and power. The Studio series features a custom-tuned EBM waveguide, superior high-frequency reproduction, and robust low end to ensure every aspect of the mix can be monitored with precision. PreSonus Eris Studio models include: Eris Studio 4, Eris Studio 5 and Eris Studio 8.
The Eris® Pro Series, ($399.99-499.99 USD) available end of September 2023, are premium monitors designed to stand firmly at the nexus of studio functionality. Ideal for those looking to explore their mixes with granular precision, these powerful, Atmos-ready monitors feature a coaxial design for clear and accurate sound reproduction from a single point source. Provisions for wall and ceiling mounts make stereo or surround system integration a breeze. This tier also includes a premium Eris® Pro subwoofer tuned to complement any of the Eris® Pro or Studio speakers. PreSonus Eris Pro models include: Eris Pro 6, Eris Pro 8 and Eris Pro Sub 10.
To further showcase the versatility and power of the upgraded Eris Studio Monitors, PreSonus will release a new social content series later this month. "The Sweet Spot" will follow producers as they provide a sneak peek into their creative process via in-depth interviews, past projects, mixing strategy, and more. Featured talent include 6ix, a platinum and Grammy-nominated producer and Warren Huart, a rock producer who has collaborated with The Fray, Korn and Aerosmith.
For technical specs, additional information on new PreSonus products and to find a retail partner near you, visit www.presonus.com and www.fender.com.