Universal Audio is proud to introduce Hemisphere Mic Modeling software and the new SC 1 Standard Condenser Microphone.
Hemisphere Mic Collection – free with any Standard Series Microphone
Coinciding with the announcement of the SC 1 Standard Condenser Microphone, all products in UA's popular Standard Series, including the SD 1 Standard Dynamic Microphone and SP 1 Standard Pencil Microphone Pair, get a free update to the Hemisphere Mic Collection plug in, giving these mics the ability to emulate a wide range of classic microphones from the past 50 years, with class leading accuracy.
Hemisphere features models of classic mics from Neumann, Telefunken, AKG, Sony, and more.*
Using the same award-winning technology as UA Sphere modeling microphones, the Hemisphere Mic Collection plug in gives creators the authentic sound of dozens of classic mics using any UA Standard Series (SD 1, SP 1, SC 1) – in realtime with Apollo interfaces* or natively within their DAW.
Key Features:
Easily audition mics, tweak proximity effect, filters, and axis controls, even after recording
Experience the rich sound of iconic mics from Neumann, Sennheiser, AKG, and more*
Record "through" vintage mics in realtime with near-zero latency using Apollo interfaces
Access the legendary sound of iconic dynamic, ribbon, and condenser mics, free with any UA Standard Series microphone
SC 1 Standard Condenser Microphone – $499 (MAP USD)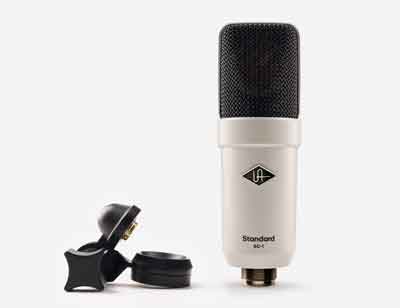 The SC 1 Standard Condenser Microphone is a professional large diaphragm studio condenser mic tailor made for vocals, guitars, and acoustic instruments of all types. Its key features include extended dynamic range, ultra flat frequency response from 20 Hz – 20 kHz, low self noise, and the powerful Hemisphere mic modeling plug in.
Key Features:
Get the sounds of the world's most famous studio condenser mics with Hemisphere mic modeling software
Shape the sound of your recordings using filter, proximity, and axis controls – even after tracking
Enjoy smooth, professional recordings with SC 1's ultra-linear circuit and extended dynamic range
Enjoy years of uncompromising recordings with genuine UA craftsmanship
Available for preorder now, and shipping world wide in Fall 2023
*Hemisphere plug in available upon product registration. Hemisphere for UAD and Apollo Realtime available early November 2023. All trademarks are property of their respective owners and used only to represent the microphones and sound treatment modeled as part of the Hemisphere software.
Learn more at www.uaudio.com.