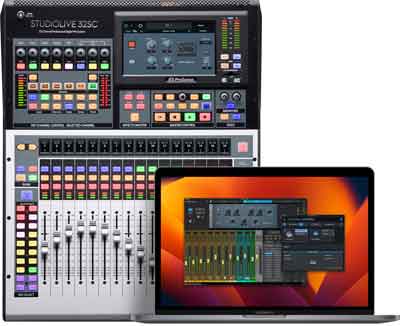 PreSonus announced Metro, a new feature for StudioLive Series III Digital Mixers that will revolutionize the way audio professionals mix remotely. Included in Universal Control 4.2, Metro is the first-to-market solution for live remote mixing over the internet, delivering high-quality low-latency audio, and equipping audio professionals with unprecedented flexibility. Whether creating a broadcast mix across the country, producing a livestream remotely, or troubleshooting a system from miles away to anywhere across the globe, this new feature redefines convenience and flexibility in audio production.
PreSonus Metro is a free, powerful feature update in Universal Control available exclusively for StudioLive Series III mixers. This innovative tool empowers users to transcend geographical barriers and tap into the limitless possibilities of remote audio control and monitoring via a secure, peer-to-peer internet connection. Whether musicians are tracking vocals in a studio in Los Angeles while their producer is adjusting settings from a studio in New York, or a live sound engineer is fine-tuning a broadcast mix during a concert halfway across the world, Metro ensures a cohesive and streamlined working experience. This groundbreaking software doesn't just bridge geographical divides; it also fosters real-time collaboration. In addition to remote control, musicians and audio engineers can remotely monitor both the main mix and the solo bus from a StudioLive mixer in near real-time using their local audio device. Metro's low latency audio enables instantaneous feedback, allowing for precise adjustments and creative input, as if everyone involved were physically present in the same room. PreSonus Metro revolutionizes audio production by making collaboration more accessible, efficient, and dynamic than ever before.
"The past few years have witnessed a transformative shift in the landscape of back-end audio production, with a significant emphasis on remote work," explained Adrian Haselhuber, VP of Product at PreSonus. "While offline remote collaboration, mixing, and mastering have become routine for music creators, the realm of real-time live sound production demands a higher level of precision and reliability. Our new Metro software update not only offers a dependable, low-latency gateway to live sound production environments but also provides an effortless means to mix and monitor from virtually anywhere in the world. Whether you're engaged in training, troubleshooting, or crafting a broadcast mix for a live show, Metro offers a swift and seamless solution to accomplish your tasks with utmost efficiency."
Recommended use cases include (but not limited to):
Broadcast: Remotely create a broadcast mix from your home without stepping foot into a venue.
Live Stream and Podcast Production: Produce a livestream or podcast from anywhere in the world.
Troubleshooting: Troubleshoot StudioLive Series III mixers quickly and conveniently from your home or office.
Remote Recording: Ensure that a remote recording session is properly gain staged.
Corporate conferences: Remotely mix an all-day conference panel from the comfort of your couch.
Professional assistance: Dial in a scratch mix remotely for a less experienced onsite FOH or monitor engineer to use as a starting point.
Getting set up includes a few easy steps:
Once users have created a free MyPreSonus account they can launch the Metro Workspace and invite any other user to connect remotely.
After a connection has been established, the remote user is given free reign to control the StudioLive Series III mixer that is connected to the host's computer via either USB or network.
While remotely controlling a StudioLive mixer, users will be able to configure their audio device to not only mix with precision and without lag, but to monitor the audio with pristine playback as well. From there the capabilities are endless—all from the comfort of a personal home office or studio.
More info at www.presonus.com.